Quick question: What's the most important part of a podcast episode?
If you're thinking it's the main content (i.e., the flesh of the conversation) where you share your ideas and deliver on what you promised in the title, you're right. Creating compelling and engaging content is crucial.
But there's another part(s) of your episode that is as important as the content, if not more: podcast intros and outros.
The podcast intro gets your ideal listener through the door; it's the first thing they'll hear and how they'll judge whether you're worth their time. On the other end of the spectrum, the podcast outro wraps everything up to create a lasting impression that nudges potential leads further down the sales funnel (e.g., subscribe, look you up for more details, look forward to the next episode, etc.).
When well-executed, podcast intros and outros give you a competitive edge while helping you resonate better with your ideal listener (or avatar). They give your show a personality—which sets you apart in an increasingly competitive B2B podcasting industry.
In this comprehensive guide, we'll show you exactly how to craft podcast intros that leave a great first impression to hook listeners —and how to end a podcast in a way that makes them stay. Plus, we'll sprinkle some awesome podcast intro and outro examples to jog your creative juices.
Let's get into it…
This post is the 12th in a series of "Podcasting Mastered" chapters designed to help you launch and grow an enterprise lead-generating podcast.

There has never been a better time to make your voice heard – and we're here to help master the art of podcasting with step-by-step guides.
Get the new chapters sent directly to your inbox, as soon as they release.
We follow strict no-spam policy. Your information will not be sold.
Podcast Intros.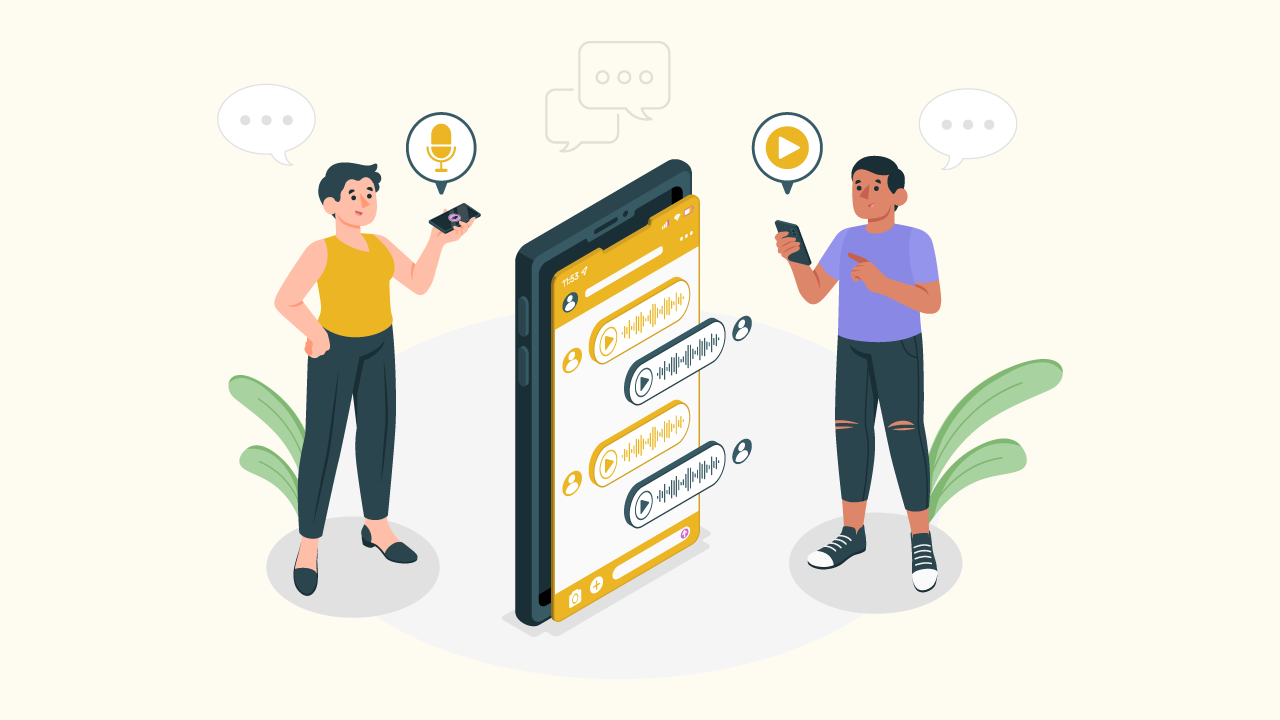 First impressions matter! They sell the idea. They nudge leads through the door to further explore what you have to offer. But you already know this. Your grooming, body language, and conversational etiquette usually set the tone for social or business interactions—and it's no different for B2B podcasting.
We cannot stress this enough: The first few seconds and minutes are essential for grabbing your listeners' attention. They're giving you a chance—but not for long.
Statistics show that a significant number of podcast listeners (27.5%) will only give you 5 minutes to offer something worth sticking around for.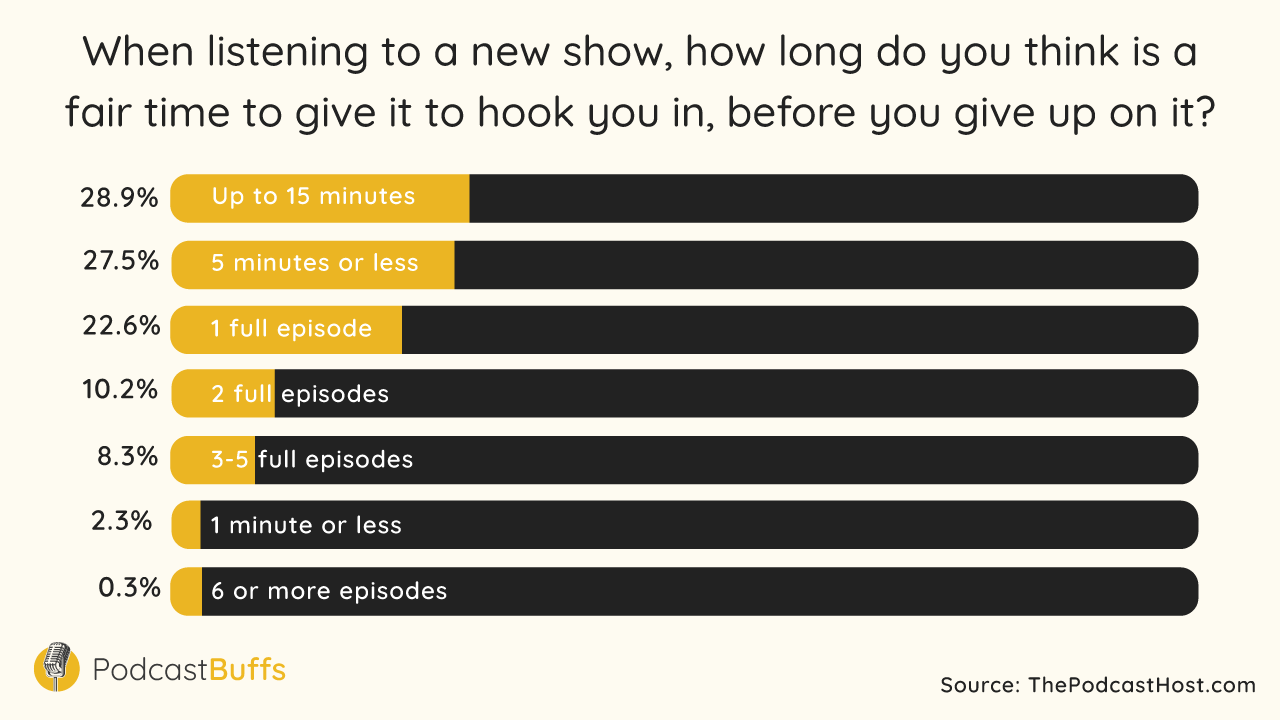 Understand that new listeners have no obligation or loyalty to you, and they probably have a playlist of competitor shows lined up. You need to pitch yourself and your content before they hit next. And for subscribed or return listeners, your podcast intro creates a sense of familiarity that makes them thirsty for more content.
The stake may be high, but don't sweat it
. We have a formula to give you an edge over the competition.
What Makes Good Podcast Intros?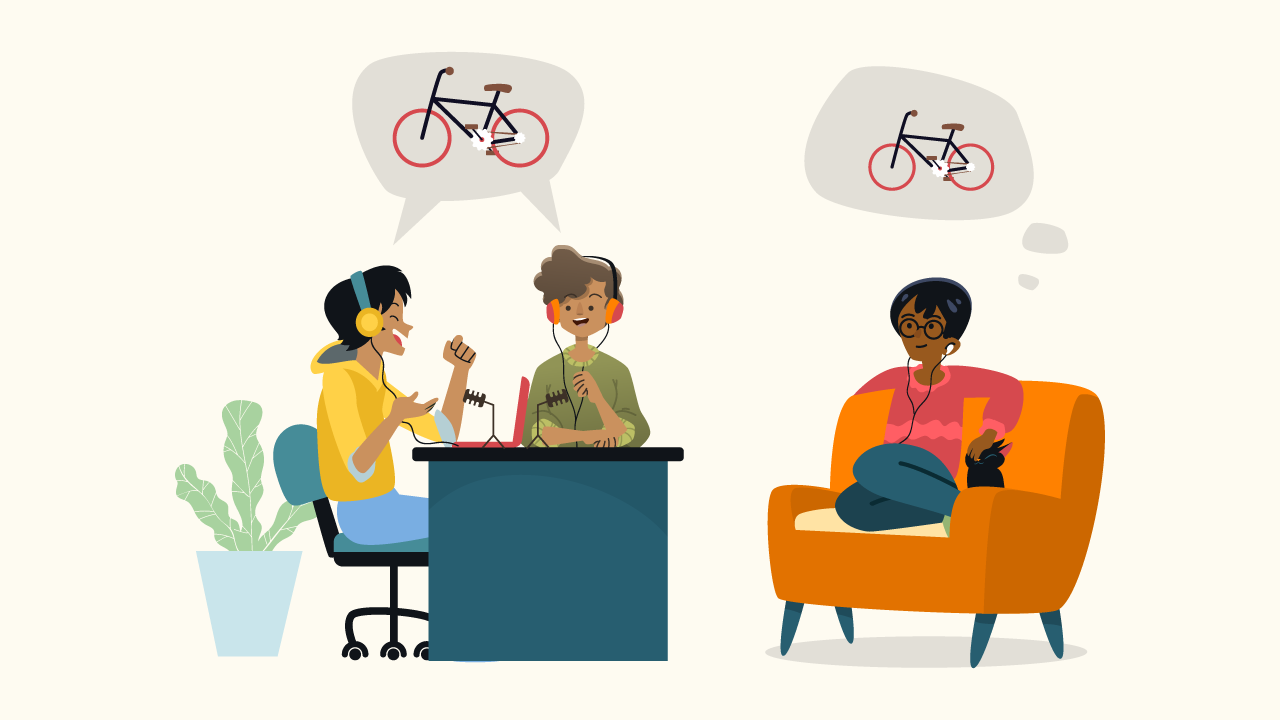 Before we dive into the details of how to create winning podcast intros, we'd like to point out that podcast intros are not the same as episode intros.
A podcast intro represents your entire series, while episode intros are specific to a particular episode. In most cases, this means that each episode is a combination of the podcast intro that is replicated across all episodes—and a custom episode intro that highlights the current topic or guests.
As mentioned earlier, you have a short window to impress new listeners. So your podcast intro needs to be good. But what makes a "good" intro to a podcast?
It Addresses the Podcast Avatar Directly: A great intro is one that your ideal listener will love. Put yourself in their shoes and create something they can relate to. If you're not sure who your podcast avatar is, start here.
It Presents a Problem and Offers a Solution: The best way to pull in your listeners is by mentioning something they need or are likely struggling with so they can relate to it (and you). We'll cover this point in more detail later. So read on.
It Creates Anticipation for the Upcoming Content: The intro to a podcast should tease the value your listeners will gain from sticking around.
It's Short, Snappy, and Succinct: The length of your podcast intro largely depends on your content. But regardless, don't let your podcast intro overstay its welcome. Create a positive momentum and quickly move on to delivering the promise you made with your intro.
It Should be High Quality! Would you invest your time in a book or movie that shows flaws right off the bat? Probably not, right? The same applies to your show; start off strong. This is even more important in B2B podcasting, where your audience expects professional quality.
Tip: Most podcast intros are usually 30 seconds or less. Keep your intros around that mark.
Podcast Intro Formula – Key Elements to Include.
Let's say you're browsing a library for a new book or scrolling through Netflix looking for something to binge-watch. Why do you choose one option over another? When you think about it, your decision is likely influenced by a few subconscious questions. They may sound something like:
What is it about—and does it align with what I'm looking for?
What is the production quality?
Does this look (or sound) interesting enough?
When looking for a new show, listeners rely on the podcast intro to answer these questions—and here's how to go about it so you win them over:
NOTE: This podcast intro formula is not a set of restrictive rules. They're merely suggestions to guide you in the right direction. Feel free to modify your intro to make it uniquely yours.
1. Choose Music for Podcast Intro.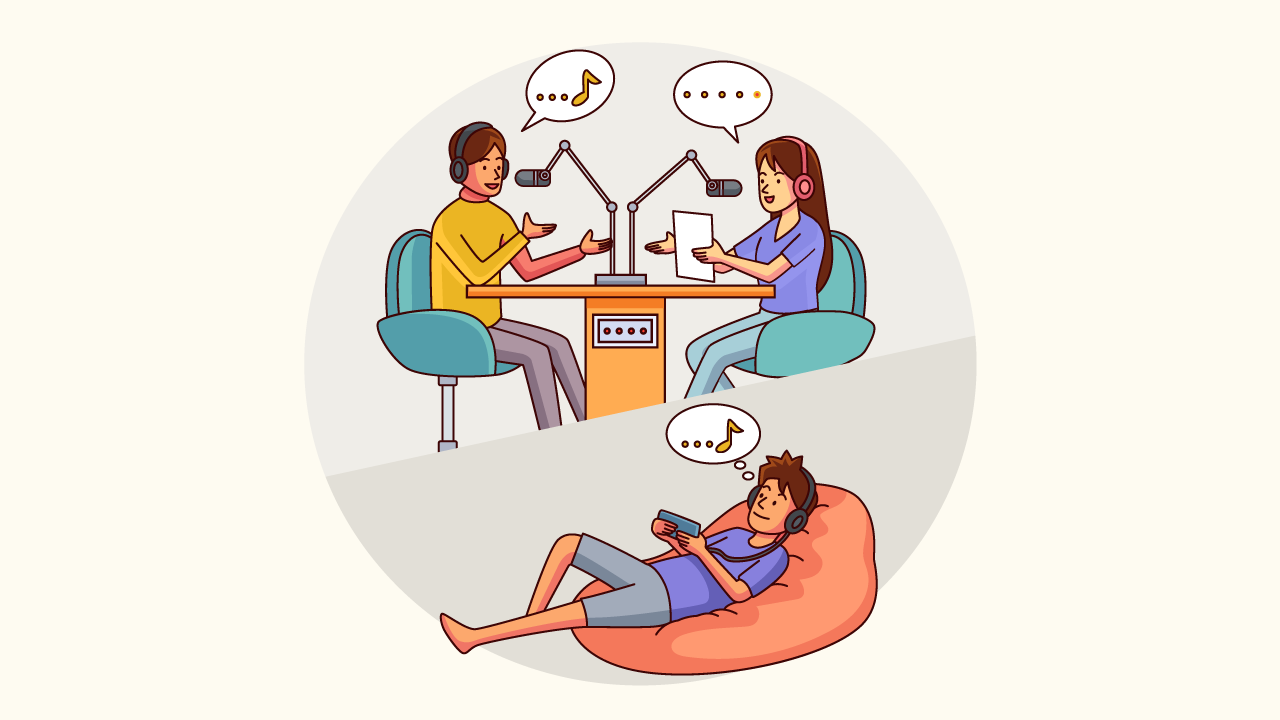 Not all podcast intros use music, but a tailored track can set the tone for what's to come, hook listeners, and give your podcast brand an identity. Think of how you'll likely raise your head in eagerness when you hear a theme song from "Friends," "Pink Panther," "Game of Thrones," or your favorite TV show.
If you choose to have music for your podcast intro (and you should), you'll want to select the right track early on. Wondering why? Well, it's easier to modify the voice-over segment to match the music track. This helps ensure your podcast intro music doesn't sound offbeat or disjointed.
The right music for podcast intros should tick the following boxes:
Should not distract or overshadow what you're saying. You want listeners to hear your voiced intro, with the jingle serving as background noise to set the tone.
The music must fit the personality and tone of your brand.
It should be "powerful" enough to be memorable.
It should be an instrumental track. Music with vocalists only interferes with your narrated podcast intro.
Does not infringe copyright laws. Don't try to cut corners.
So, where can you find awesome music for podcast intros? There are tons of sound libraries out there, check out this article.
NOTE: You can also try out our free podcast intro music and sound effects library for high-quality tracks designed with B2B podcasting in mind.
2. Create Your Podcast Intro Script.
Got the right soundtrack for your B2B podcast? Great! Now let's craft a winning podcast intro script. If you're unsure how to go about this, we have some proven podcast intro script tips and tricks to get you started while leaving room for creative freedom.
Who Are the Speakers?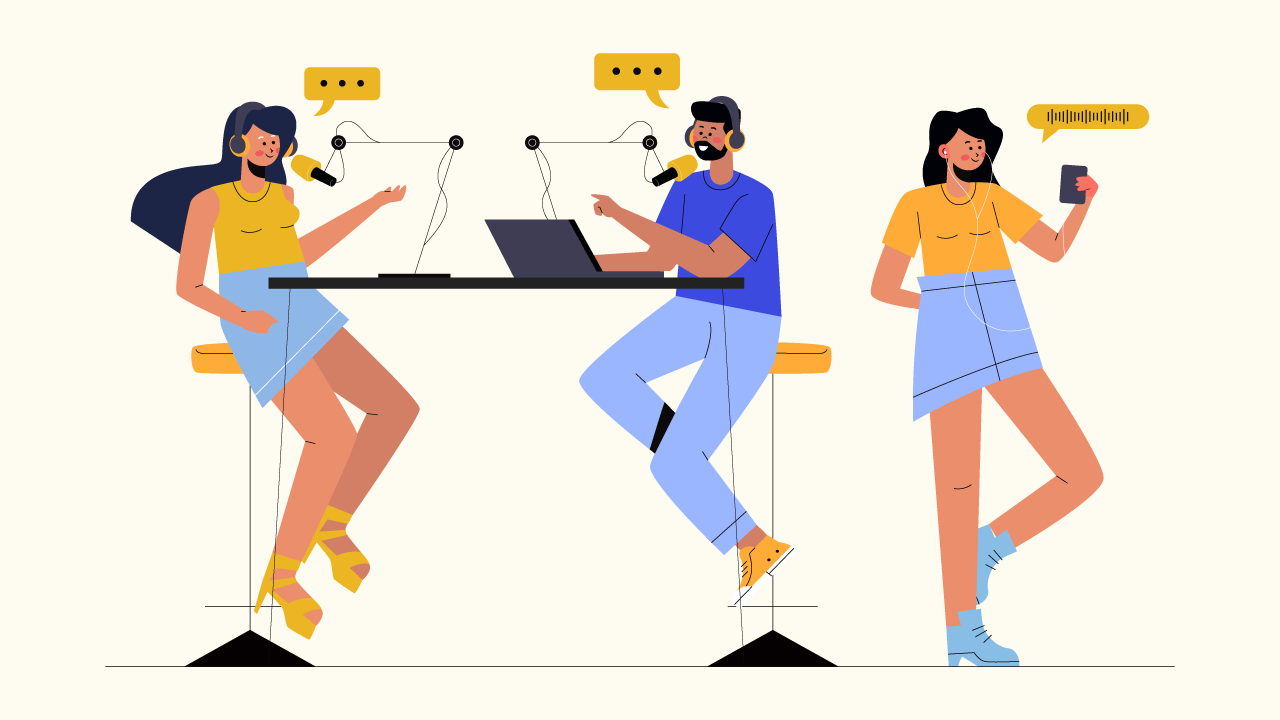 Don't assume your listeners already know you or your guests. Some may have stumbled on your show with zero background knowledge of your business podcast. So fill them in by putting a name to the voices.
Help them understand who they're listening to and why they should listen. This helps build an excellent host-listener relationship that goes a long way in converting leads.
Start by introducing yourself. This could be as simple as:
"Join the conversation with your host, [professional position or impressive achievement], [your name]."
Here's your host [your name].
Hi, this is [your name] from _____, and I love [whatever interest you and the focus of your conversation].
Next, introduce your guests and what they bring to the table. Demonstrating their expertise to give your podcast listeners an incentive to listen in. Why should listeners care about the interviewee's opinion about a particular topic?
The guest intro could look something like this:
Today we're talking about [episode-specific topic] with [guest's defining qualities or credentials], [guest name].
Get ready for another episode of [podcast name] with our special guest_____.
My guest today is an [achievements or credentials], [guest name].
Ladies and gentlemen, please welcome your host…
Now on to the show with your host_____
What's Your Podcast Name? And What is it About?
Your podcast intro script should explicitly state the name of your podcast and what it's about. You can bundle this info into a memorable tagline that sums up the intent or goals of the podcast.
We know it may seem redundant to you, but you should not leave people guessing. Besides, around 20% of your audience "most often" listen to your show in the car—where they likely can't check their phone. And the 59% that listen to podcasts at home tend to do so while doing other activities.
What Problem/Needs Do You Solve? – Benefits of Listening in.
Clearly state how listening to your business podcast will benefit the listener. How will your show improve their lives?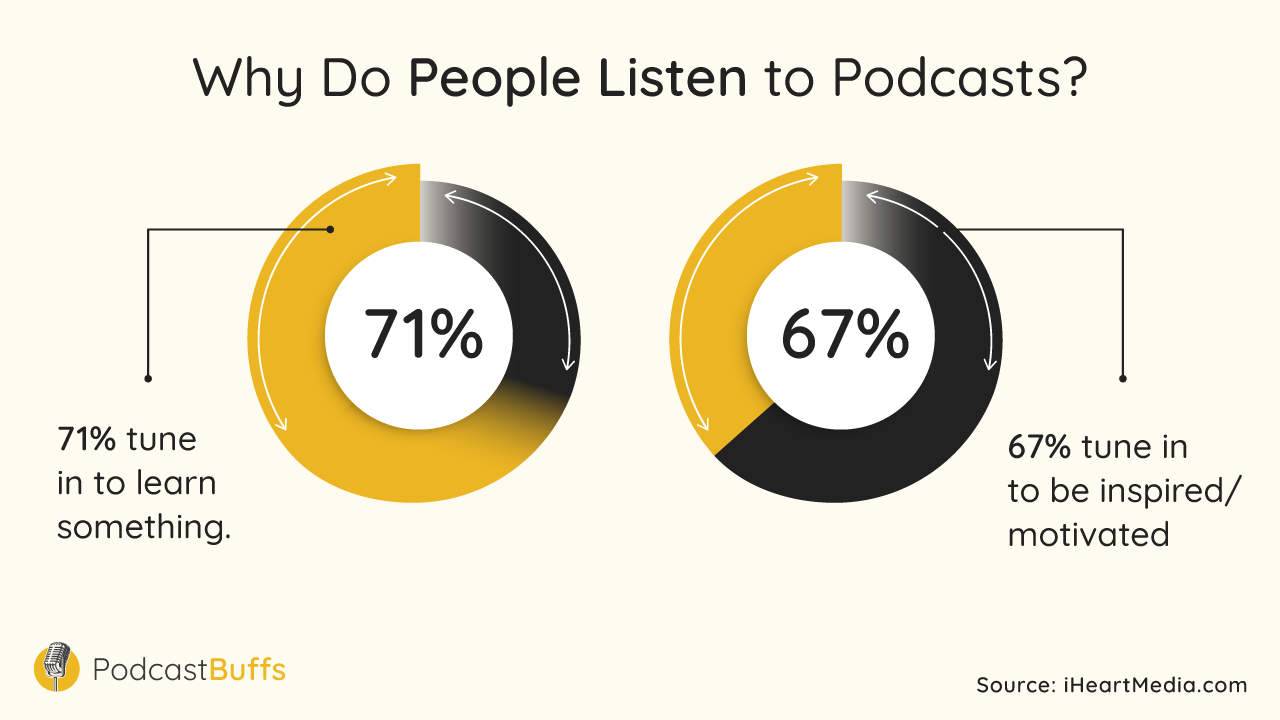 According to a 2022 consumer survey by iHeartMedia in partnership with Publicis Media (PMX), 71% of podcast listeners say podcasts "educate/teach" them something new. Another 67% say their favorite shows "motivate and inspire" them.
The survey demonstrates that your listeners often tune in with a clear objective. They are looking for solutions to problems they have. So let them know you're the person for the job right away.
Here's a podcast introduction example based on our podcast avatar:
"Hello! I'm Praveen Telu, and this is "B2B Podcasting Mastered," brought to you by PodcastBuffs. If you're new to B2B podcasting or looking to maximize the return on investment on your show, you're in the right place. Each week we invite CMOs to share their stories on how they launched and grew an enterprise lead-generating podcast for their companies."
And below is our podcast avatar: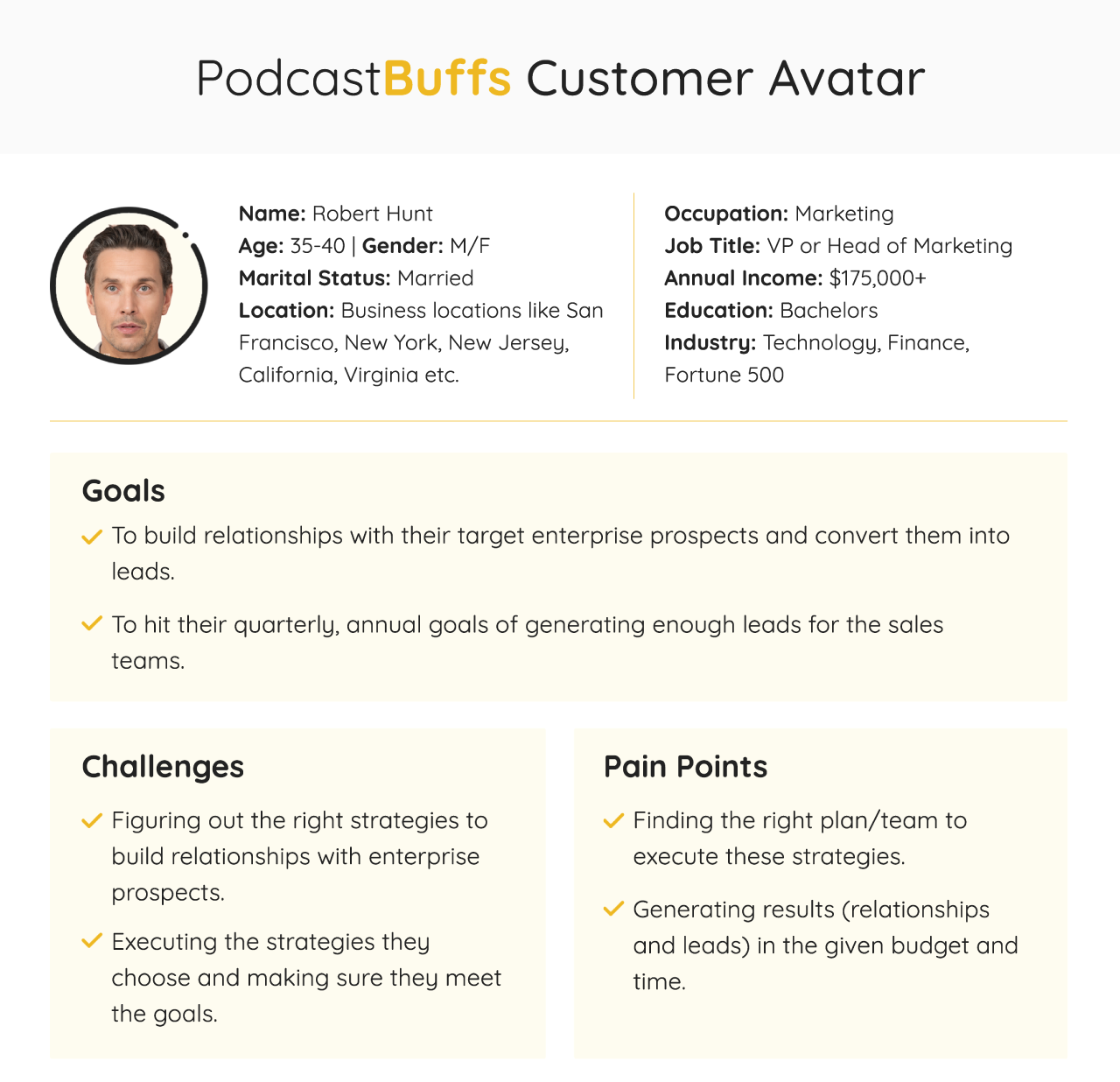 Notice how our sample podcast intro offers solutions to our podcast avatar's pain points? Consider implementing the same strategy to your podcast intros.
For the episode intro (i.e., the one that provides context for what's in a specific episode), consider specifying what the content is adding to your overall show. Ideally, it should build on your podcast's main goal.
Optional Extras:
Episode Title and/or Number: It may be a good idea to keep listeners up-to-date with where they are with your show.
Disclaimer: It's good practice to warn listeners if your podcast episode contains language that could be deemed inappropriate, unsuitable, or sensitive for certain populations. This also applies to topics that could be misunderstood, misinterpreted, or misused (e.g., health topics).
Sponsorship Information: Some sponsors may send a pre-approved message that they want you to cover in your podcast intro.
Podcast Teaser (Cold Open): A cold open is basically a brief, attention-grabbing piece of audio from the episode conversation that comes before anything else. It primes the listeners for what is to come. For some, a podcast teaser can be a powerful lead magnet by sparking curiosity in the ideal listener.
Now piece together all the different elements of your podcast intro script concisely and cohesively.
3. Record Your Voice-Over.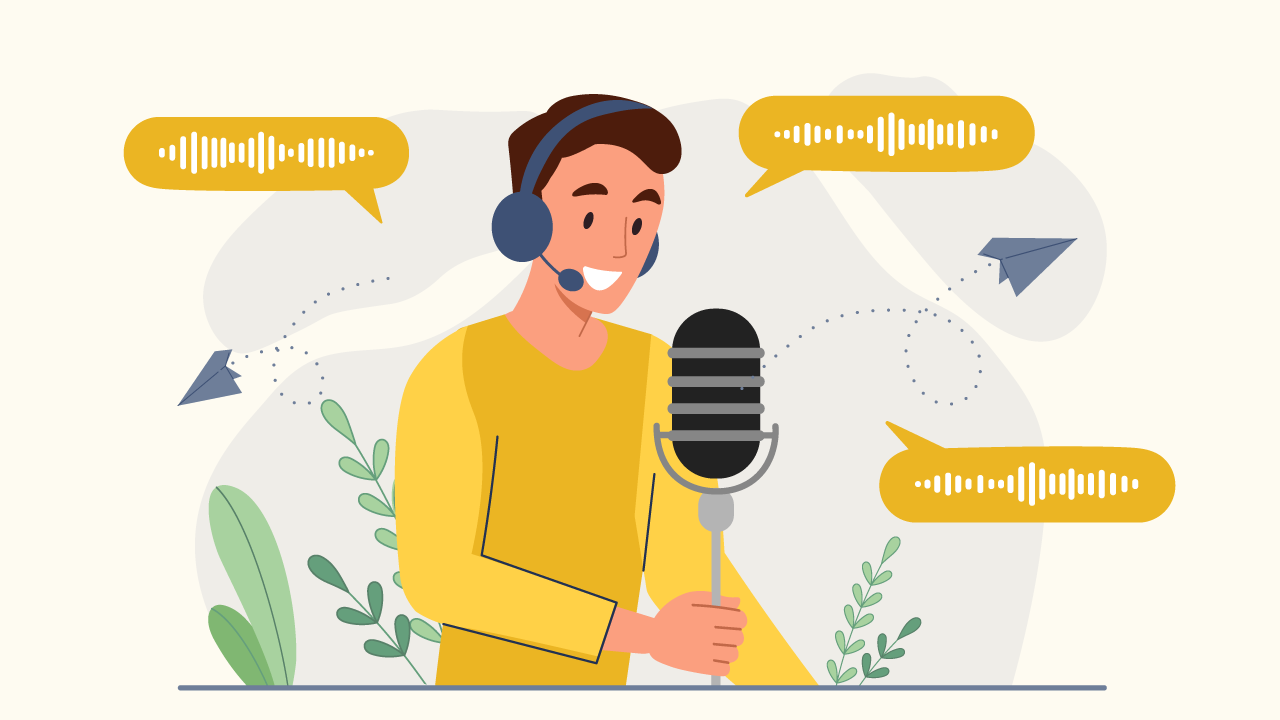 With the soundtrack and podcast intro script nailed down, the next task on your agenda is to create a voice-over that blends seamlessly with the music. For this, you have 2 options:
Personally Record Yourself Narrating the Podcast Intro Script: Recording a podcast intro using your voice helps create a connection or familiarity with listeners early on. The more confident and clearer you sound, the better. So do as many takes as necessary.
Hire a Voice Actor: While not necessary, the right voice-over artist can give your podcast an added layer of professionalism, which could take your show to the next level—particularly for branded podcasts. You can hire voice actors from platforms like Fiverr or Music Radio Creative. But make sure you listen to samples before committing.
Now put it all together and have your intro ready to be added to your podcast episode template. If you're planning to leverage the expertise of a podcast editing service to polish your raw recording, you can send over the finished podcast intro.
Podcast Intro Examples.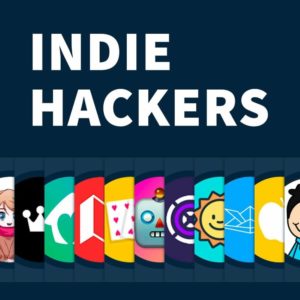 "What's up everybody, this is Courtland from IndieHackers.com, and you're listening to the Indie Hackers podcast. More people than ever are building cool stuff online and making a lot of money in the process, and on this show, I sit down with these Indie Hackers to discuss the ideas, the opportunities, and the strategies that they're taking advantage of so the rest of us can do the same."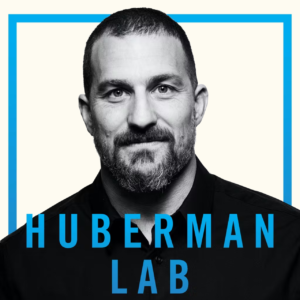 "Welcome to the Huberman Lab Podcast, where we discuss science and science-based tools for everyday life. [Short pause with upbeat music] I'm Andrew Huberman, and I'm a professor of neurobiology and ophthalmology at Sanford School of Medicine. Today my guest is_____."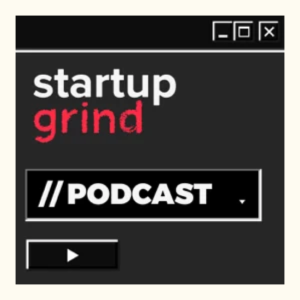 "Welcome to the Startup Grind podcast. Startup Grind is the world's largest independent startup community. Inspiring, educating, and connecting millions of entrepreneurs across the globe in partnership with Google for Startups. These are the stories of disruptors, innovators, and game-changers from the fastest high-growth companies and venture capital firms in existence. Join us as we unpack the strategies of startups, learn from their mistakes, and grow together. There's no time to wait. Let's begin."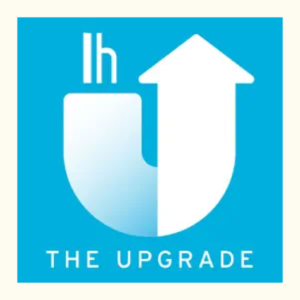 "Hello and welcome to The Upgrade, the podcast from the team at Lifehacker where we help you improve your life. One week at a time. I'm Melissa Kirsch, Editor in Chief of Lifehacker, and I'm Alice Bradley, Lifehacker's Deputy Editor…"
Podcast Outros – How to End a Podcast?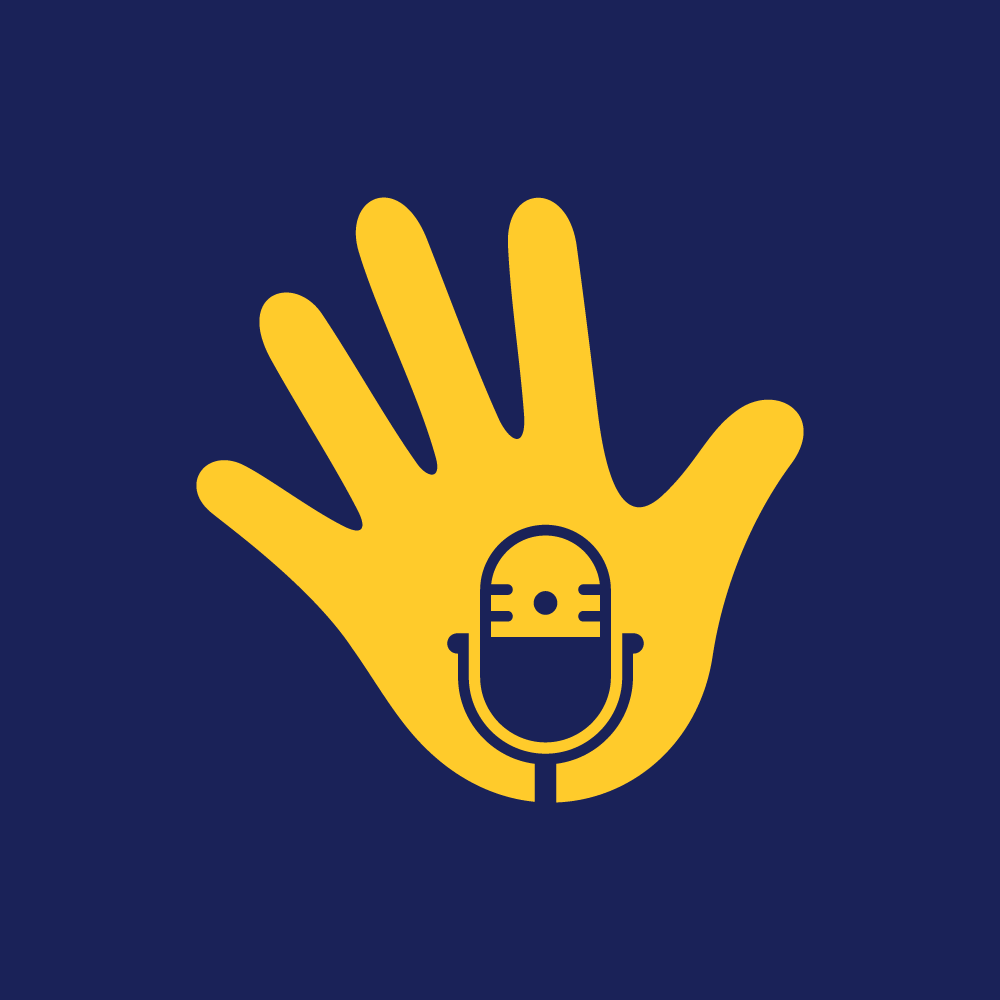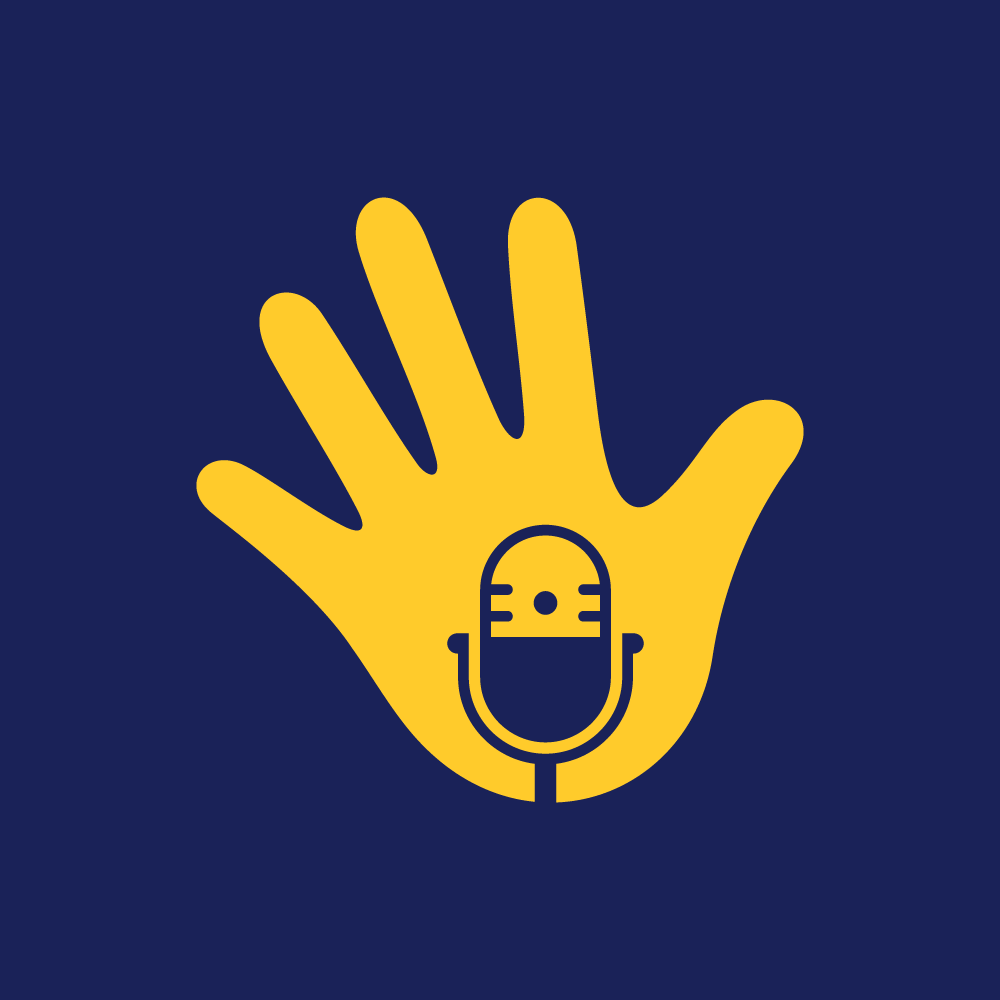 You've put a lot of work into making content that your ideal listeners will love. The podcast outro is where you wrap it up and hopefully "seal the deal."
Whereas the podcast intro hooks and nudges the audience to keep listening, the outro is an opportunity to ask something of them. When well-executed, the podcast outro is crucial for your lead generation efforts.
Let's create a hypothetical situation to demonstrate why…
"You're a marketing manager, and you're looking for a podcast that delivers actionable tips that you can implement to improve your skills and productivity. One podcast piques your interests thanks to its eye-catching cover art and on-brand podcast name.
You click play, and the podcast intro grabs your attention immediately. Before long, you're engulfed in the content, partly due to the audio quality and partly because of the compelling storytelling. At this point, the podcast has effectively addressed your pain points and added value to your life.
Unfortunately, the episode ends abruptly—and being the busy person you are, you quickly move on to the next task on your crammed daily schedule."
The above scenario highlights the importance of a podcast outro. Your intro may be great, and your podcast body may deliver on your promise—but a poor ending could mean the difference in losing a lead.
Think about it: If someone is listening to a podcast outro, it can only mean they sat through your entire episode. They likely loved what you have to offer and would be willing to respond to a subtle CTA (Call-To-Action).
How to End a Podcast?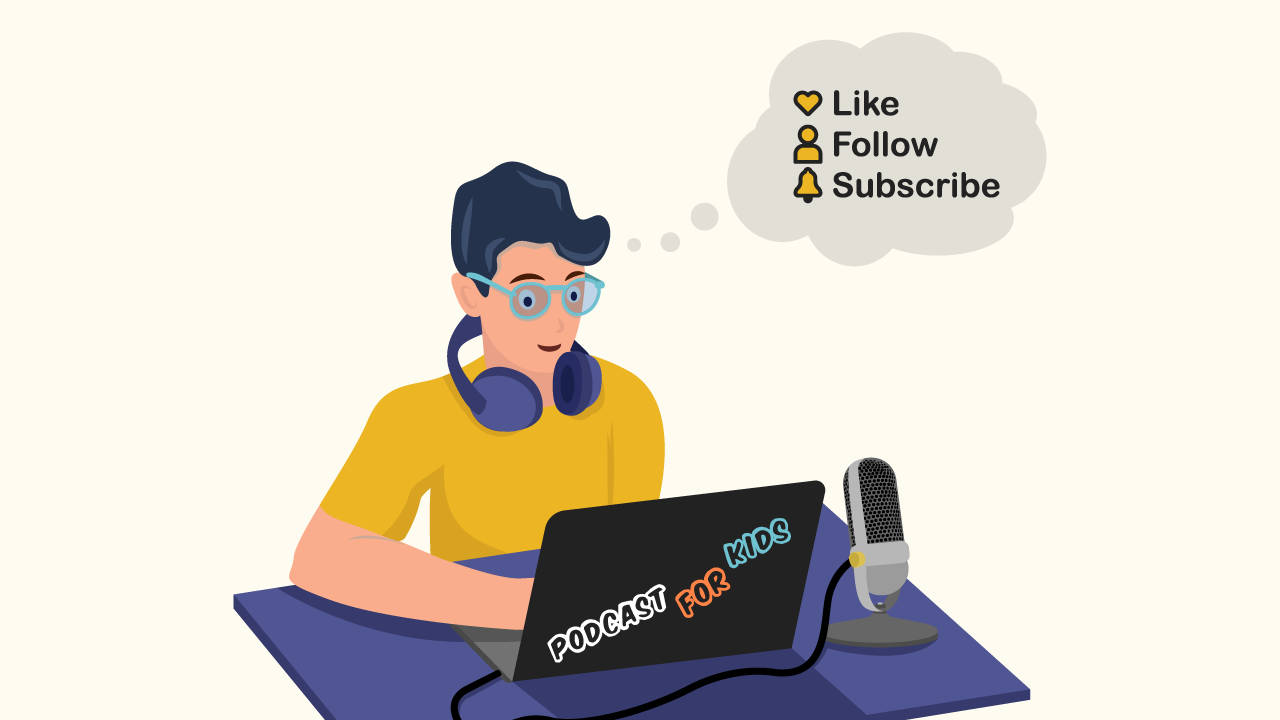 There's no rule book on how to craft the perfect podcast outro. It all comes down to your content, target audience, and unique brand.
But as much as there is a level of flexibility, here are some elements you may want to include in your podcast outro. Feel free to mix and match our suggestions to find something that works best for you, even if that means some trial and error:
Podcast Outro Music: Add a soundtrack to give your podcast outro a personality that helps engage the audience.
Thank your listeners: Your listeners have dedicated a portion of their limited and valuable time to consuming your content. The least you can do is show your gratitude.
Ask your guest for closing remarks: Everyone likes closure. So consider creating a unique sign-off. And if you had guests, pass the mic to them for their closing statements. They probably want to promote their social media handles or website.
Include a CTA: This can be something in the line of subscribing, sharing, leaving a review, tuning in to the next episode, buying something, or signing up for your newsletter. But don't overdo it! You don't want to come off as salesy and overbearing. If you have a laundry list of requests, simply direct listeners to your website.
Teaser of the next episode (if you have one): Giving listeners a taste of what you have lined up can be a good enough reason for them to come back.
Podcast Outro Templates.
Looking for some inspiration for your podcast outro? We've compiled a list of possible podcast outro templates to guide you:
Thanks for listening to this episode of the_____ Podcast. We hope you enjoyed it. For more tips and notes from the episode, check us out at [your website].
Please be sure to subscribe so that we can join you again and if you loved the show, please jump over to [podcast listening platform(s)] and give us some stars. Talk to you next week.
You've reached the end of another episode of the_____ Podcast. Connect with us at [website]. Don't forget to sign up for our newsletter to receive our free materials. See you at the next episode.
That's it for this week's episode of _____. Be sure to sign up to our email list at [website] and follow us on your favorite podcast listening platform so that you don't miss our next episode. I'm _____, and [wish your listeners luck in whatever you were discussing. E.g., happy podcasting].
This has been the_____ Podcast. I'm_____, and if you want to learn more about the topics we discussed today, visit_____, where you'll find the episode show notes. Special thanks to [sponsor] for supporting the show, and we hope you will too by rating our show on [podcast listening platform(s)]. Thanks for listening.
Thanks for listening to the_____ Podcast. Be sure to visit [website] to access the show notes, join the conversation, and discover our amazing bonus content.
Podcast Outro Examples.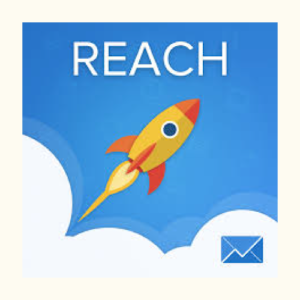 "Grab our free action guide from this episode to help you impact your own reach today. Head to convertkit.com/reach or simply click the link provided right in your podcast player. And don't forget, we're wrapping things up after 20 action-packed and inspirational episodes so that you can get down to the work of putting all these tips into place in your own business. So now's the time to get into action. It's time to expand your reach. We're so glad you started here. Thanks for listening."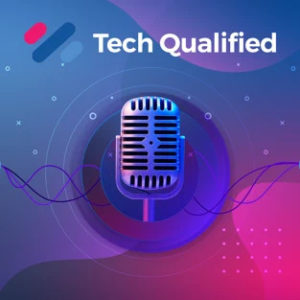 "And for our audience, thanks for listening as well. If you're looking to generate engaging conversations with your ideal customers while also positioning your tech as the choice in the marketplace, then access Motion's Ultimate Thought Leadership Course for B2B tech companies. The online course provides a complete step-by-step process required to establish a thought leadership program using a podcast or video series. Get free immediate access today by visiting motionagency.io/access."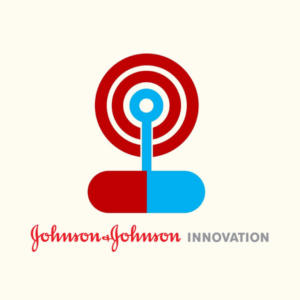 "The J&J Innovation podcast is brought to you by Johnson & Johnson Innovation. For more information, you can find us at jnjinnovation.com. Special thanks to Ryan Flynn, who was instrumental in making all of this happen. And Mike Riley, our executive sponsor."
Create Podcast Intros & Outros Your Listeners Will Love.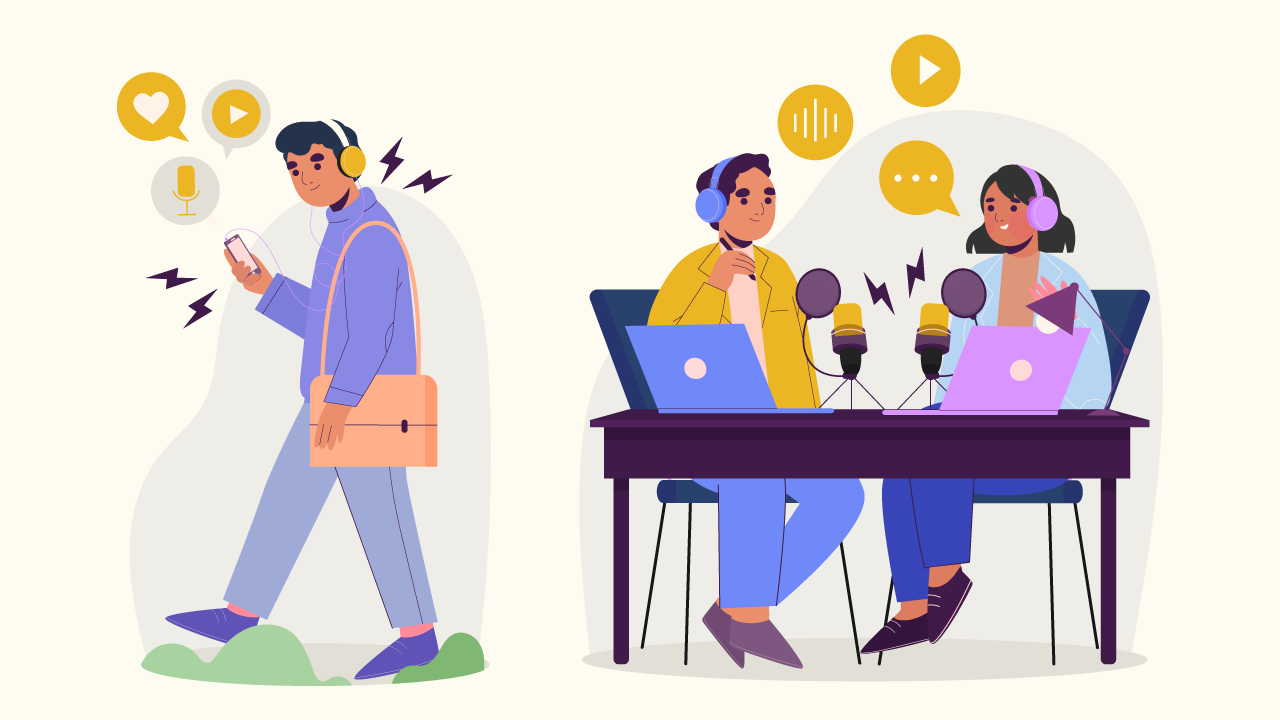 The purpose of podcast intros and outros is to enhance or support your content. They elevate the listener experience, making your show even more compelling. Putting thought and effort into how you open and close your B2B podcast puts you ahead of countless others.
And the trick to creating impactful podcast intros and outros is experimenting with different elements and formats—but under the framework of some of the best practices discussed in this lesson of the "Podcasting Mastered" course.
Don't know where to begin? Get started with our free B2B Podcasting course.
FREE EMAIL COURSE
B2B Podcasting Mastered
Learn how to launch a revenue generating podcast for your business in just 10 minutes a day, for 2 weeks.