Music is what gives your podcast an air of professionalism, but finding music copyright free can be difficult. Music smoothes out inconsistent recordings, helps listeners tune in, and sets the mood of a podcast episode. Podcasts are entirely audio-based, and music is an important part of creating a great sound experience for your audience.
Producing and editing a podcast also means you must source "podsafe" music for your podcast. Using copyrighted music without permission is not a risk worth taking.
Let's take a closer look at the types/licenses of royalty free music you can use in your podcast, and then we will dive into where you can find the widest selection of music copyright free.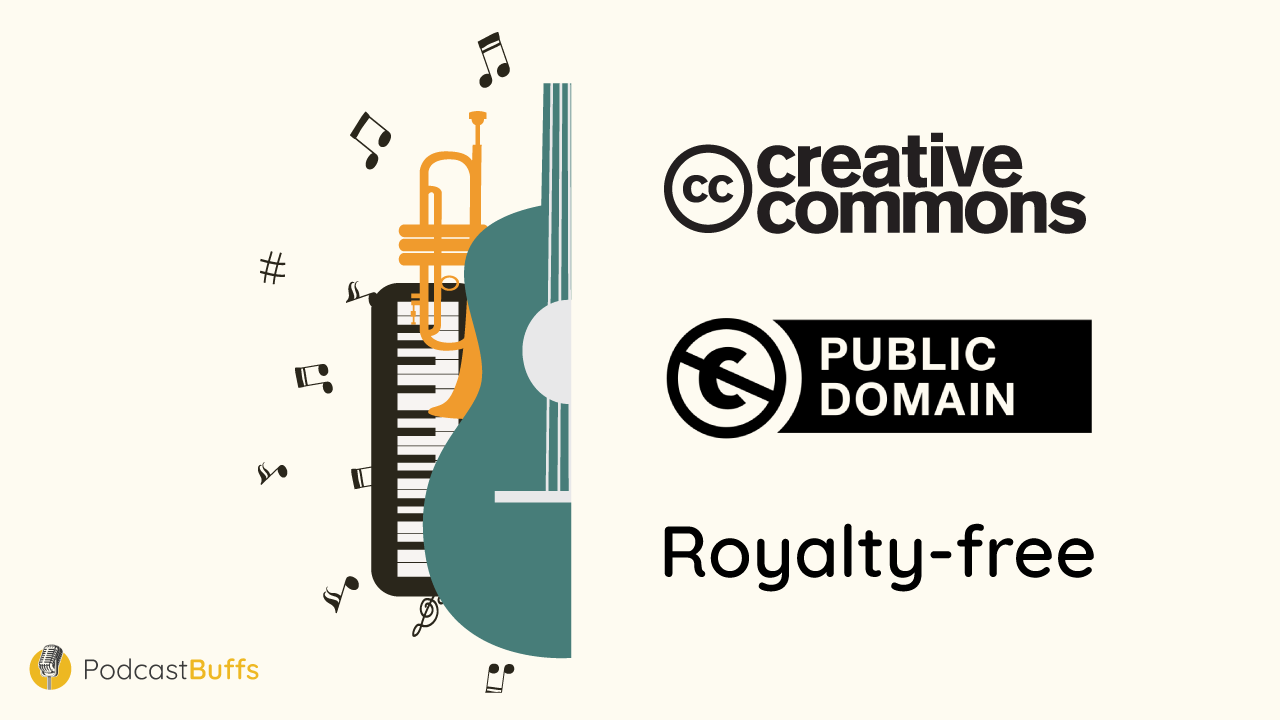 1. Creative Commons Music
Music under a creative commons license will allow you to use it without permission, as long as you credit the producer. Not all licenses permit commercial use, but it's usually clearly labeled. When using any piece of music, read the terms carefully before adding it to your podcast.
2. Public Domain Music
Once the original copyright holder of a track dies, it will go out of copyright and into the public domain, typically after 70 years. Plenty of tracks from the 20s, 30s, and 40s are now in the public domain for royalty free use.
3. Royalty-free Music
Don't let the word "free" fool you; you still have to buy a license to use royalty free music. When you purchase a track, you can use it however you want and however long the terms of the license are specified.
You can make a once-off purchase, and buy a specific song. Or you can use a subscription service. With podcasts on the rise, more and more services offer massive catalogs of professional music for a monthly subscription fee. Typically, you can use the song for as long as the subscription is paid.
Free Music Libraries
Some platforms offer music that is 100% free to use. These may fit your budget, but there won't be a wide collection that is systematically organized. Additionally, the music on offer will probably not be high-quality tunes. However, if you are not too choosy about finding the perfect track, plenty of options from the list below will give you access to music copyright free for your podcast.
A. PodcastBuffs' Podcast Music Library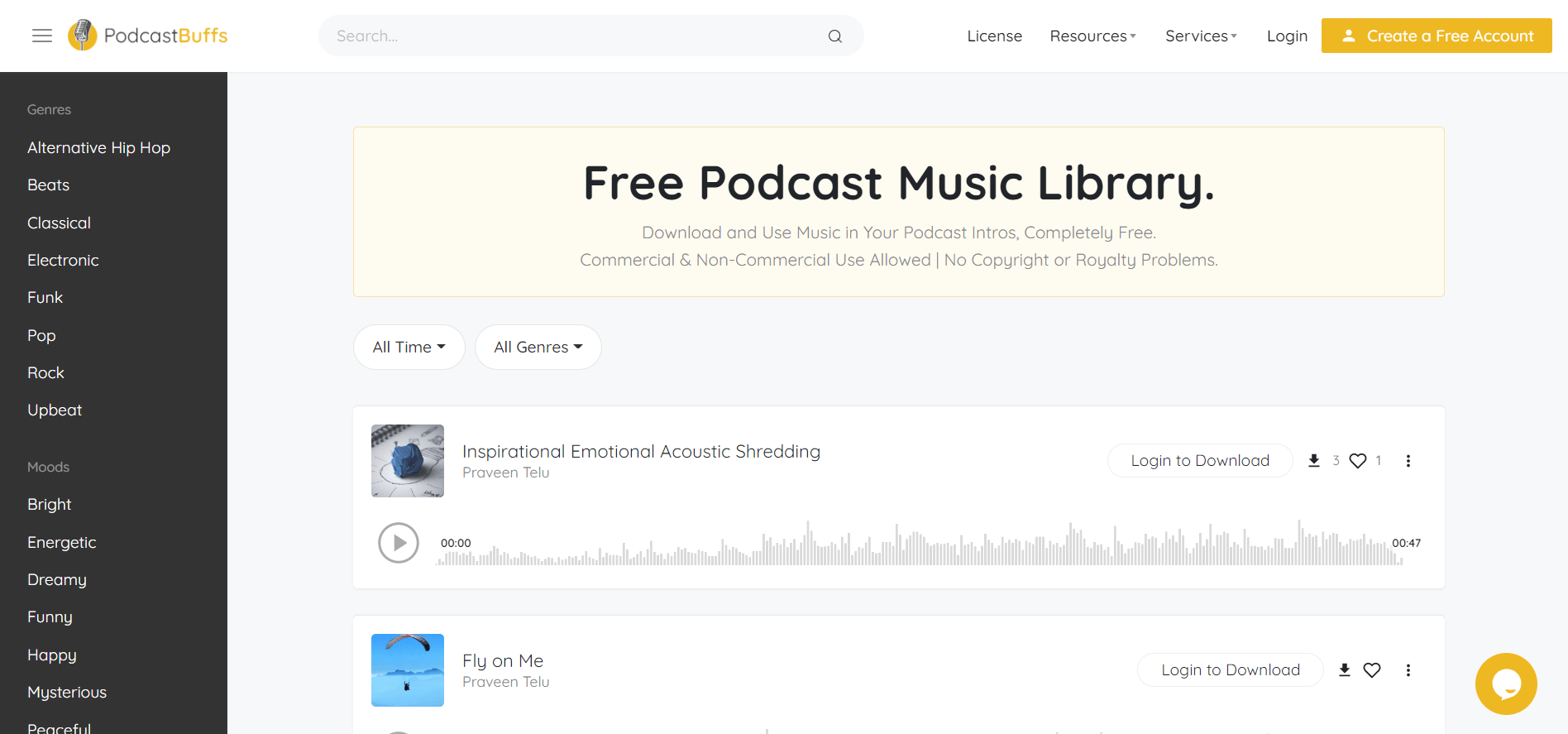 Yes, we've built a free music library for podcasters. This music is specifically built to be used in intros and outros.
The music tracks are completely free for both commercial & non-commercial use.  We own the full rights of those tracks, so you'll never face any copyright or royalty issues.
Check it out here: Podcast Intro Music
B. Podcast.co



Podcast.co has produced their own podsafe album that is free to podcasters, and you don't need to give them credit. Their first album is titled Keep Calm and Podcast.


C. Pixabay Music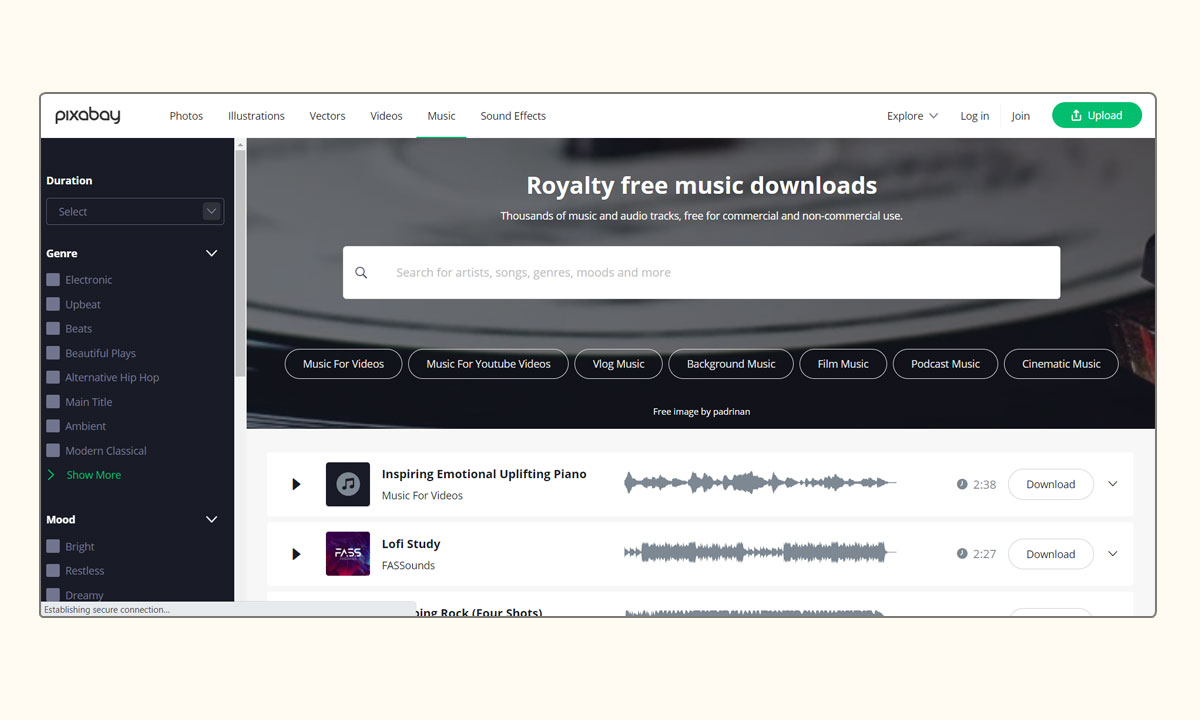 Pixabay has begun a library of free music, with no crediting required. You can sort through the genre, mood, and movement using the filters on the site.
D. Free Music Archive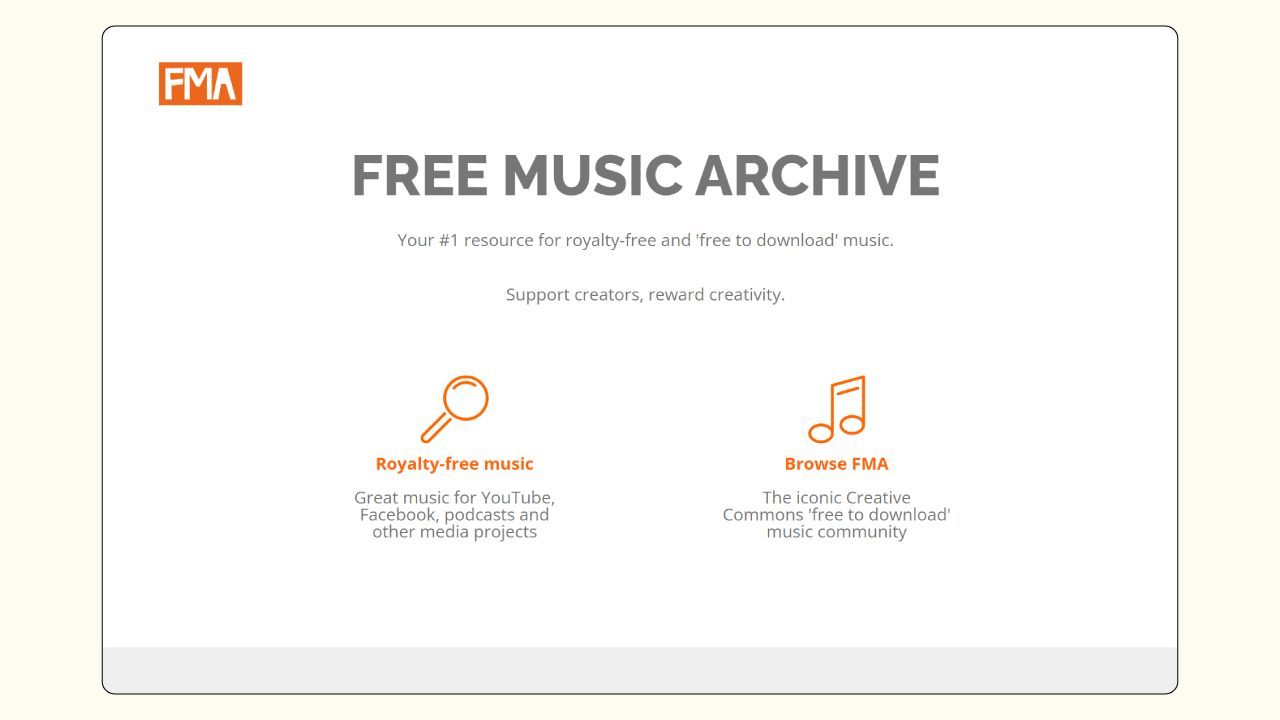 Free Music Archive offers podcasters a wide selection of copyright free music to download. The site collects tracks from artists and curators worldwide. The site additionally offers a chart listing the most popular tracks, helping you to find the higher quality and better-produced tunes for your podcast.
E. Silverman Sound Studios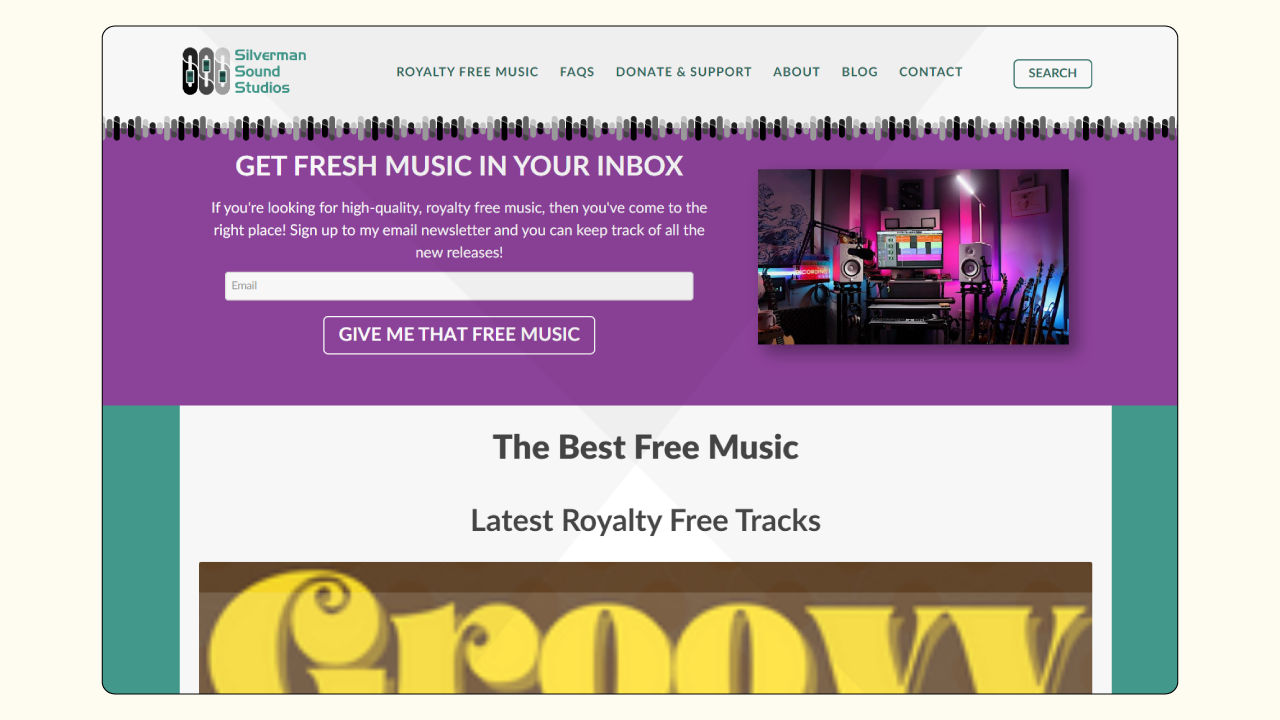 Silverman Sound Studios offers high-quality tracks across genres. The tunes on the site are free when you give credit for the tracks.

Paid Music Libraries
There are several advantages in paying to get music copyright free, the main two being choice and quality. Subscription services are some of the best ways to find affordable music for your podcast. Paying a monthly fee gives you access to an entire library of tracks, enabling you to find what you're looking for from a wide selection.
But if there is only a single track that you want to use, buying the license to a single track is a great option. Here are a few great sites to find royalty free music to download.
A. Musicbed (Subscription)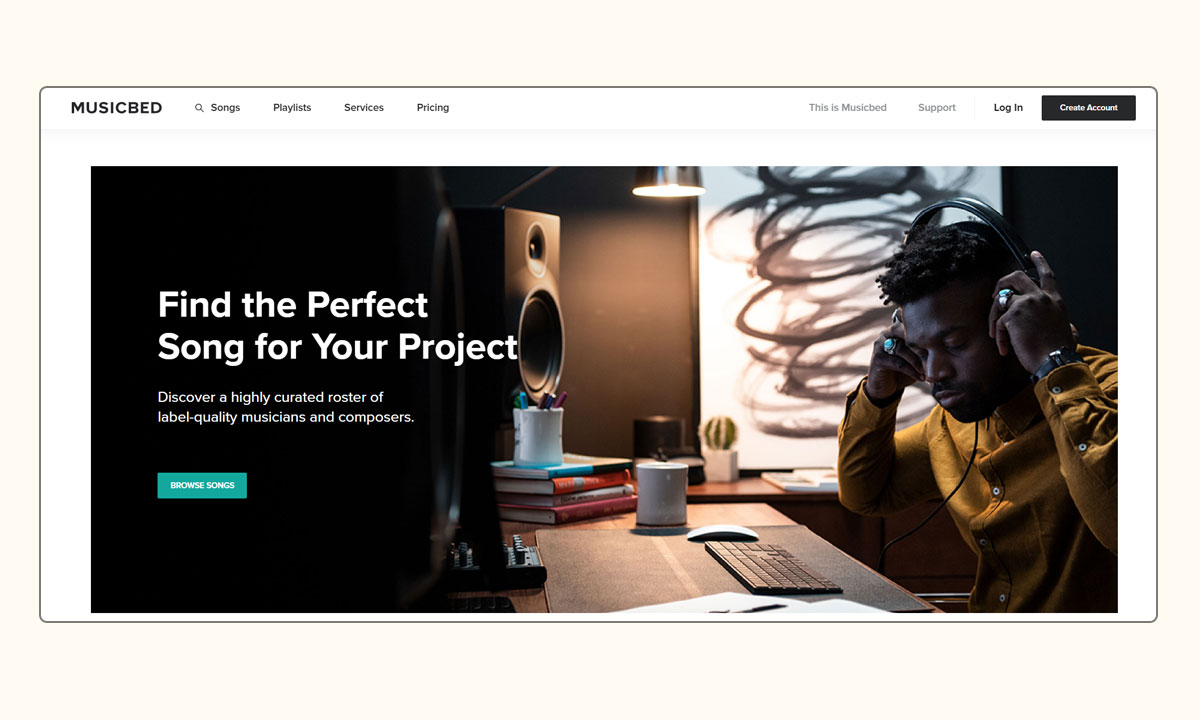 Musicbed has been around since 2011 and has an extensive library of music copyright free for podcasters to tap into. It is a leader in premium music and has an incredible catalog of musicians and an easy-to-use interface. Musicbed is one of the largest paid-for libraries available and works on a subscription basis.
PremiumBeat (Pay-per-track).
Shutterstock powers PremiumBeat. The site offers everything from intro and outro music segments to transactions and background music. It offers a one-stop shop experience with tracks that are categorized and labeled to navigate the site easily. 
You'll find collections like "Medieval Fantasy," "Ultimate Summer," and more. The site offers several licensing subscriptions, starting at $12.99 per month per track. You'll have great quality music that is royalty free and stress-free. 
Shutterstock has recently begun a subscription service where podcasters can access royalty-free music for download from an extensive library for $199/ per year.
Jamendo (pay per track).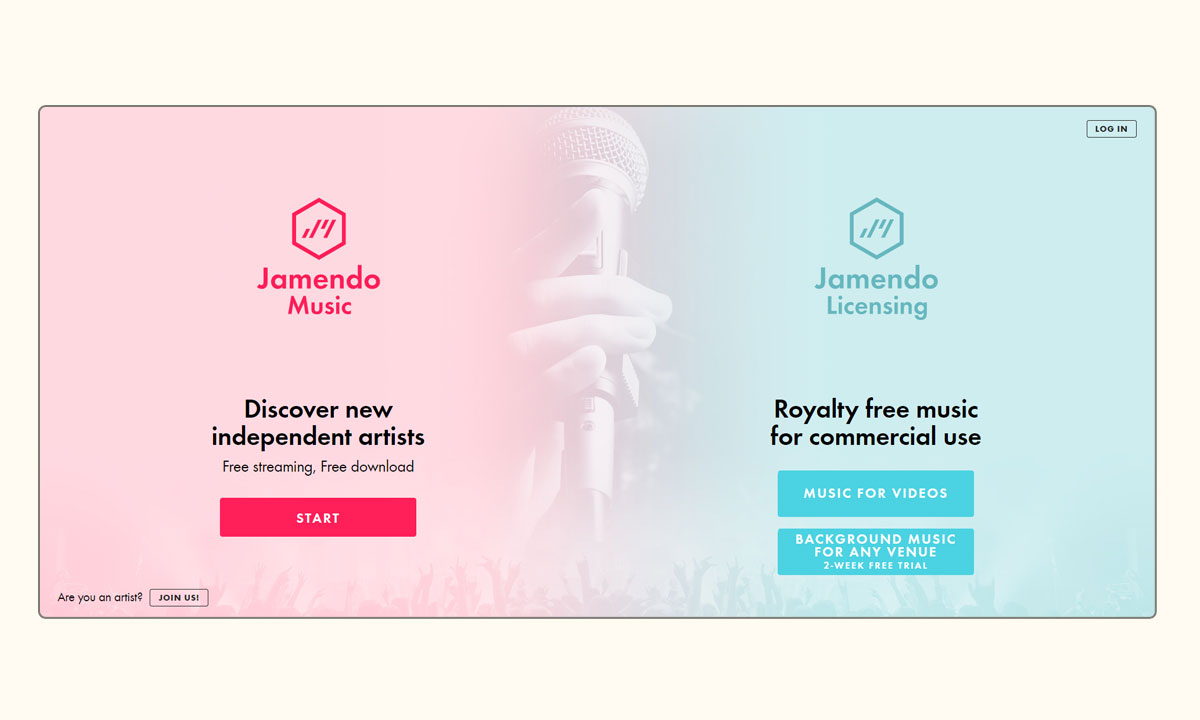 There is plenty to choose from with Jamendo. The site offers 200,000 tracks from thousands of independent artists. If you're looking for a long-term theme song to use consistently on your show, then Jamendo is an excellent place to buy a one-off track.
They offer several licenses, but their standard one costs $50 per track and includes a commercial license. They also offer a composition service for anyone looking for a unique song for their podcast.
Pond5 (Pay per track/subscription).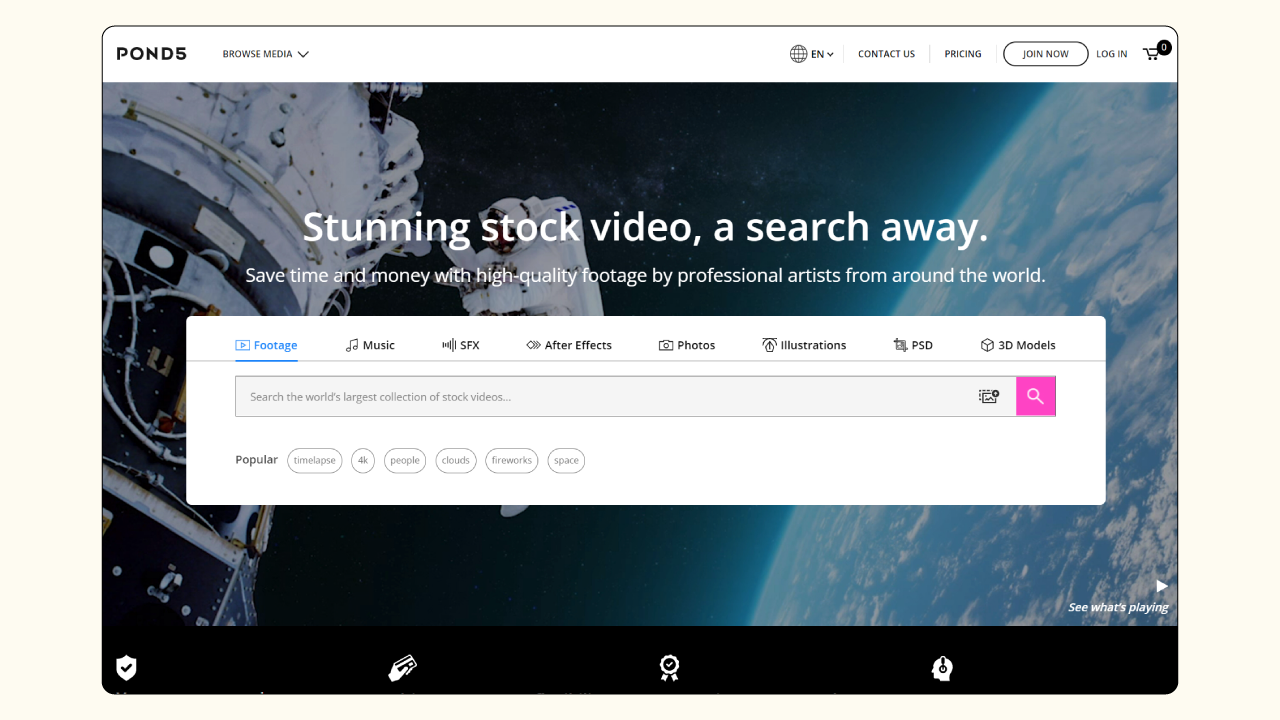 Pond5 is probably the most comprehensive music library on offer. The site offers 900,000 tracks and 1.2 million sound effects and two ways to buy the tracks: subscription or one-off. The fee for Pond5 is much higher than other music libraries like Musicbed and Soundstripe, but you're more likely to find the perfect track for your podcast.

Music is an important part of producing a podcast, and finding the right tune with the right licenses can be tricky. But finding music copyright free with our comprehensive list will help you get started right away.