Ready to be heard? Ready to make your mark in the B2B podcasting industry? 
You've done the heavy work by nailing down your podcast niche and format, building a fantastic setup (hardware + software), recording quality sound, and polishing your audio. Now it's time to think about how to reach your listeners' ears—and this starts with finding the best podcast hosting sites for your unique needs.
If you're new to B2B podcasting, you're probably wondering why you need hosting for a podcast. And if this is not your first rodeo, then you're likely looking for the best podcast hosts out there. Regardless of what brought you here, this lesson of the "Podcasting Mastered" course covers everything you need to know.
Read on to learn the key considerations when choosing the best hosting for a podcast and our suggestions for the best podcast hosts.
What is Podcast Hosting?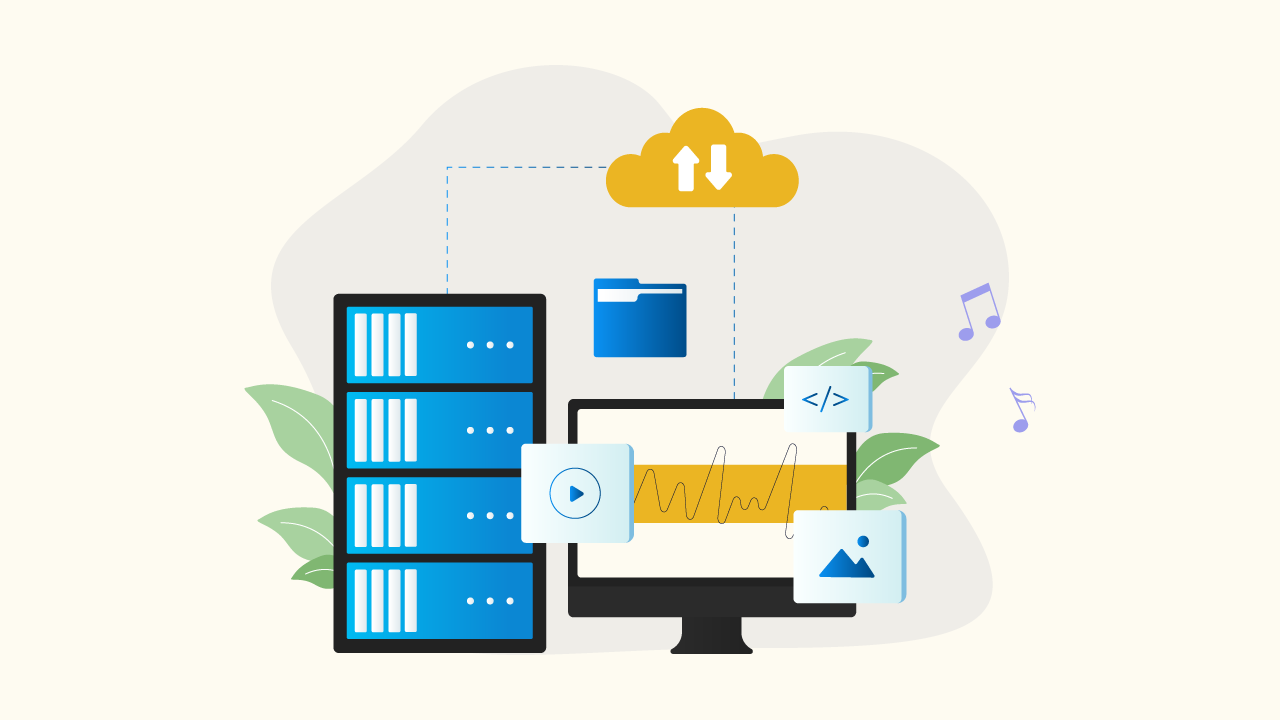 Dreaming of seeing your show racking listens and downloads on Spotify, Apple Podcasts, Stitcher, Google Podcasts, and all the other podcast directories? Great! So do we
.
But first, you'll need a middle person to handle a chunk of technical work that goes on behind the scenes before your recorded audio, artwork, and podcast description feature on all your favorite podcast directories. This 'middle person' is a podcast hosting platform.
Hosting for a podcast works similarly to hosting for a website. A podcast hosting platform is simply a specialized service that stores and delivers your files in a format that your audience can access and consume. 
More specifically, a podcast host stores all your podcast files and generates an RSS feed (i.e., a standardized content distribution method that provides a listing of your episodes). This is then submitted to podcast directories like Apple Podcasts or Spotify. Most podcast hosting sites also offer scheduling tools, analytics, and other features to help you publish and grow your show.
If a little voice in your head is wondering— "Why can't I just use my existing web hosting if the concept is similar to podcast hosting?"—here's your answer…
This post is the 16th in a series of "Podcasting Mastered" chapters designed to help you launch and grow an enterprise lead-generating podcast.

There has never been a better time to make your voice heard – and we're here to help master the art of podcasting with step-by-step guides.
Get the new chapters sent directly to your inbox, as soon as they release.
We follow strict no-spam policy. Your information will not be sold.
Why Do You Need Hosting for a Podcast?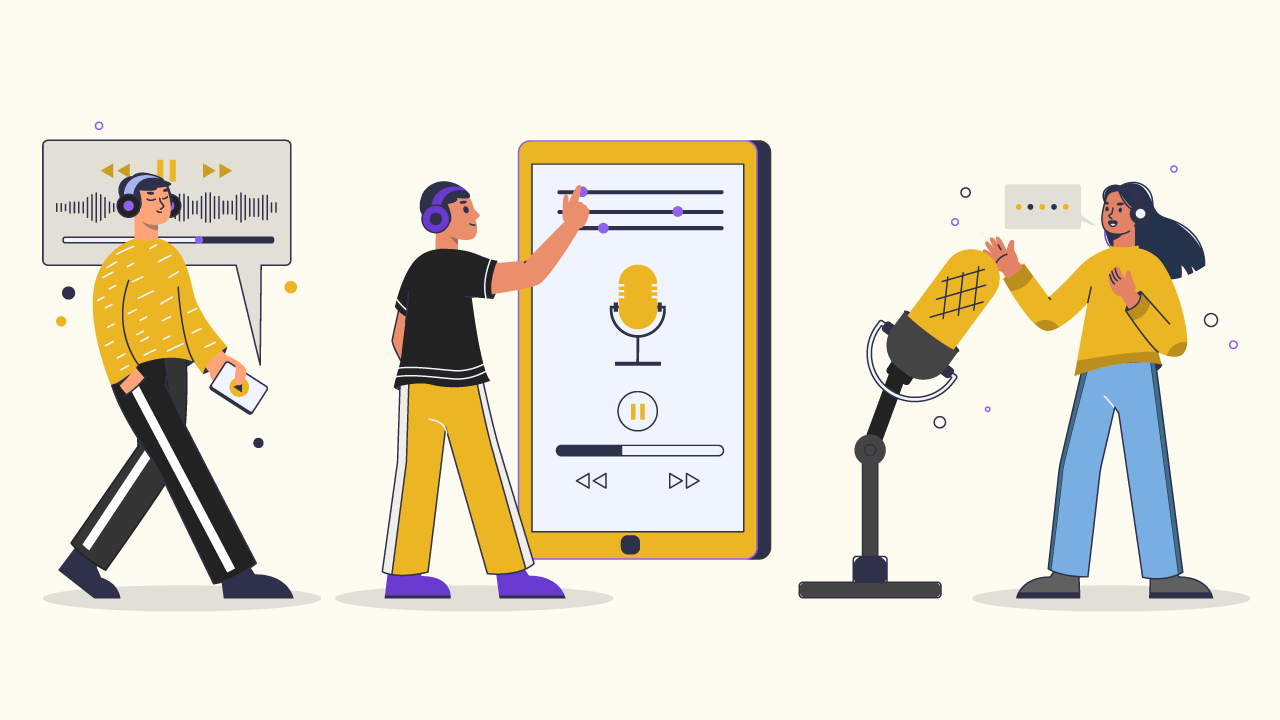 To host or not to host? 
A common question in the podcasting industry and one with a straightforward answer for most. Quick answer: YES, you need a podcast host—unless you have the time, know-how, and energy to fiddle around with your own RSS feed.
Now, what about 'feeding two birds with one scone' by using your website hosting to also store your podcast files? Well, theoretically, this is possible. But it's not advisable.
Web hosting and podcast hosting may both be 'birds', but they're completely different beasts. Podcast episodes are typically heavy media files. This means they're likely to strain your website hosting's server resources. The consequence is slow website load times and a risk of crashing.
And this is where podcast hosting platforms come swooping in. These service providers specialize in storing large podcast media files and delivering them to your listeners in the best way possible. The right hosting for a podcast offers a streamlined connection to podcast directories, better download speeds, less bandwidth strain, and embeddable players for your website, among other specialized features.
Tapping into the perks of some of the best podcast hosts makes a considerable difference in the long-term success of your show. It impacts your discoverability, user experience, and growth opportunities. So choose wisely!
Considerations When Choosing the Best Hosting for a Podcast.
There's a lot on the line when it comes to podcast hosting. Ensuring your podcast host can support your current, and future B2B podcasting needs from the start will set you up nicely for growth and success.
But with tons of options to choose from and a number of functionalities to compare, finding the right hosting for a podcast is not always easy. We know this first hand. And we've done the 'dirty work' by exploring countless rabbit holes, so you don't have to.
That being said, let's highlight some key criteria to help you narrow down on the best podcast hosting sites for YOUR needs:
1. Storage and Bandwidth Capabilities.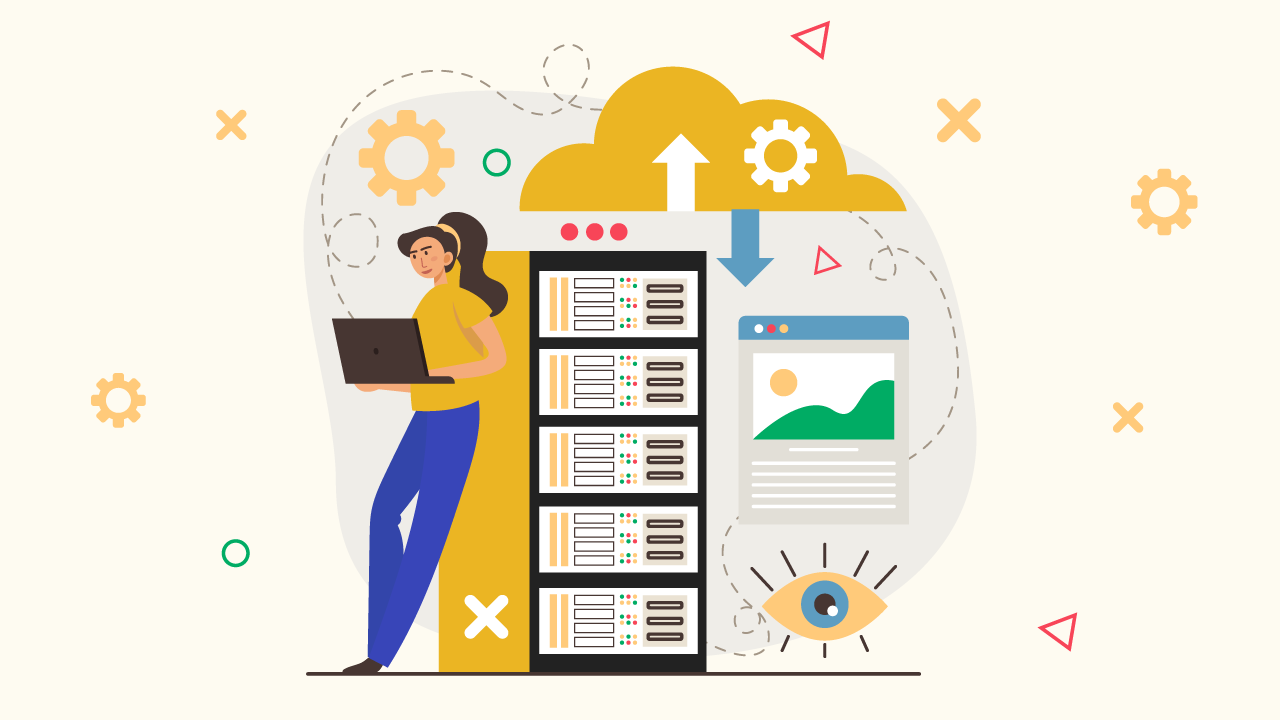 Storage space and bandwidth capabilities are two things you don't want to compromise on when it comes to hosting for a podcast. They significantly impact your publishing frequency, the length of your episodes, and the number of listeners that can access your show at a given time.
Keep an eye on the storage limits set by podcast hosting platforms and chew over what that means for your show. Remember, your primary goal is to offer the most value to your audience. And the podcast hosting site should offer enough storage space to accommodate the content you would ideally want to share. Likewise, bandwidth capabilities should allow you to optimize the user experience and support your growth ambitions.
2. Analytics and Reporting Tools.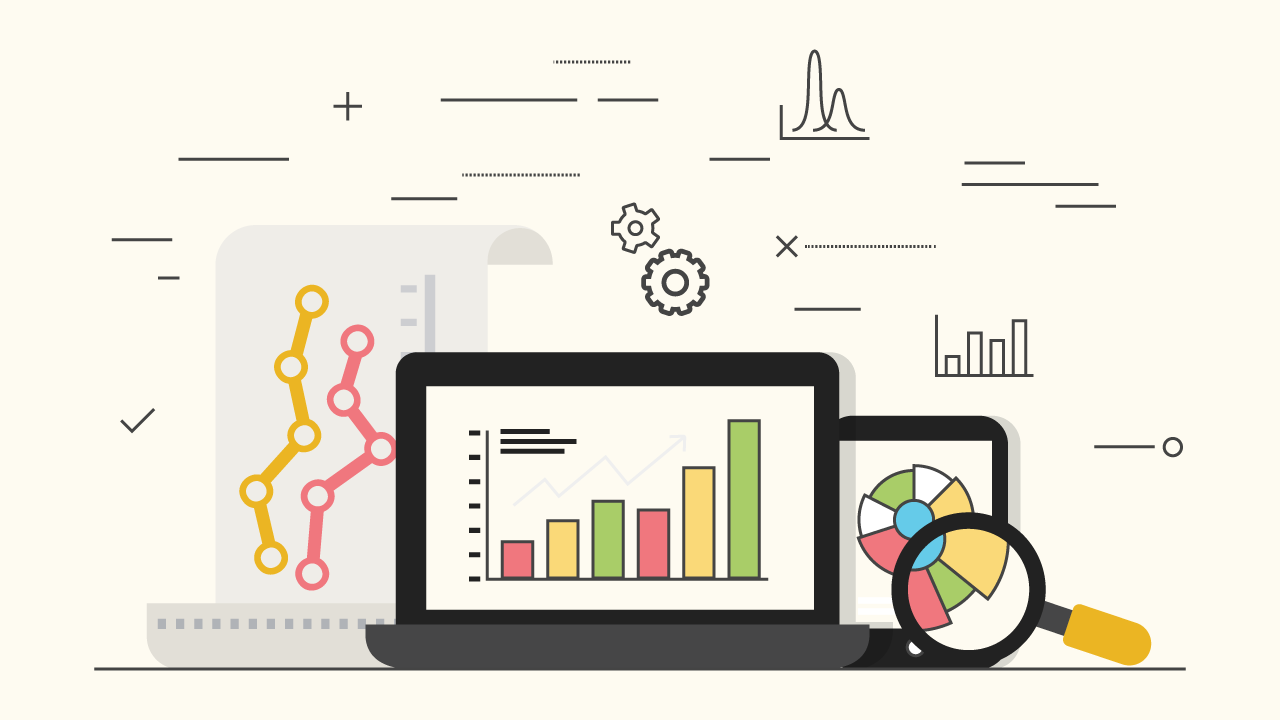 To grow your B2B podcast, you need to be adaptable! Learn what works and what doesn't — and modify your strategy to increase your odds of success. For this, you need analytics to track your progress and better understand the audience.
When narrowing down on the best hosting for a podcast, we highly advise podcasters to scrutinize the analytics and reporting features available with the different plans. The right tools arm you with the insights to steer your podcast in the right direction — above the competition and towards the target audience.
Some features to look out for include:
Top podcast episodes
Downloads per episode
Number of unique downloads
Monthly downloads
Number of subscribers
Monthly subscribers
Subscriber and listener locations
Downloads by time of day
Audience retention
Sources of traffic
Expert Tip: Make sure the analytics and reporting features offered by the podcast hosting company are IAB-Compliant and IAB-Certified for more reliable data.
3. Ease of Use and Support.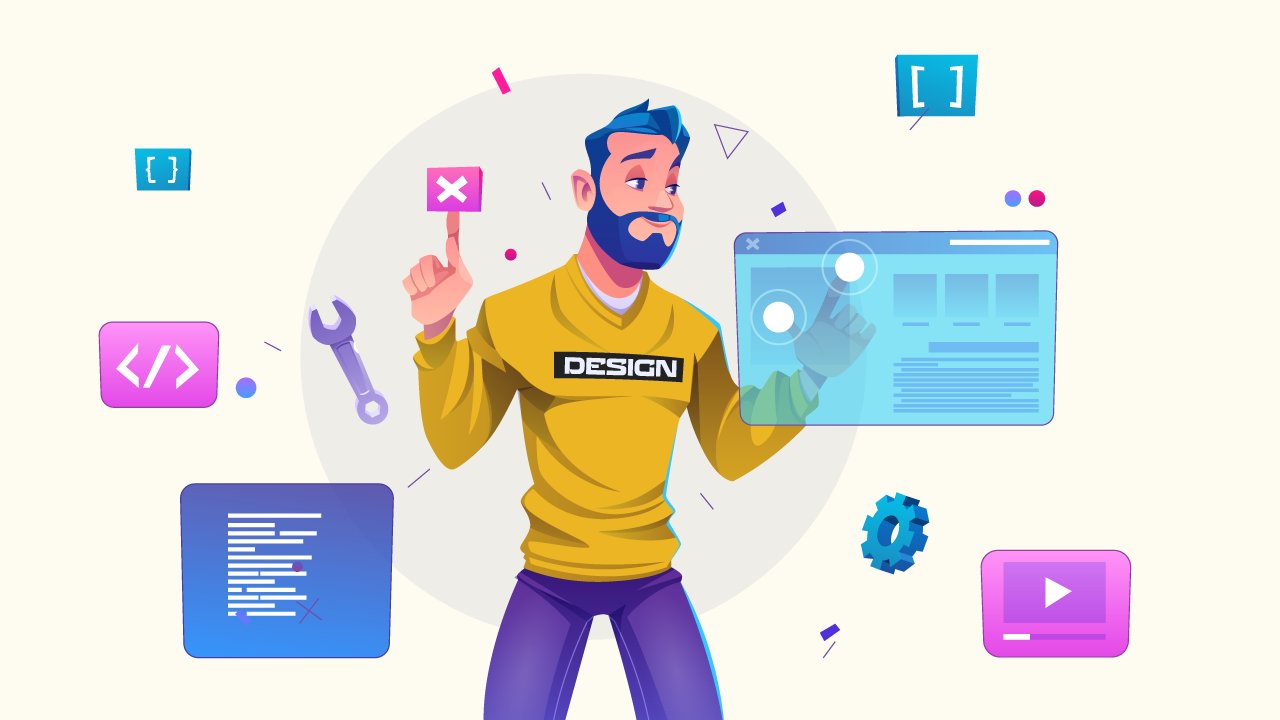 How technical is the podcast host? How's the user experience?
The best podcast hosting features mean little when you barely understand how to make the most of them. You're better off working with a user-friendly podcast hosting service, especially as a new podcaster.
There's beauty in simplicity. And with a to-do list of pending business tasks, the last thing you need is to spend extra time and effort scratching your head trying to figure out how hosting for a podcast works.
But even with the most straightforward and intuitive podcast hosts, there's always the risk of issues popping up. In such cases, you'll appreciate investing in a podcast hosting company that pays attention to its tech support.
The best podcast hosts usually offer responsive 24/7 support services and a decent knowledge base to answer your questions or solve your problems.
4. Content Repurposing.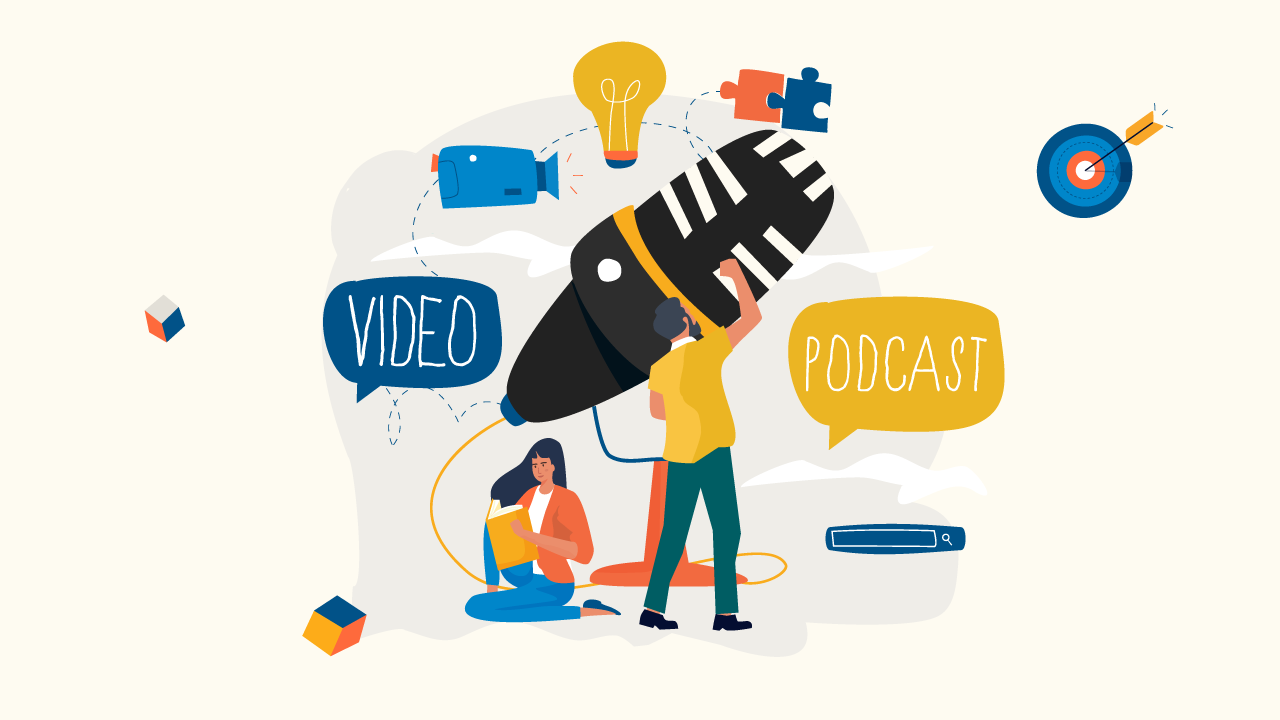 Every podcast hosting service should be able to publish your episode to all the different directories your listeners engage with. But the best podcast hosts take it a step further by helping you reach your audience on other platforms.
Think along the lines of automatic republishing on YouTube to tap into the ever-increasing demand for video content. Or hunt for a platform that offers transcription services for better SEO.
5. Monetization Support.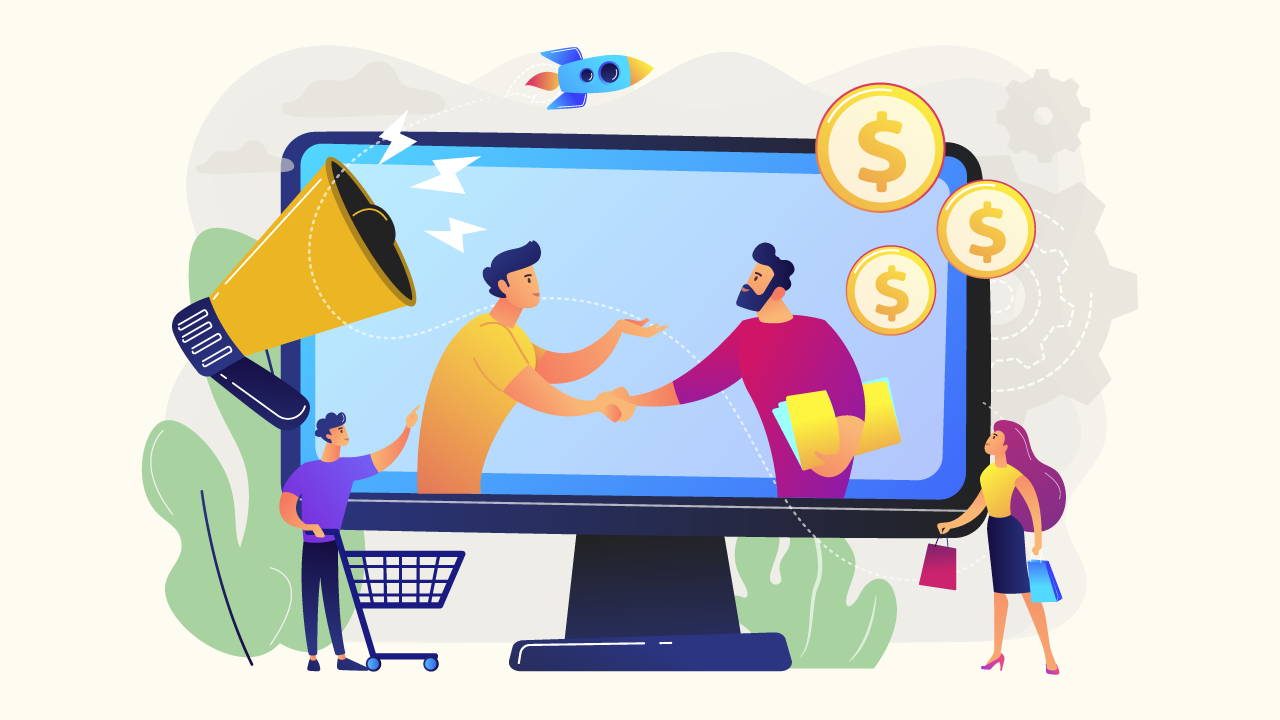 Are you weighing up the idea of monetizing your business podcast down the road?
Set the foundation now! While monetization should not be a significant deciding factor for the best podcast hosts, it doesn't hurt to plan ahead.
Shop around for podcast hosting services that offer premium subscription features and support monetization strategies. Again, this should be a deal breaker. After all, your main goal of dabbling in B2B podcasting is to connect with an eager audience and generate leads. Making some cash off it is more of a bonus.
6. Pricing Structure.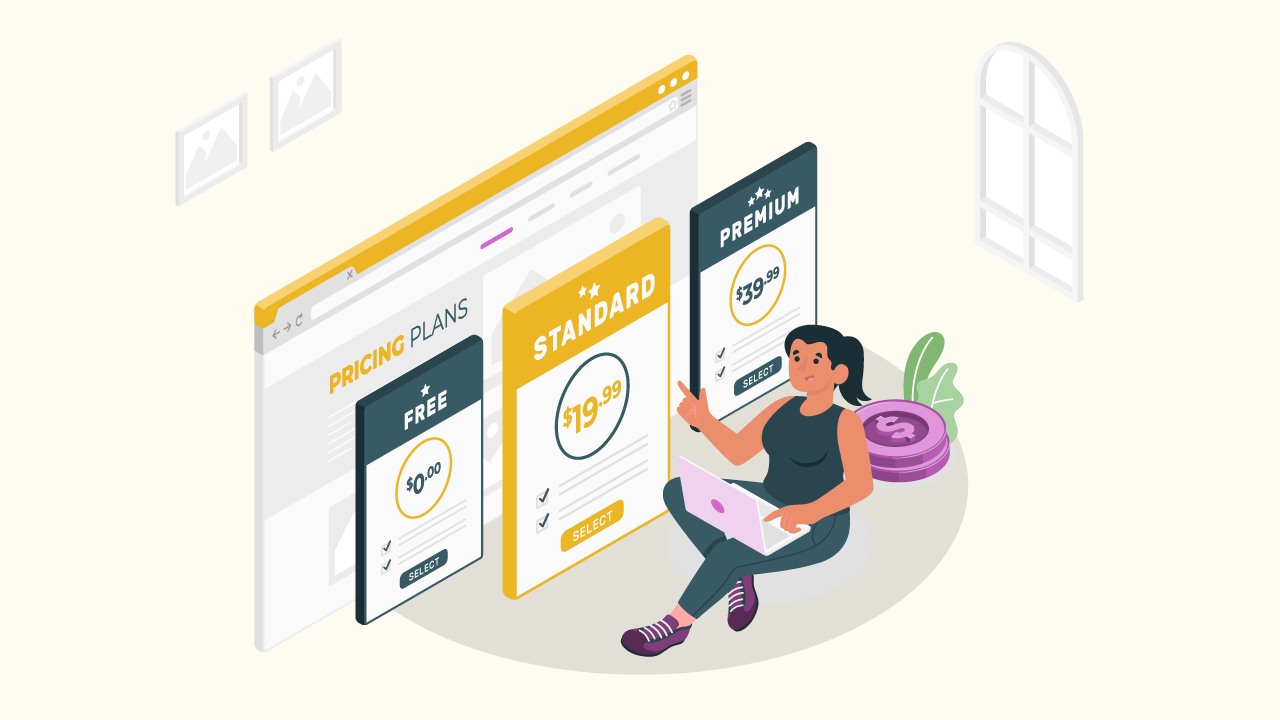 As a business person, we're sure you understand that finding the best hosting for a podcast is not about picking the options with the most colorful features. There's usually a budget to follow. As such, the general rule of thumb is to get the best value for your money.
While there are a few free podcast hosting sites you can play around with, there's usually a catch. And 'free' may end up costing you in the long run by forcing you to make compromises.
Our advice? Invest in a paid podcast hosting subscription if you're serious about taking your podcast to the next level. Hosting a podcast for free comes with strings attached.
Expert Tip Don't think about where you are now. Where do you want your business podcast to be in a year? Set your sights on the future. The best podcast hosts for you are those that meet the needs of that 'future' podcast. The idea is to grow with your host.
5 Best Podcast Hosting Platforms:
By now, we should have a consensus that hosting for a podcast is paramount to the success of your show. And while you already know what to look for in the best podcast hosts, it's still a jungle out there—with every platform claiming to be the best.
In this section, we'll highlight our top 5 podcast hosting sites based on their ease of use, storage space, bandwidth capabilities, and cost. This is a straightforward analysis of the most reliable services in the game—i.e., podcast hosts that you can confidently entrust your hard work.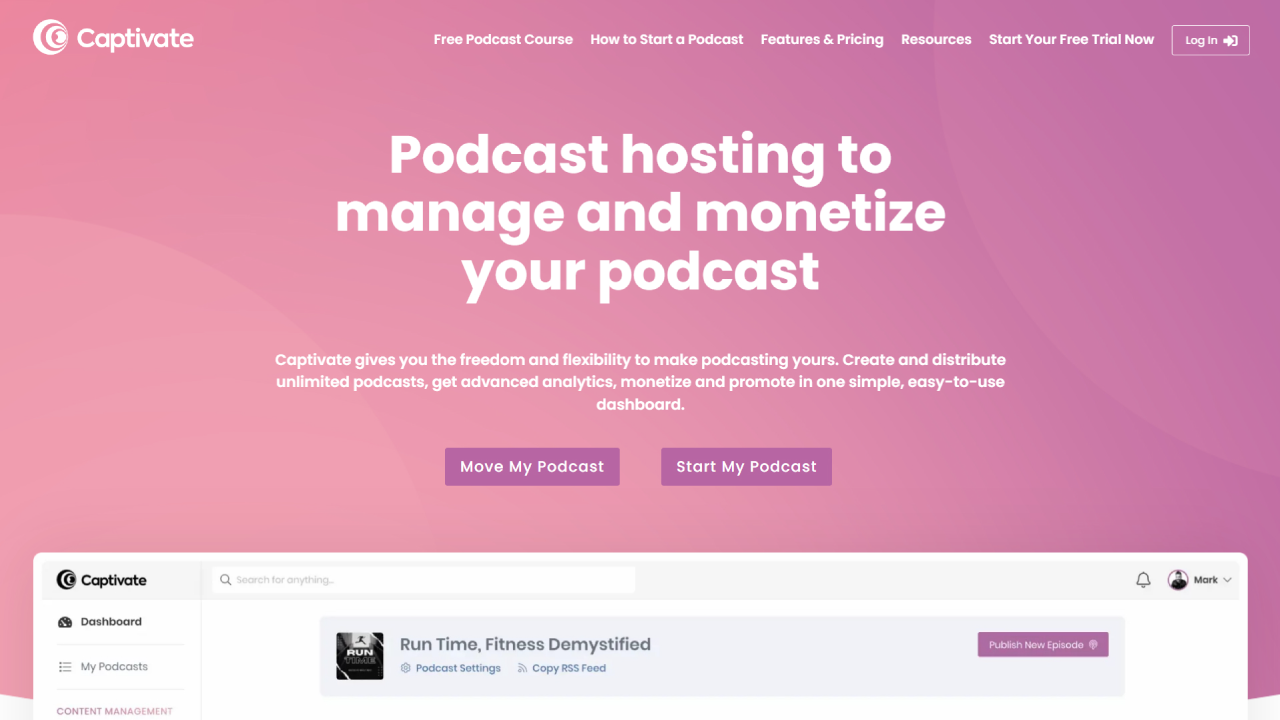 Simple but powerful hosting for a podcast! This is Captivate in a nutshell—and a winning formula that has allowed them to stand out from the pack.
The podcast hosting platform offers a blend of features that are a seasoned podcaster's dream. We're talking about unlimited storage, cross-promotional feed drops, monetization tools, and an unlimited number of podcasts, among other features that appeal to a growing and ambitious podcast.

Pricing
Free 7-day trial
Personal: $17 per month. Allows up to 12,000 downloads monthly
Professional: $44 per month. Allows up to 60,000 downloads monthly
Business: $90 per month. Allows up to 150,000 downloads monthly
What Makes Captivate One of the Best Podcast Hosts?
PROS
Unlimited storage and number of podcasts you can host.
Scalable and reliable hosting for a podcast.
Responsive customer support.
CTA feature to insert a custom link in the podcast player.
Intuitive dashboard that appeals to beginners and professional podcasters alike.
Embeddable website and social player.
Transcription support.
Advanced and well-presented IAB-certified analytics.
Private podcasting.
Ability to add unlimited team members.
CONS
No audio optimization tools.
Limited downloads.
The podcast website is as basic as they come.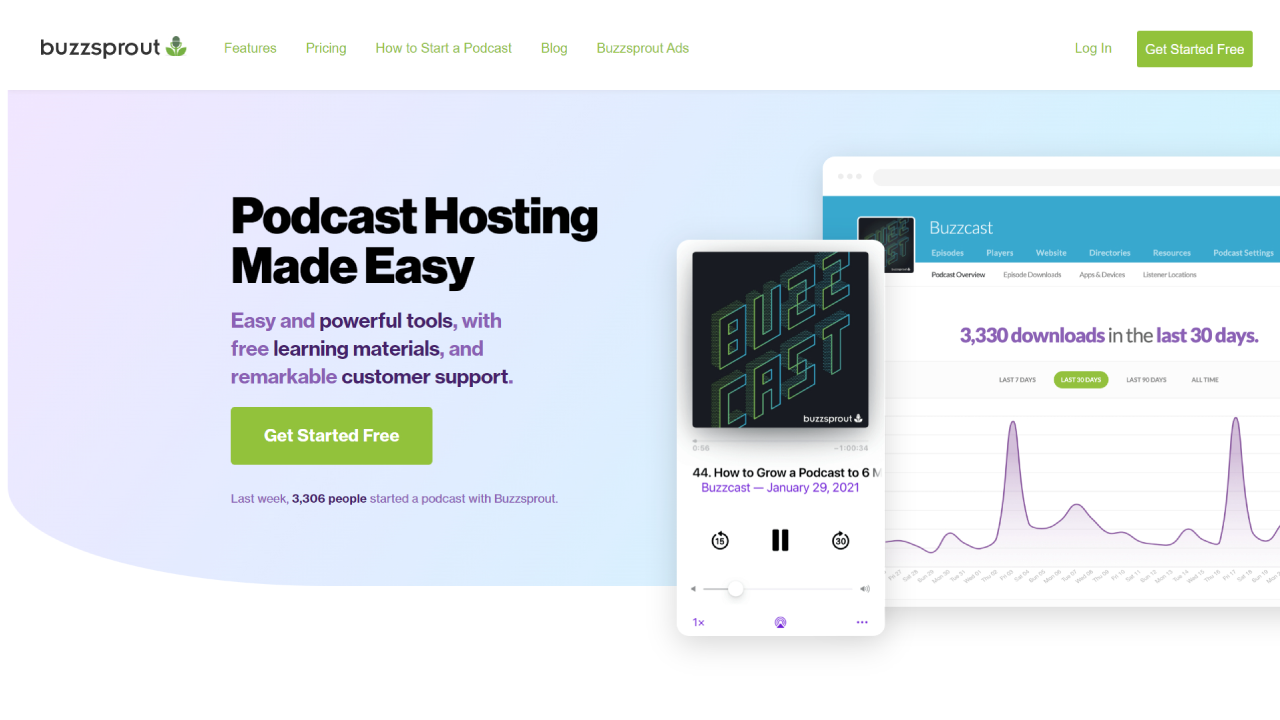 BuzzSprout is one of the most popular podcast hosting sites today—and they've earned their stature. The company places particular emphasis on speed and simplicity, making them an excellent fit for new podcasters.
They offer tons of automatic optimization tools that allow you to publish and manage your podcast with minimal effort. One feature that earned our admiration is the ability to easily update new or already published episodes with new content or ads. As a cherry on top of the cake, the podcast host's wonderful features are packaged in a well-designed dashboard.
And while hosting a podcast for free is possible with BuzzSprout, you'll have to put up with restrictions and relative inconveniences such as ads on the offered podcast website.
Pricing
Free Monthly Plan: Limited to 2 hours and hosted for 90 days.
$12 per Month: Upload up to 3 hours to be hosted indefinitely.
$18 per Month: Upload up to 6 hours to be hosted indefinitely.
$24 per Month: Upload up to 12 hours to be hosted indefinitely.
Add-ons for mastering and transcription.
What Makes BuzzSprout One of the Best Podcast Hosts?  
PROS
A free customizable and optimized website.
Easy to use.
Custom intuitive embeddable players.
In-depth but simplified podcast analytics and reporting.
Unlimited team members.
Promotion tools.
Import podcasts.
Highly rated customer support.
CONS
All plans are limited.
Advanced features are not as comprehensive as you'd see with competitors.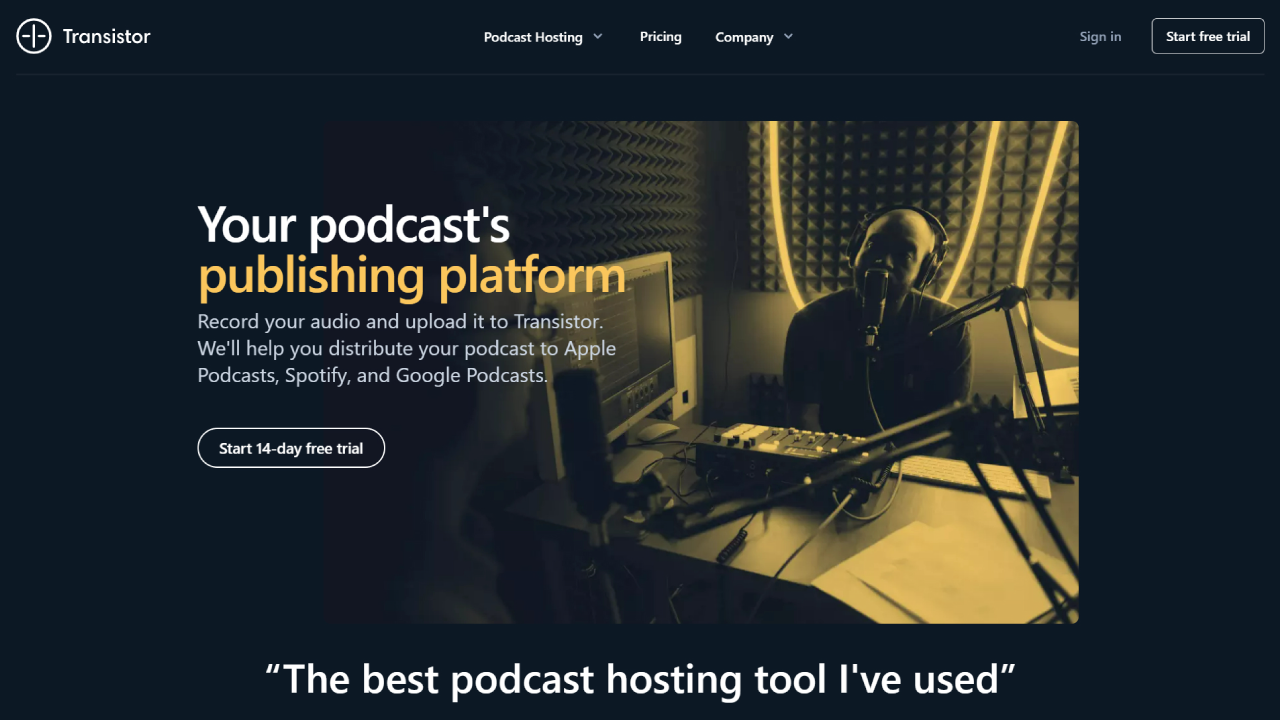 Transistor was designed for you if your idea of the best hosting for a podcast includes unlimited storage for as many shows as you want.
The platform does a great job of offering the basic capabilities you would expect from the best podcast hosts, with a couple of additional features to spice things up. One such feature is the option to create both public and private podcasts under the same hosting plan.
It's an excellent pick for serial podcasters looking to double down on B2B podcasting and in need of hosting that supports the ensuing growth.
Pricing
14-day trial.
Starter Plan: $19 per month for up to 20,000 downloads.
Professional Plan: $49 per month for up to 100,000 downloads.
Business Plan: $99 per month for up to 250,000 downloads.
What Makes Transistor One of the Best Podcast Hosts?
PROS
Private podcasting feature.
You can host multiple podcasts with your account.
Relatively affordable if you can maximize their offering.
Built-in podcast website.
Advanced and elaborate analytics across all plans.
CONS
Limit on number of downloads.
The player's branding can only be removed by subscribing to the most expensive plan at $99 per month.
The web builder is basic.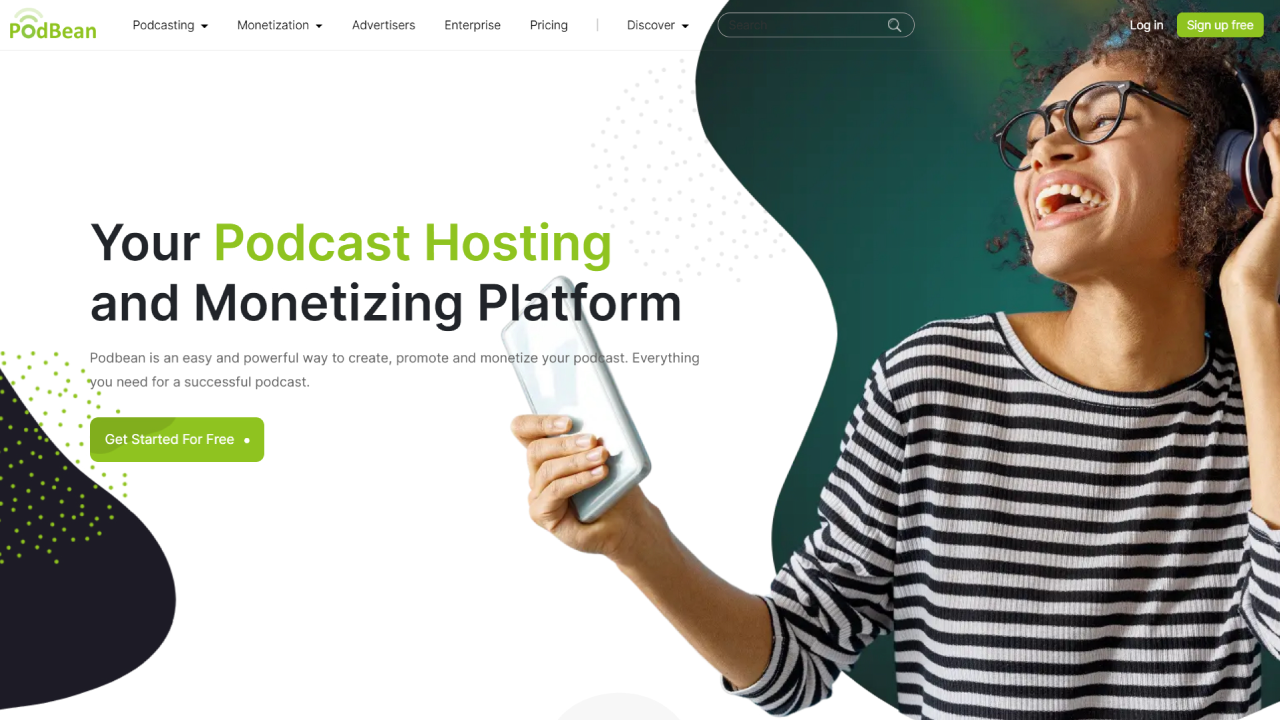 If you're strapped for cash, PodBean might be the ideal hosting for a podcast to meet your needs. You'll have a hard time finding another podcast hosting service that can offer a better deal. PodBean is arguably the best option for hosting a podcast for free. And if you choose to upgrade to a paid plan, you get unlimited bandwidth and storage.
But what earns PodBean a spot as one of the best podcast hosting sites is the generous features that come bundled with their low-cost plans. We're talking about comprehensive analytics, several monetization options, multiple channels, video hosting, and customizable websites, among others.
Pricing
Basic Podcast Starter Plan: Free for life with 5 hours of storage and 100 GB bandwidth every month.
Unlimited audio: $14 per month for unlimited storage and bandwidth.
Unlimited Plus: $39 per month.
Business Plan: $129 per month.
What Makes PodBean One of the Best Podcast Hosts? 
PROS
Advanced monetization support with varied options.
Unlimited storage and bandwidth for paid plans.
Highly customizable embed player.
Comprehensive IAB-certified podcast analytics. You'll love the charts.
Beginner-friendly.
Supports live streaming.
Hosting for a podcast on the go is easy with PodBean's mobile app.
Free podcast website with robust features and beautiful, functional designs.
CONS
Website templates are limited.
No audio optimization tools.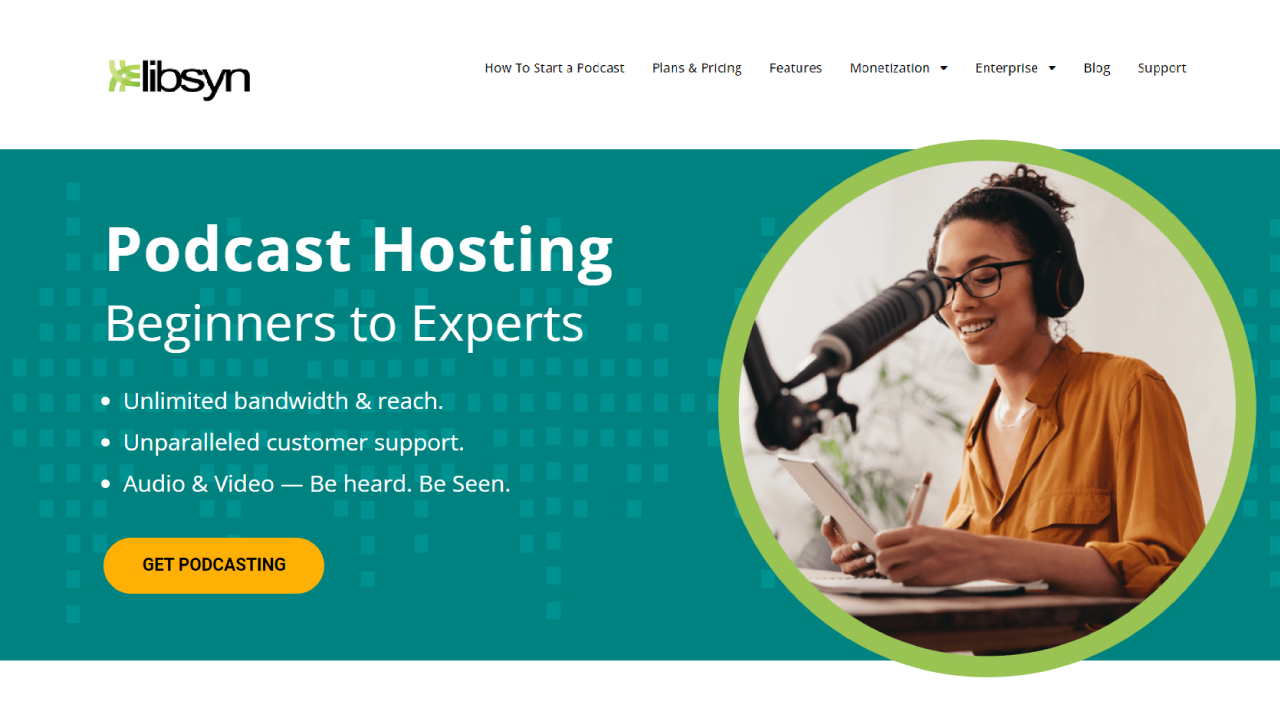 If old is gold, Libsyn is a gem when it comes to hosting for a podcast. The platform has been around since the early days of podcasting. And they're still going strong—evolving with the changing landscape.
Unsurprisingly Libsyn is one of the few podcast hosting sites that boast a strong and loyal community of podcasters. This partly comes down to their reliability and the hosting features offered, such as unlimited bandwidth—meaning your show will keep up with any surges in popularity and listenership growth.
But perhaps Libsyn's defining feature is its advanced monetization solutions. You can set up paywalls for premium content, insert organic ads, play commercials by sponsors, or even earn affiliate commissions from Libsyn themselves.
There's no plan for hosting a podcast for free, but you're not far off, with the pricing plans starting at as low as $5 per month.
Pricing
$5 per Month: Up to 3 hours of new uploads and 162 MB storage limit.
$15 per Month: Up to 6 hours of new uploads and 324 MB storage limit.
$20 per Month: Up to 10 hours of new uploads and 540 MB storage limit.
$40 per Month: Up to 14 hours of new uploads and 800 MB storage limit.
$75 per Month: Up to 27 hours of new uploads and 1500 MB storage limit.
$150 per Month: Up to 55 hours of new uploads and 3000 MB storage limit.
What Makes Libsyn One of the Best Podcast Hosts?  
PROS
Unlimited bandwidth.
Arguably one of the best podcast hosting sites for monetization support with its robust money-making options.
Free custom podcast websites and players.
Powerful and advanced analytics.
Built-in branding powered by Canva.
Highly-rated customer support services.
Useful podcast marketing tools.
Video podcast support.
Free podcast import.
CONS
You can't add or manage team members.
Severely limited storage.
Not the most user-friendly podcast host on the list.
Disclaimer: : Podcast hosting sites may adjust their pricing plans from time to time. We advise you to double-check and conduct further research to guide your decision-making process.
More Podcast Hosting Companies to Consider:
Start Strong with the Right Hosting for a Podcast.
Choosing the podcast hosting site for your show could make or break your prospects of success. You need to understand where you currently stand, where you want to go, and how the podcast hosts meet those needs.
For this reason, the best podcast hosting platform will vary depending on your needs.
For example, if you want to grow your business podcast professionally, Captivate or Libsyn are great options. And if money is a concern, consider hosting a podcast for free or buying an affordable plan with BuzzSprout, PodBean, or RedCircle. Looking for something simple to use for beginners? You'll love BuzzSprout.
I hope you get where we're going with this. The trick to finding the best hosting for a podcast is to understand YOUR needs now and plan for the future.
Don't know where to begin? Get started with our free B2B Podcasting course.
FREE EMAIL COURSE
B2B Podcasting Mastered
Learn how to launch a revenue generating podcast for your business in just 10 minutes a day, for 2 weeks.