Table of Contents
Here's a question for you: 
"How does sound quality affect your decision to keep listening to a podcast episode?"
The Podcast Host asked 780 respondents this same question, and over half (51.1%) of them responded that they prefer audio quality that's similar to "pro radio."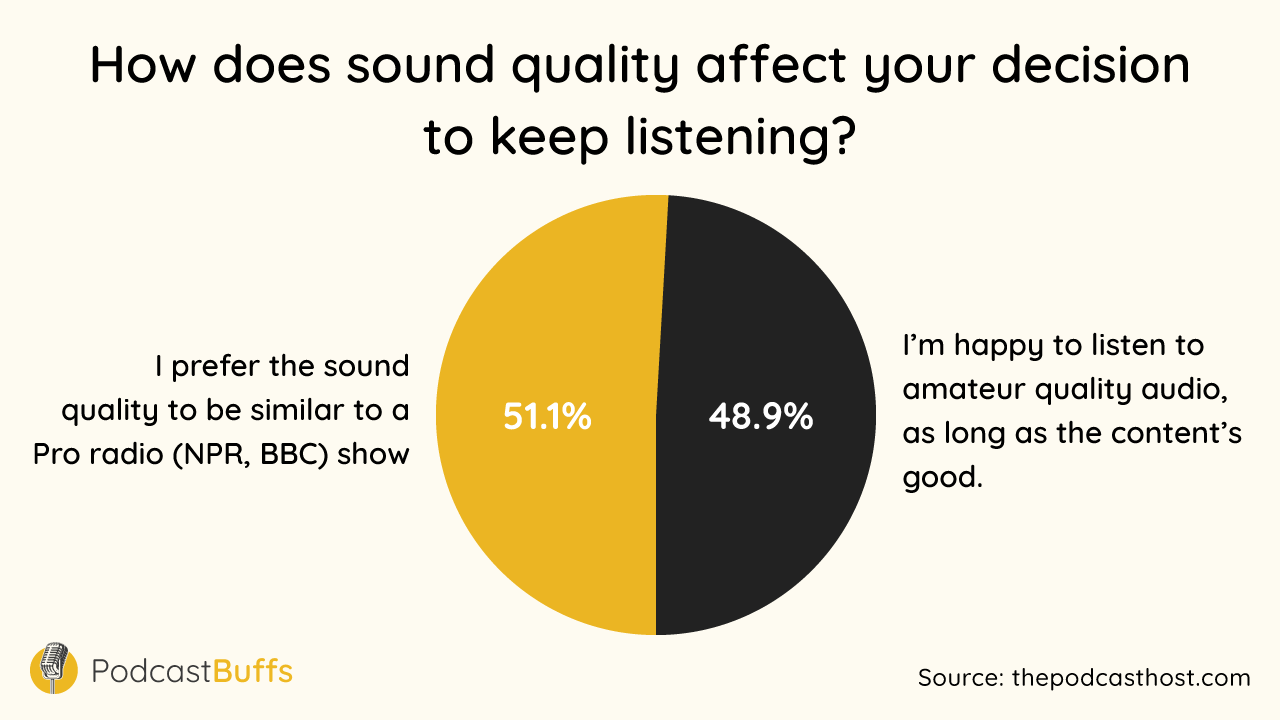 The takeaway from this survey is that you must put out great sound quality with every episode— and this starts with having the right equipment for podcasting.
The right tools can be a game-changer to the success of your business podcast. We have a little saying here at PodcastBuffs,
"A good hook and engaging content will draw listeners in, but poor sound quality will drive them away."
Even your most loyal listeners can get fed up with bad sound quality.
But exactly what equipment do you need to podcast like a pro?
We understand that learning how to start a podcast free can be a challenge. Now suppose you're not well-versed in audio tools. In that case, it gets even more intimidating when people start throwing around technical terms. Plus, there's the issue of a sheer variety of options and different resources pulling you in different directions with their podcast equipment recommendations.
All this leaves you feeling confused and uneducated on what equipment is needed to make a podcast and which podcast setup is best. Well, not anymore.
This post is the 9th in a series of "Podcasting Mastered" chapters designed to help you launch and grow an enterprise lead-generating podcast.

There has never been a better time to make your voice heard – and we're here to help master the art of podcasting with step-by-step guides.
Get the new chapters sent directly to your inbox, as soon as they release.
We follow strict no-spam policy. Your information will not be sold.
In this lesson of the "Podcasting Mastered" course, we will be going over the equipment that we recommend for you to get started with your podcast. The goal is to elaborate on exactly what you need and why you need it. You should feel more confident in building your business podcast studio by the end of this lesson.
We are confident you'll find valuable insight and recommendations in this lesson. Whether you're getting started in B2B podcasting or you are a seasoned host looking to upgrade your podcast recording setup.
Before You Start:
KEY QUESTIONS TO ASK YOURSELF.
We understand you're probably eager to know the best podcast mics and headphones, and we'll get to that soon.
But an important first step is knowing your needs. Know yourself first. Your 'podcasting profile' will be the blueprint for all your podcasting hardware requirements. 
Here are some questions to help guide you:
1. What is My Budget?

One of the most critical determinants of the podcasting equipment you'll use is your budget. And we're almost sure you already knew this.
When budget is a factor (and it most likely is), your objective should be to find the best value for your investment. The good news is that there are tons of great options for all budget levels.
Investing in the best equipment money can buy is great. Still, you don't necessarily have to spend a fortune to deliver high-quality audio. Besides, you can always upgrade your setup with time.
2. What are My Goals for Podcasting?
We would like to assume that you take your business podcasting efforts seriously. And if this is the case, it only makes sense that you invest reasonably to reflect the level of importance you place on your show. 
A professional podcast demands equally pro equipment. It's that simple.
3. The Type of Podcast.
We discussed the different types of podcast formats in lesson #3 – What is the best podcasting format for your B2B podcast? of the "Podcasting Mastered" course. Think back to the format you found was best for your show. The equipment you choose should meet its needs.
For example, an interview show recorded in a studio would need at least two mics. Likewise, a panel podcast format demands as many mics as the number of participants you anticipate.
4. Do I Have the Technical Know-How to Manage the Equipment?

What is your comfort level with audio devices? Do you have someone skilled enough to handle the technical side of B2B podcasting?
If technology is not your strong point, it might be wise to use simpler entry-level podcasting equipment designed for beginners. But suppose you know your way around audio tech. In that case, you can get better output and value for money with more advanced equipment for podcasting.
5. Where Will I Record My Episodes?
Location, location, location. A piece of audio equipment for podcasting is only as effective as the location in which it is used. Let's elaborate on that a little more.
Let us assume you plan to record an episode on the go. You'll need a light and portable setup, right? And what about if your recording space has a lot of background noise? You need podcasting equipment designed to keep your audio clean in such a scenario. Maybe a reflection shield. Hope you see where we're going with this.
With these questions answered, you should have a firm foundation to make an informed decision on the best equipment for podcasting.
What Equipment Do You Need to Podcast?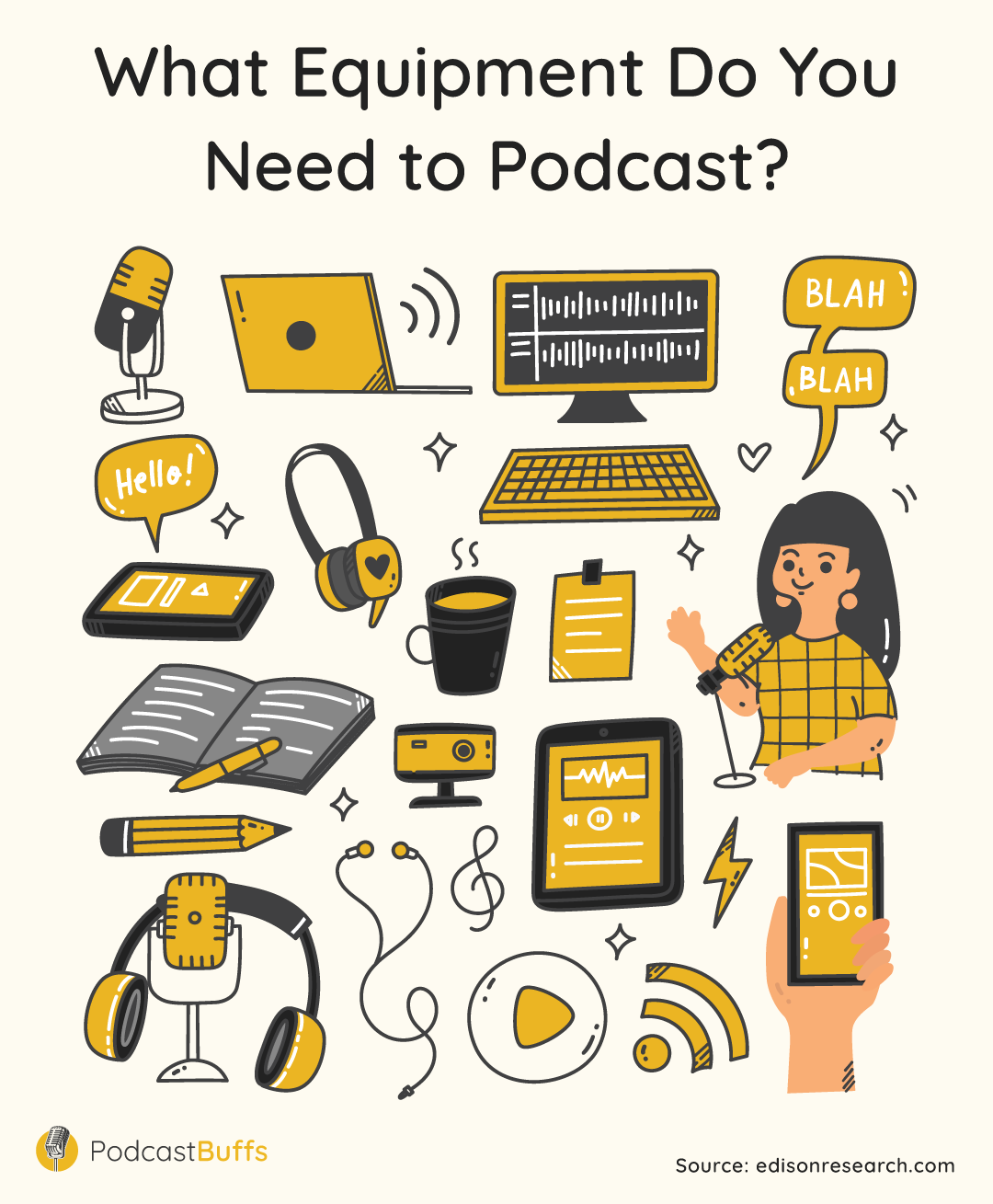 So, what equipment is needed to make a podcast? Technically, you could record an episode with your smartphone. But we wouldn't advise it.
Publishing professional-sounding episodes using the right equipment for podcasting is crucial. Especially for business podcasts. You need to represent your brand in the best light.
Below you will find our picks for the essential equipment needed to make a business podcast. The list is based on in-depth research, advice from successful podcasters, and our own experience.
We want you to get started with actually recording and publishing a podcast. So the less time you spend worrying about the best equipment for podcasting, the better. 
Our list includes:
We created this list to accommodate different budgets and needs. Find the best fit for your individual circumstances and start podcasting.
1. Computer
This is an obvious piece of equipment for podcasting. Your computer is where all the magic happens. This includes capturing or recording audio, editing it, and publishing the episode.
Recording a podcast is usually not resource-intensive. So any decent computer will do the job. If you have a computer that meets your daily needs, you should be good to go.
But if you want to invest in the best laptops for podcasting, consider the specifications. Look into:
The memory space (at least 8GB of RAM).
Storage (SSDs are preferred over HDDs).
Processor (at least a quad-core), and 
USB/Audio ports.
Another way to narrow down on the best laptops for podcasting is by looking at the system requirements specified by popular DAW (Digital Audio Workstation) software. 
These are basically software for audio recording. Some popular DAWs include Audacity, Ableton Live, Garage Band, FL Studio, and Steinberg Cubase, to name a few.
2. Best Mics for B2B Podcasting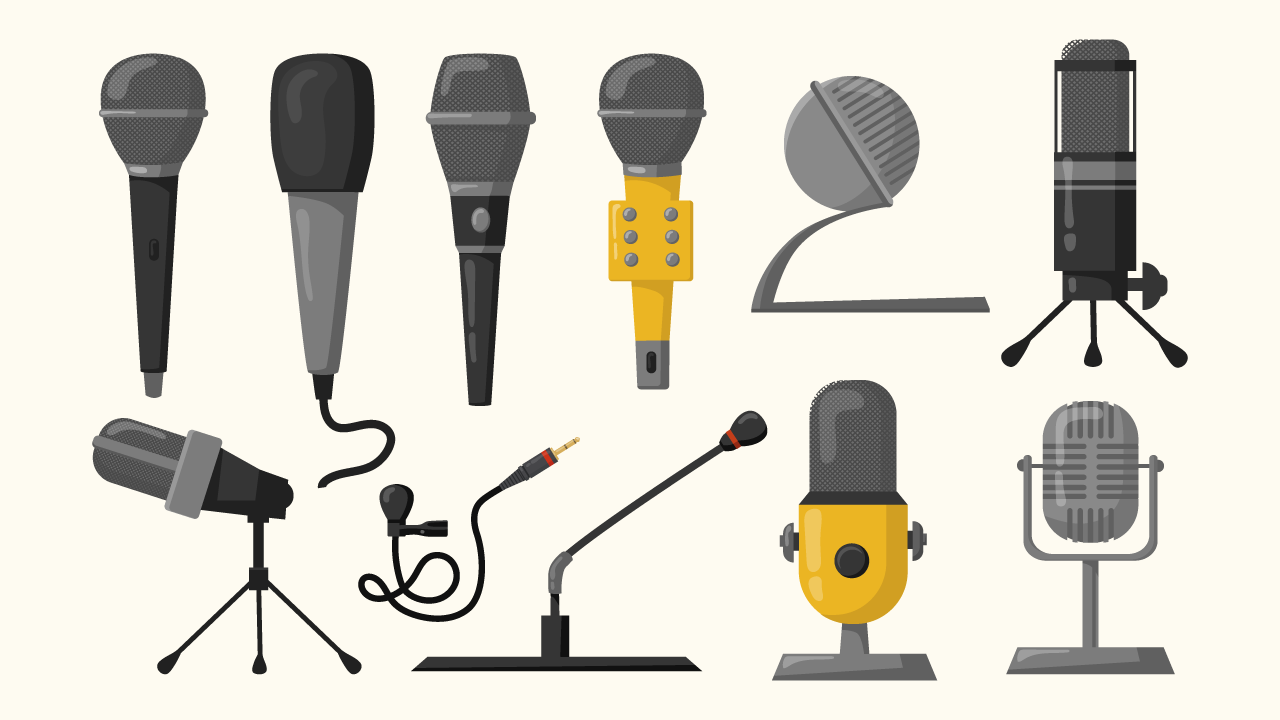 A microphone is a centerpiece for your podcast. When it comes to determining what equipment is needed to make a podcast, a microphone should be the first item on your list. A good external microphone is often the first podcast equipment investment for most podcasters.
Before shopping around for the best podcast mics, here are some important terms you should know about: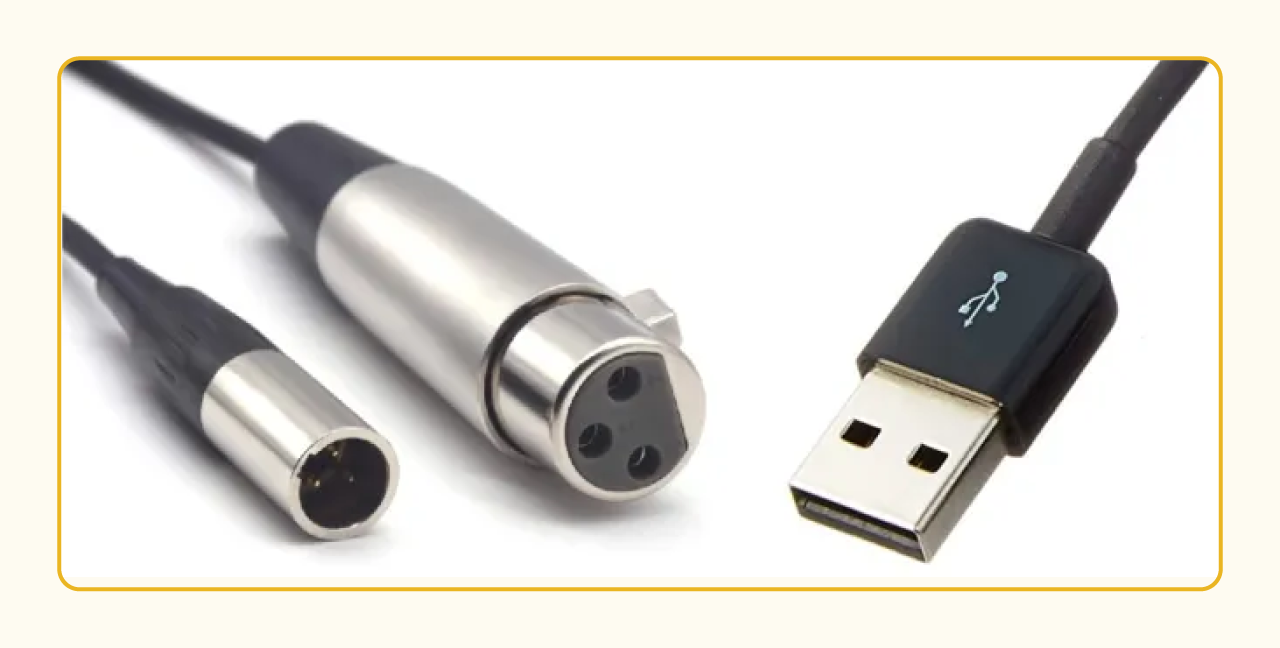 You'll likely hear a lot about USB versus XLR connections when shopping for a podcast microphone. What are the differences? And which one is better for your business podcast?
XLR mics are the professional standard in the audio industry. For a quick overview, an XLR is a 3-pin analog connection. A mic with an XLR requires an audio interface or mixer to use with your computer. This is because your computer likely does not have an XLR port. And it can't interpret the analog signal.
We recommend an XLR podcast mic if you are recording multiple people. Or when you do not want to limit your options since most audio gear is XLR. XLR mics also give your greater flexibility and freedom when recording professionally. The downside is that you need an audio interface or mixer (discussed in more detail below), which adds to the cost.
A USB microphone is a plug-and-play solution. It has an integrated analog to digital converter. This means you don't need additional equipment to start recording your show.
We recommend a USB microphone if you want convenience and ease of use. It is also more affordable. The biggest drawback is the scarcity of audio equipment options compared to XLRs. You'll have a hard time if you want to expand your podcast setup down the road. But we recommend a USB microphone if you're starting out.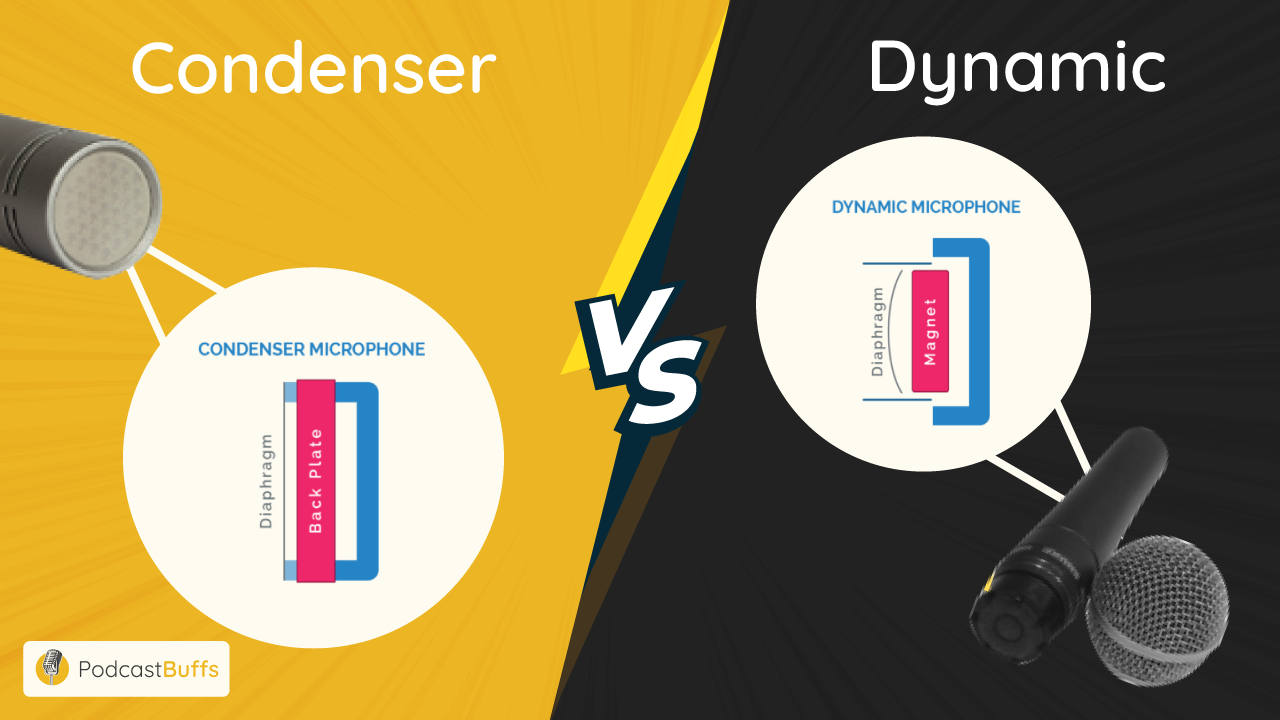 Dynamic and condenser microphones are differentiated by how they work. More specifically, their mechanism of converting kinetic/acoustic energy to electrical energy.
We won't get into the technical details on the physics behind the two, but we will highlight when you might need one over the other.
Dynamic mics are known for their durability. They can handle heat/humidity and high volumes without distortion. This makes them suited for capturing strong/loud sounds, especially in live settings. However, the output may sound rough.
We recommend dynamic mics for use in environments with ambient noise, such as outdoors or during interviews in a noisy place. They are also generally cheap and a good option for beginners.
Condenser microphones are more sensitive. They are great for capturing accurate and delicate sounds with a greater range of frequencies. The output is often crisp. But since they are sensitive to a wide range of frequencies, condenser mics are best used in settings with acoustic treatment (we'll cover this in more detail below).
A condenser mic will sound more professional if you have a soundproofed studio. It gives your voice clarity, presence, and warmth. But you should be prepared to spend more compared to a dynamic podcast mic.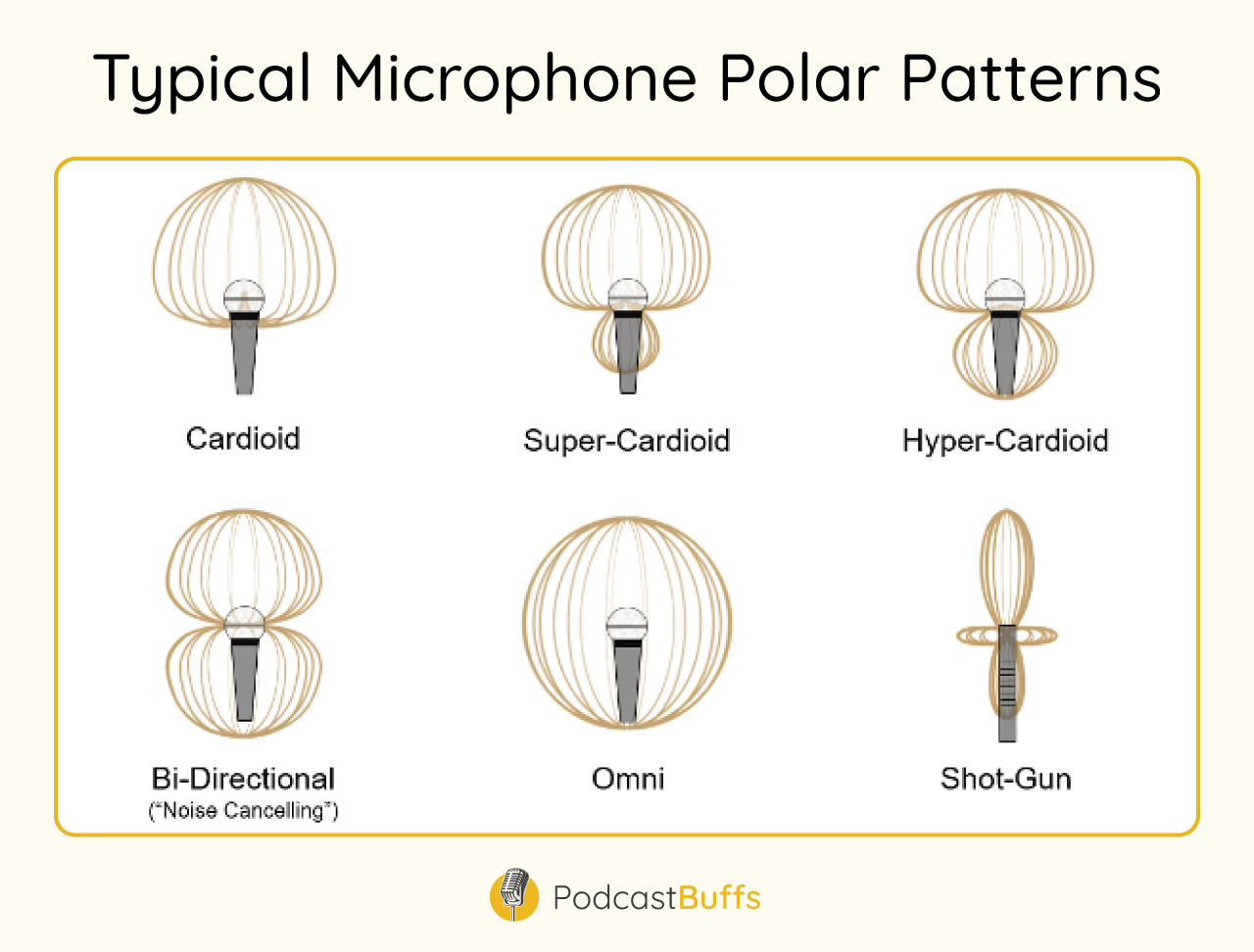 A polar pattern describes the sensitivity of a microphone at different angles. It determines how much of the signal is picked up relative to the angle/direction of the sound source. Below is a brief description of common polar patterns:
Cardioid: It's most sensitive to sound from the front (0°) and least sensitive to sound from the back (180°).
Supercardioid: Like the cardioid, it captures a bit of sound from the back and a little less from the sides.
Omnidirectional: They have equal sensitivity to sound from all angles.
Figure 8/Bidirectional: The pattern is most sensitive in equal measure at the front (0°) and back (180°). It is the least sensitive at the sides (90° and 270°).
Cardioid is the standard polar pattern for recording applications such as B2B podcasting. The pattern helps silence background noise such as a noisy fan or a bad-sounding room. While there are scenarios where you might need other polar patterns, cardioid mics are often the best podcast mics.
Best Podcast Mics
There are a lot of good microphones on Amazon and other retailers. But also a sea of off-brand and poor-quality ones. Here are our recommendations of the best podcast mics to help you get the maximum value for your money: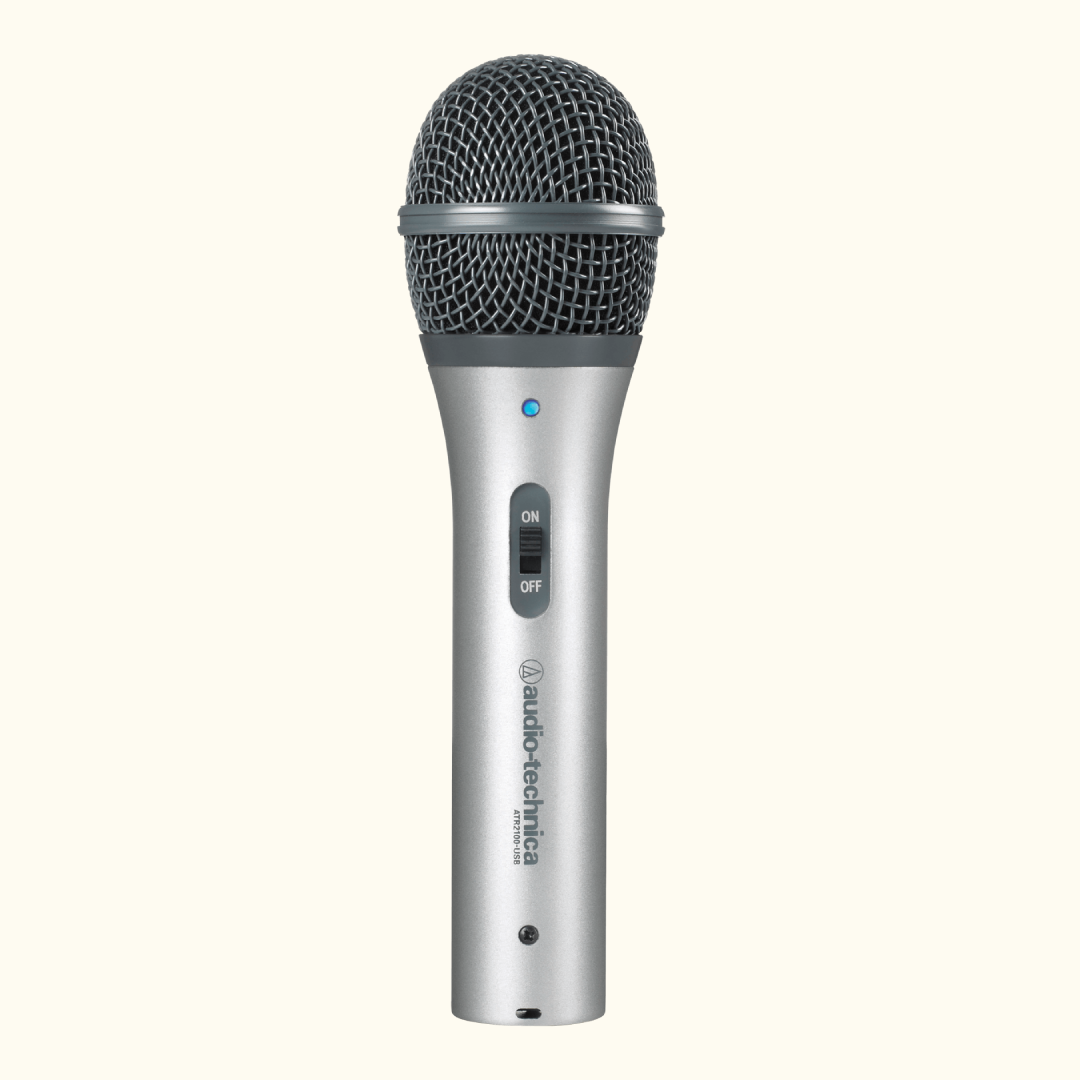 Looking for an affordable entry-level podcast microphone that still gives you professional-quality audio? We highly recommend the Audio-Technica ATR2100. It has a solid depth of voice for the price, and it's easy to set up.
Here are some of its key features:
Under $100: Budget level
Dynamic handheld microphone
Both XLR and USB output
Built-in headphone jack with level control
Cardioid polar pattern for improved room noise rejection
50 – 15,000Hz frequency response. Suited for podcasting, voice recording, and even stage use.
The ATR2100 is a popular podcasting microphone—and it is easy to see why. The microphone had a 4.5/5.0 rating from over 3,000 Amazon reviews at the time of writing this article.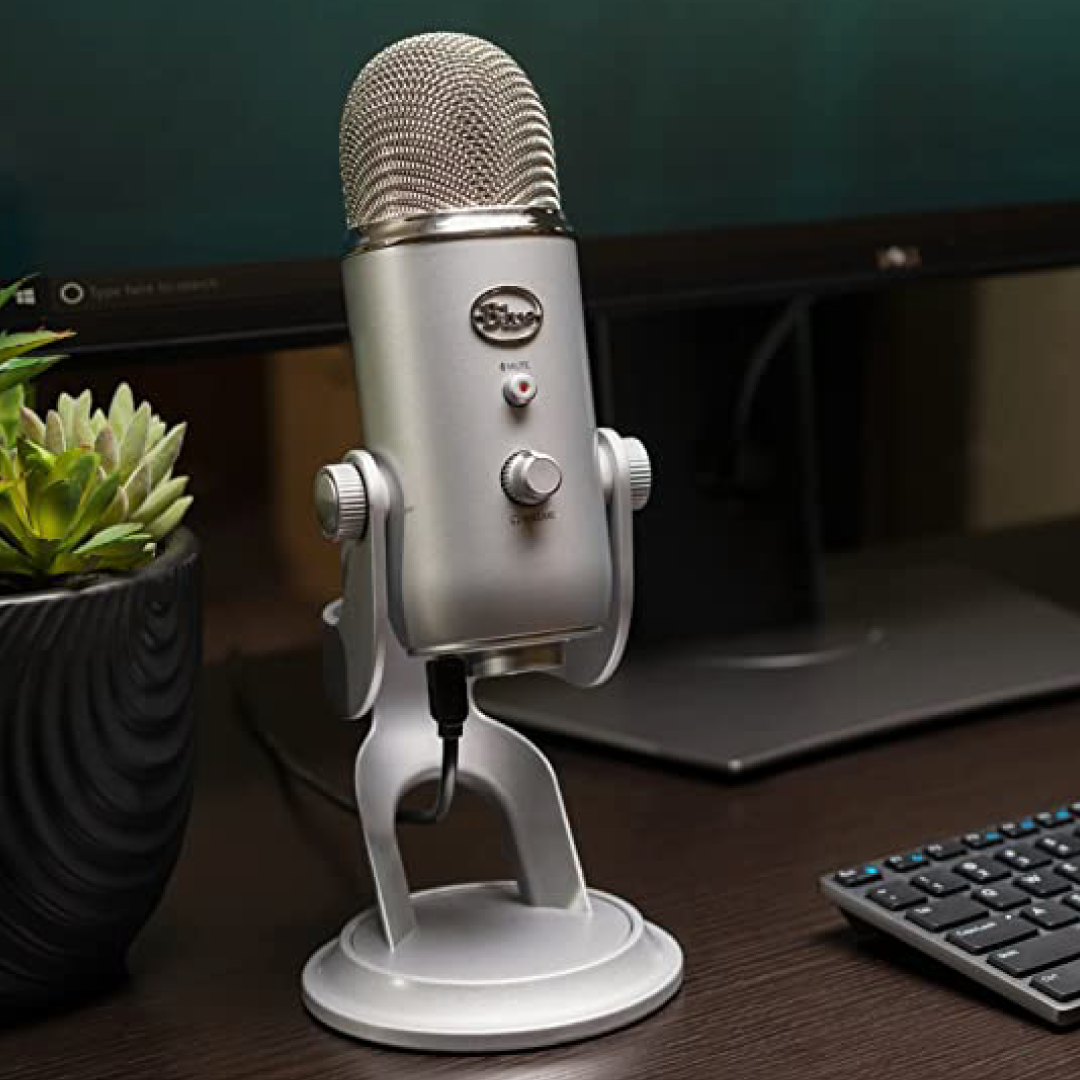 The Blue Yeti is a legendary, award-winning microphone. And the go-to mic for thousands of podcasters and vloggers. As a testament to its popularity and ranking as one of the best podcast mics, the Blue Yeti has accumulated over 35,000 reviews averaging 4.7/5.0 stars on Amazon. I personally use a Blue Yeti for all my podcasts and videos.
Here are some of the Blue Yeti's key features:
$100-$200: Mid-range podcast microphone
Condenser microphone
Cardioid, stereo, Omni, and bidirectional polar patterns. This allows you to adapt to most voice recording situations.
Plug and play USB connection
Built-in controls, including instant mute, mic gain, pattern selection, and headphone volume
Comes with a stand
All in all, the Blue Yeti is an excellent buy for a business podcasting microphone. It has versatile voice recording capabilities, decent sound quality, a sturdy build, and it is easy to set up/use.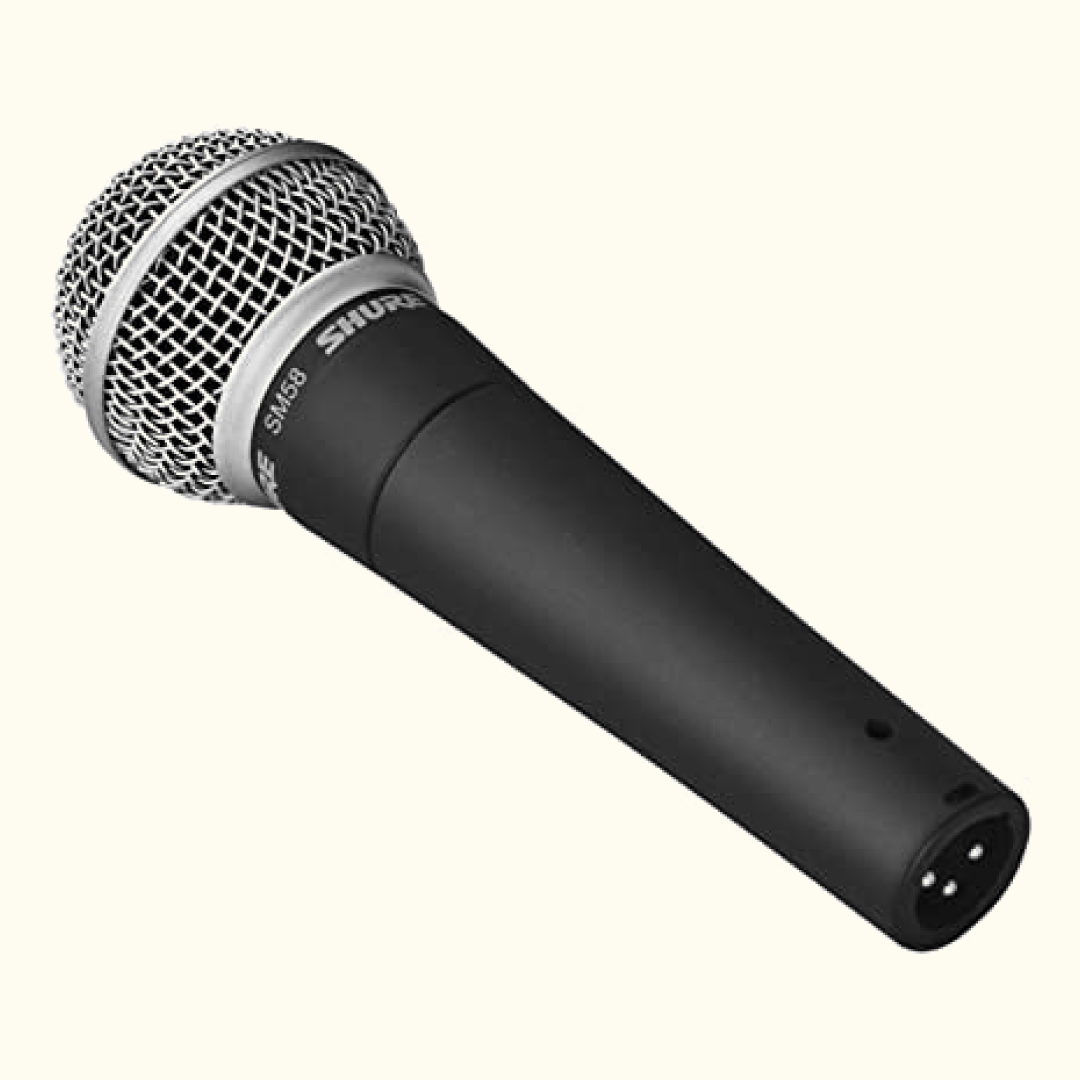 With the Shure SM58, you have a workhorse microphone. It is not only one of the best podcast mics but also one of the best live performance mics. You'll likely spot it in a live music event, but it still gets the job done in a studio setting.
Here are some of the Shure SM58's key features:
$100-$200: Mid-range podcast microphone
Dynamic mic
XLR connector
Uniform cardioid polar pattern
50 to 15,000Hz frequency response
Built-in pop filter
If you tend to record on the go and want a hardcore microphone that will serve you for a while, you can't go wrong with the Shure SM58. The sound may not be the best compared to other B2B podcasting microphones in this list. But expect crisp and warm sound time after time.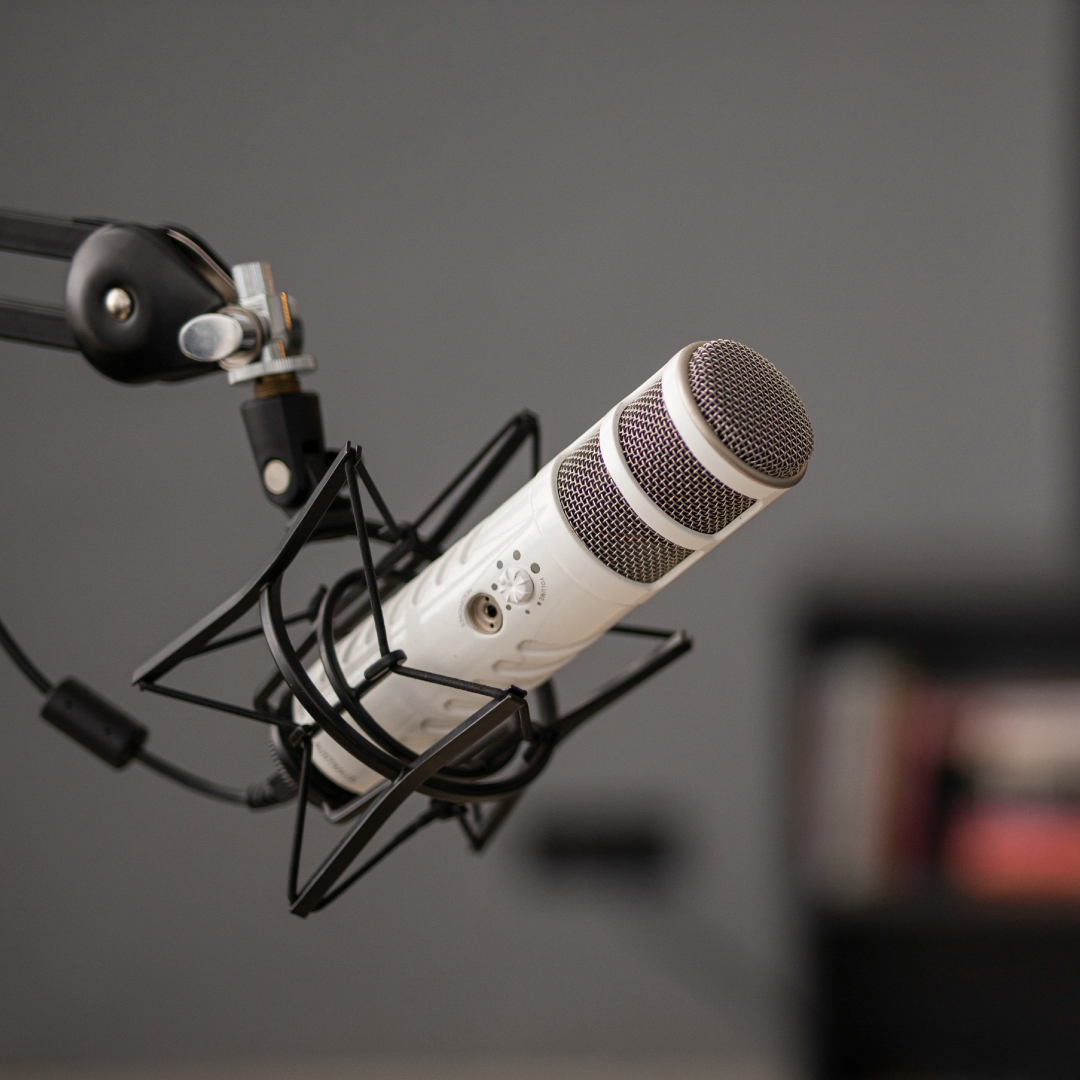 USB microphones are beloved for their convenience and simplicity. And if this is what you are looking for, you'll struggle to find a better USB podcast mic than the Rode Podcaster. It ticks all boxes regarding build, feel, look, and sound quality.
Here are some of the Rode Podcaster's key features:
$100-$200: Mid-range podcast microphone
Dynamic microphone
USB connection
Cardioid polar pattern to help isolate the desired sound source (i.e., your voice)
40Hz – 14,000Hz frequency range
Headphone jack to monitor audio in real-time
The Rode Podcaster is the best podcast mic for you if you are willing to spend a little more on professional-level audio output. All while still maintaining the simplicity of a beginner-level microphone.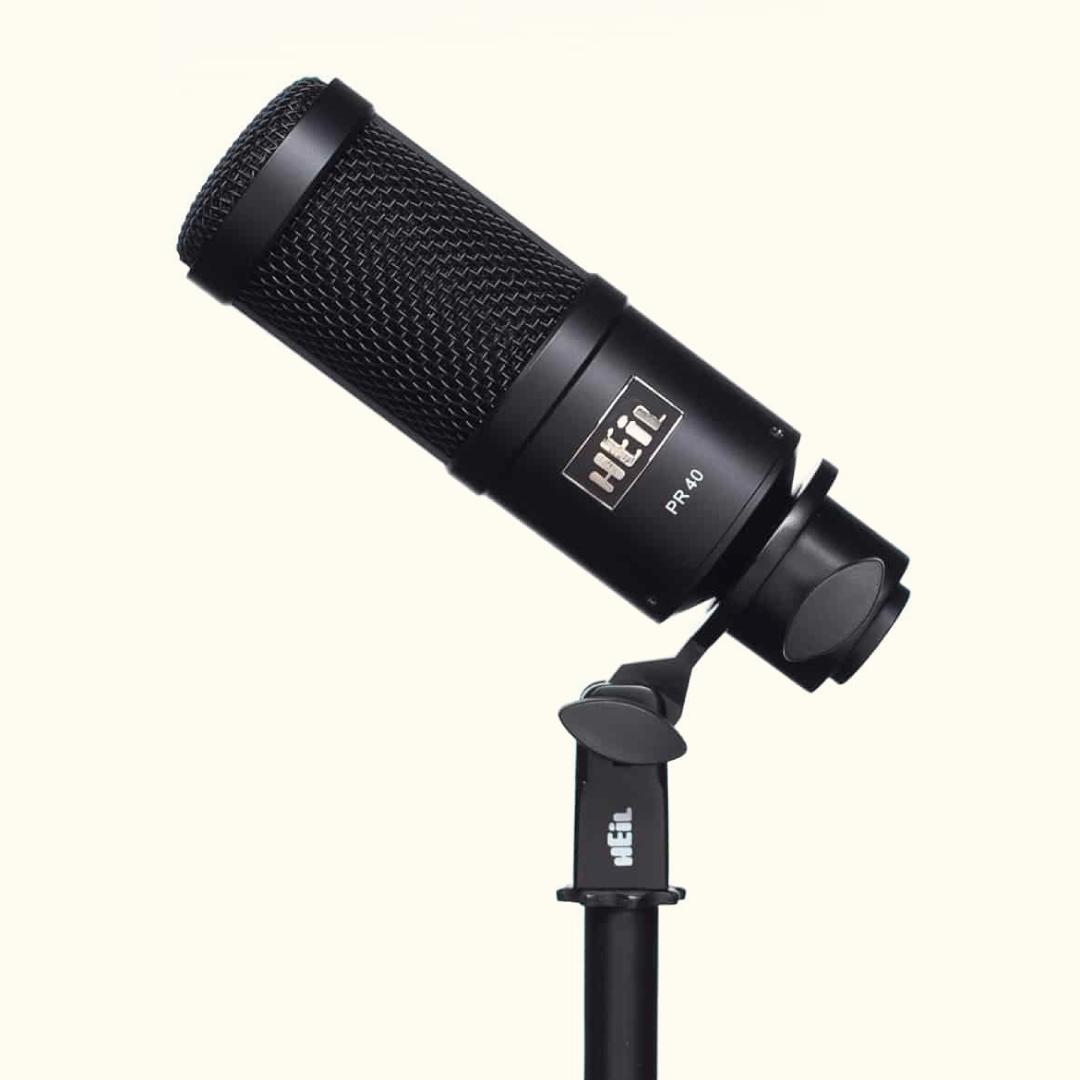 Moving on to the elite level, we have the Heil PR-40. Thanks to its excellent sound quality in most recording environments, this is a podcast mic you'll see set up in several high-level shows.
Here are some of the Heil PR-40's key features:
Over $200: Premium podcast microphone
Dynamic: But the manufacturer claims it "Looks, acts, and sounds like a condenser."
Cardioid polar pattern
Frequency response as low as 28Hz to 18,000Hz
XLR connection
If you don't mind spending over $300 on a microphone, consider the Heil PR-40. It may be expensive, but it's worth the investment.
3. Microphone Accessories
So, which podcasting microphone do you like best from the list above? You may need some accessories to get the most out of it, whatever your choice.
Here are some microphone accessories that may help you capture great-sounding sound for your business podcast:
Podcast Mic Stand
According to a survey by The Podcast Host, nearly 8 in every 10 podcasters use a microphone stand. This means that you are highly likely to need one. It's an important piece of equipment for podcasting. 
A decent mic stand helps you position your microphone properly to improve sound quality and facilitate better body posture.
Some microphones come with a little stand that gets the job done. So you might want to check into that when buying your microphone. But for best results, we recommend investing in a boom arm for your mic.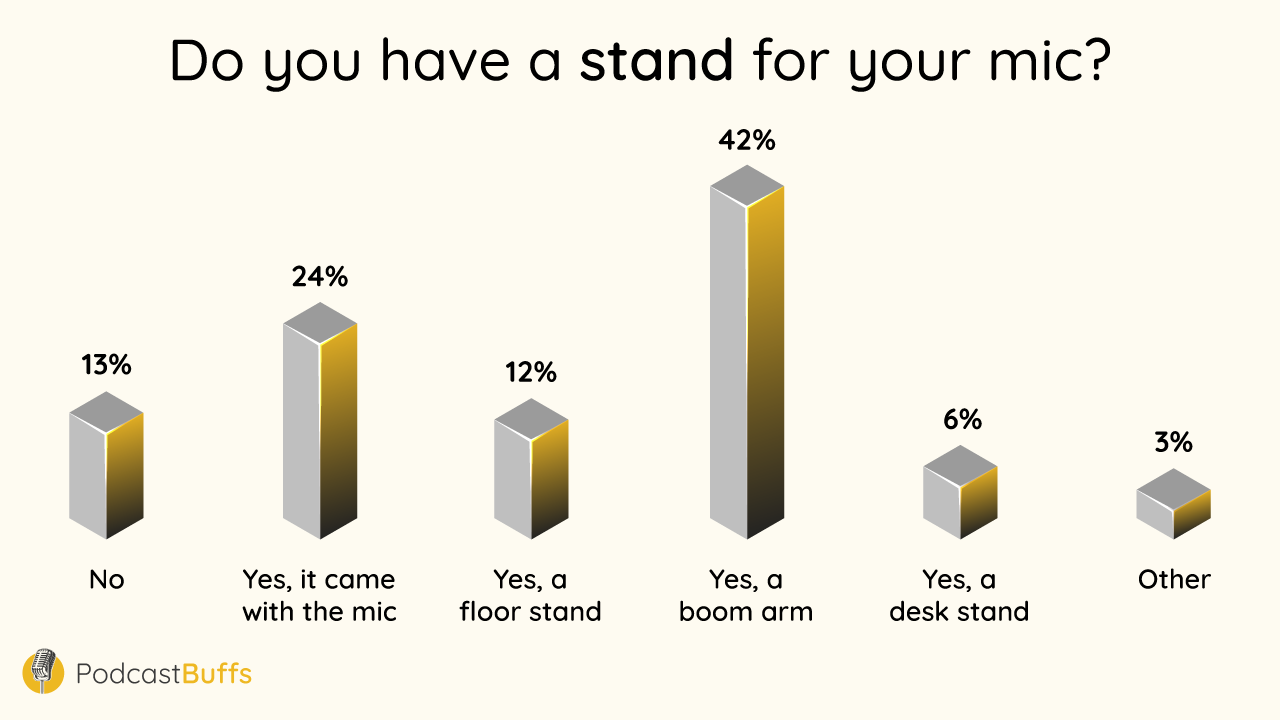 As you can tell from the infographic above, a boom arm was the most popular type of mic stand in the Podcast Host survey—and for a good reason. Boom arms are tidy, flexible, and convenient. They also help reduce shock-related noise.
Looking to buy a boom arm? Consider the following: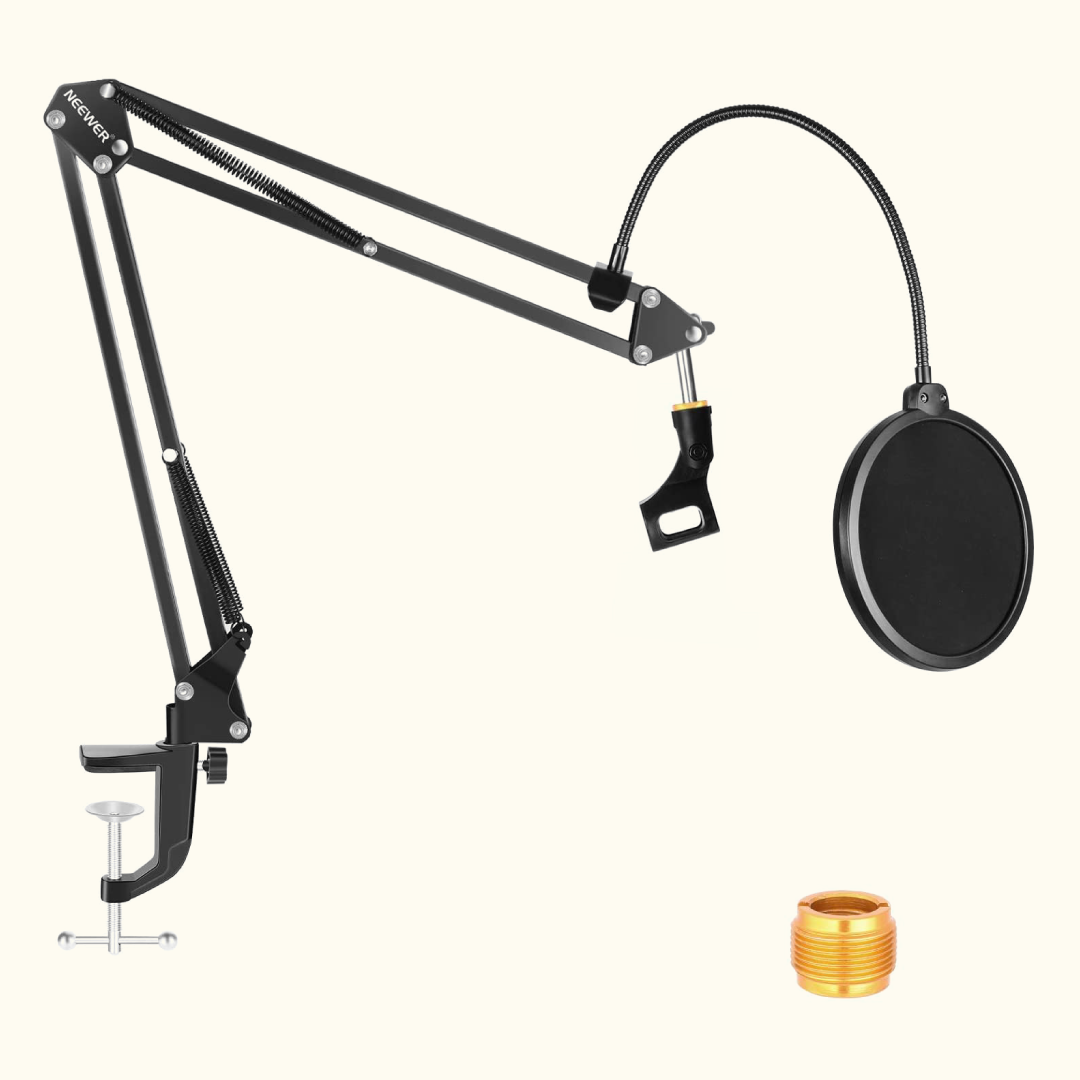 If you are on a tight budget, the Neewer NW-35 will serve you well. It has a steel construct, a C-clamp, supports a max weight of 3.3lb (1.5kg), and can be rotated a full 360 degrees. 
On top of all this, the NW-35 comes with a pop filter and a snap-on mic clip. It's simply a great bargain.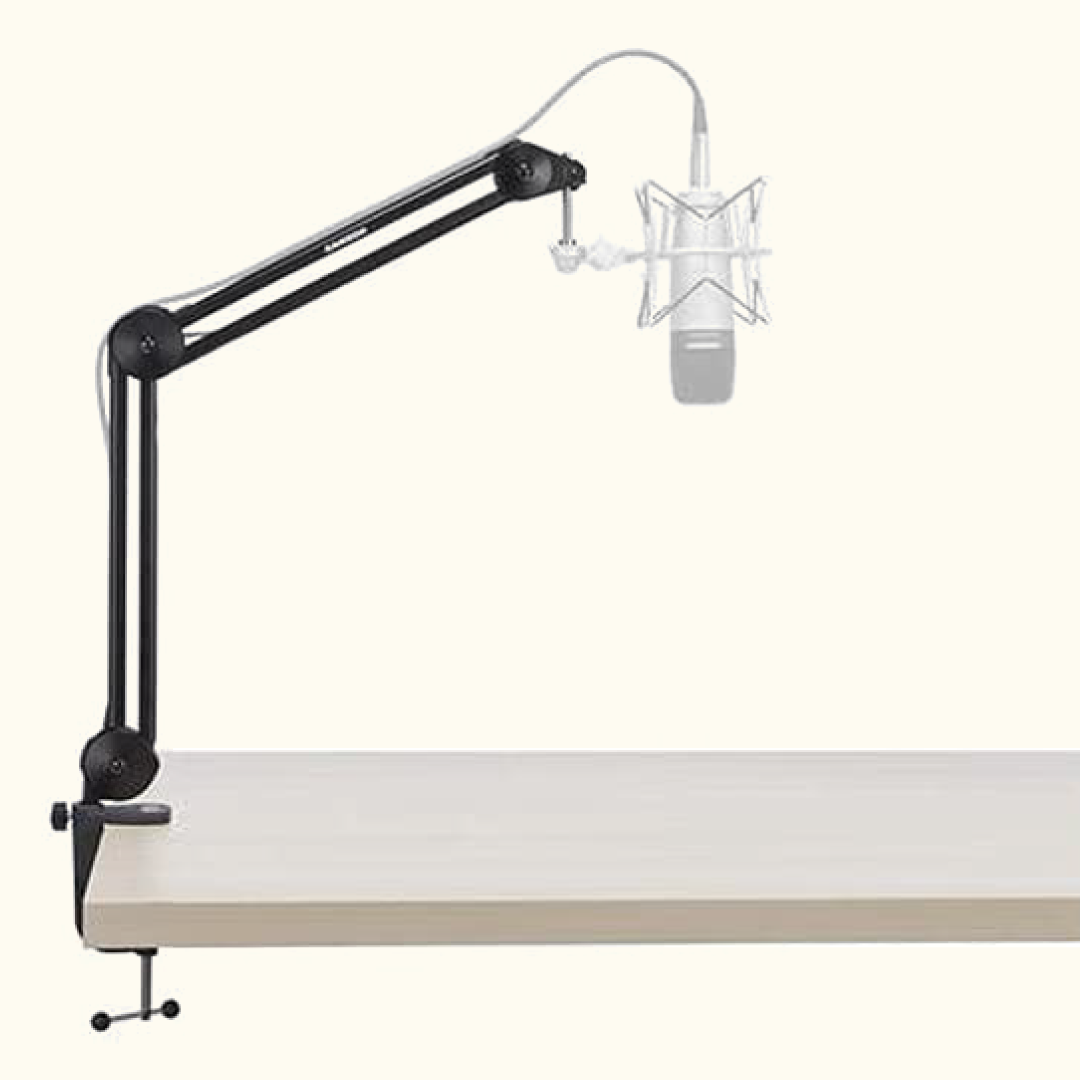 The Samson MBA38-38 is ideal for podcasters who want a mic stand with great features and is reasonably priced.
The mic stand features an impressive arm reach of 38 inches and internal springs for silent positioning during live recordings. It comes with a C-clamp and flange mount to choose from. 
Finally, the Samson MBA38-38 has a durable build to last you for a while and can support microphones up to 5lb. (2. 3kg).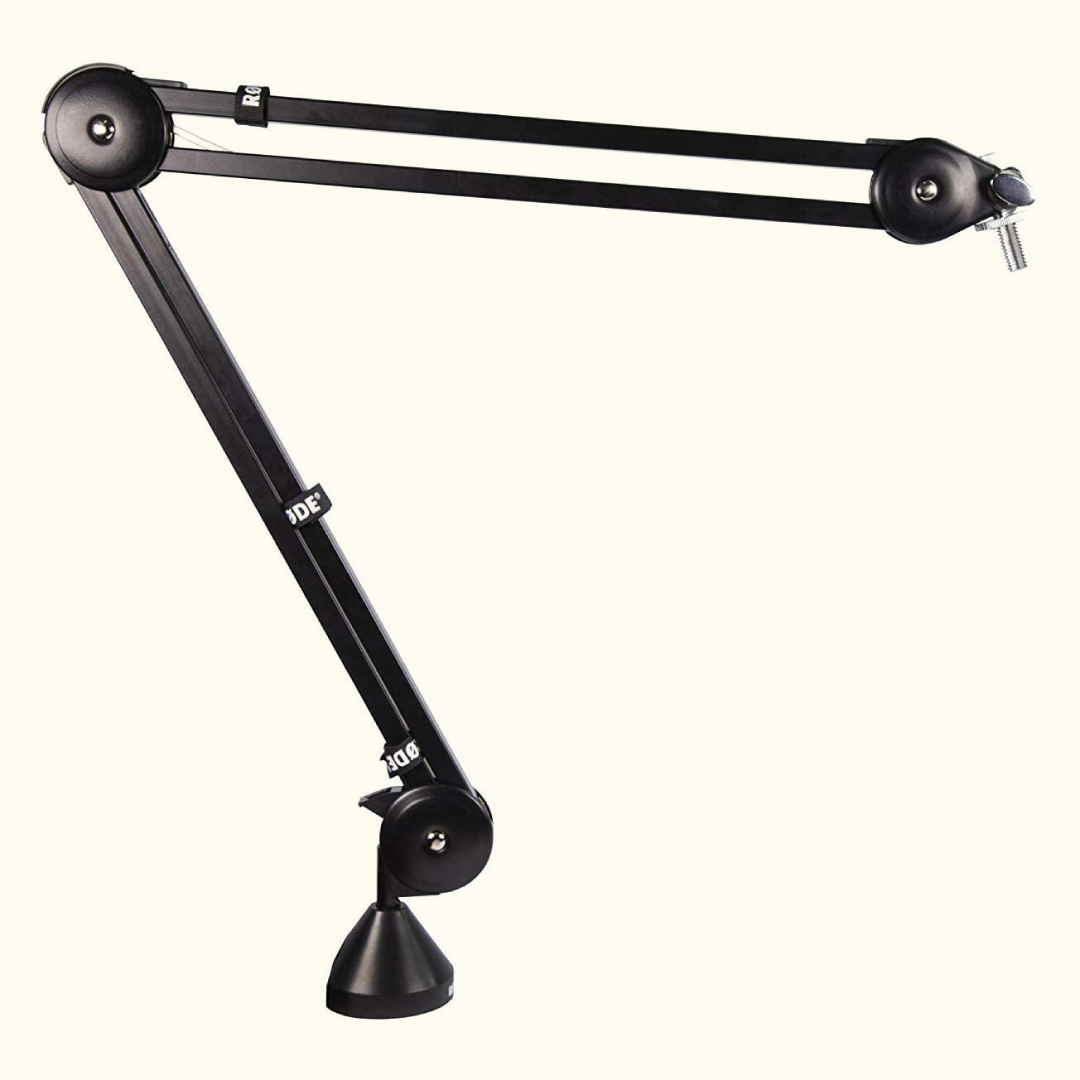 The Rode PSA1 offers an extra touch of professionalism, which makes it a great option for B2B podcasting. It feels premium—from its look to the high-quality construction to the features. It can rotate 360 degrees, has an arm reach of 33 inches, 2 desk mounting options, a 2-axis swivel mount, and supports up to 4.4 lbs.
These qualities make it the go-to boom arm for most podcasters, online streamers, and voice-over studios. It has a track record for reliability, as evidenced by over 10,000 Amazon users who give it a 4.8/5.0-star rating.
Pop Filter

A pop filter is basically a filter that goes in front of the microphone. Its purpose is to eliminate "plosives," which are the popping noises when you say letters such as P and B. 
This is because you exhale more when you pronounce words with these letters. This air blast from your breath might make an undesirable popping sound in your recording.
Here's a little exercise, put your hand in front of your mouth and say "PodcastBuffs." You'll notice a blast of air on the letter "P" and "B." This air may cause clipping and distortion.
Below are our recommendations for the best pop filters for podcasting: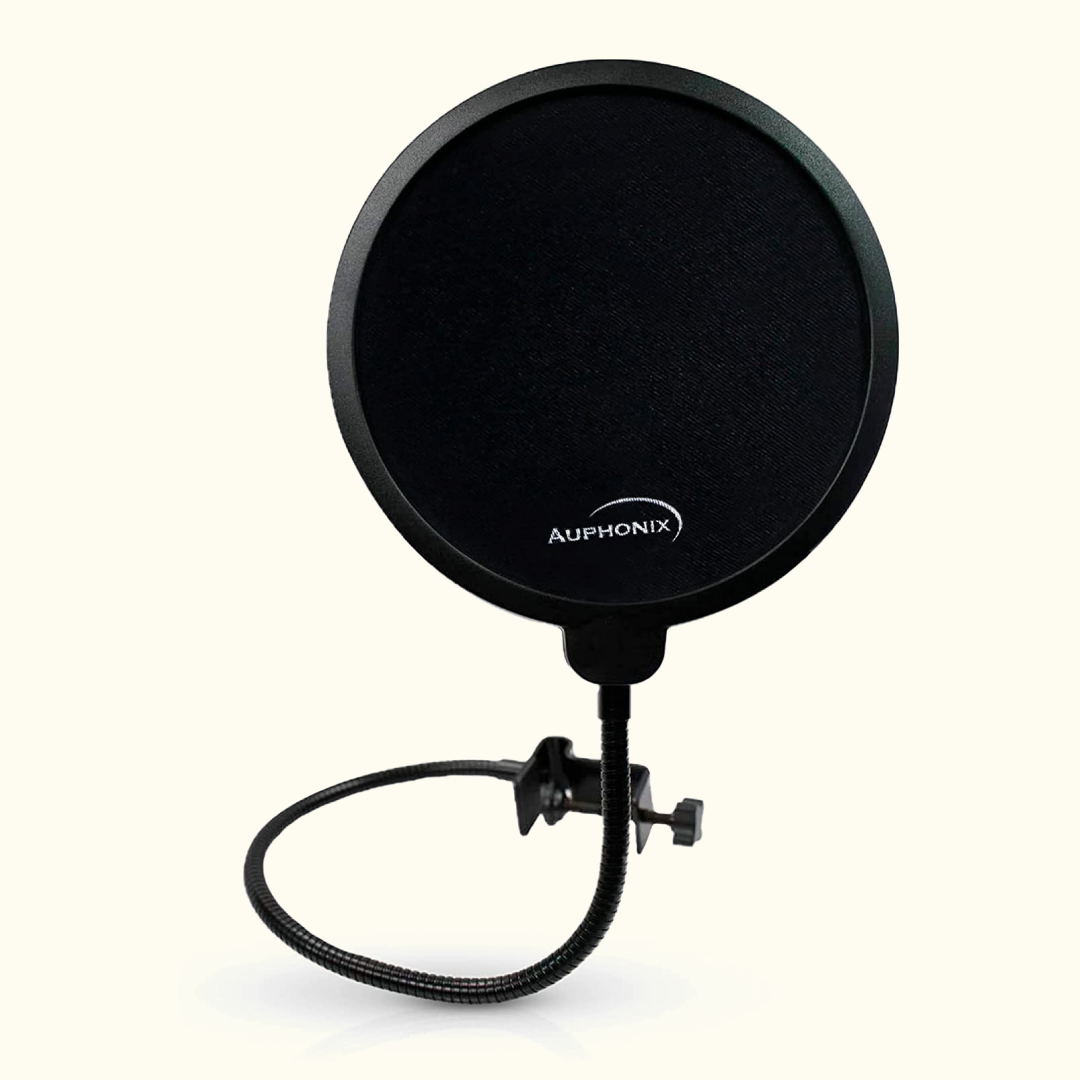 If you own (or plan to buy) the Blue Yeti microphone for podcasting, the Auphonix pop filter is a great accessory to go with it. Although the popular pop filter was designed with the Blue Yeti in mind, it works with other microphones. 
It has a double-layer mesh and an adjustable gooseneck for ease of use and quality recordings.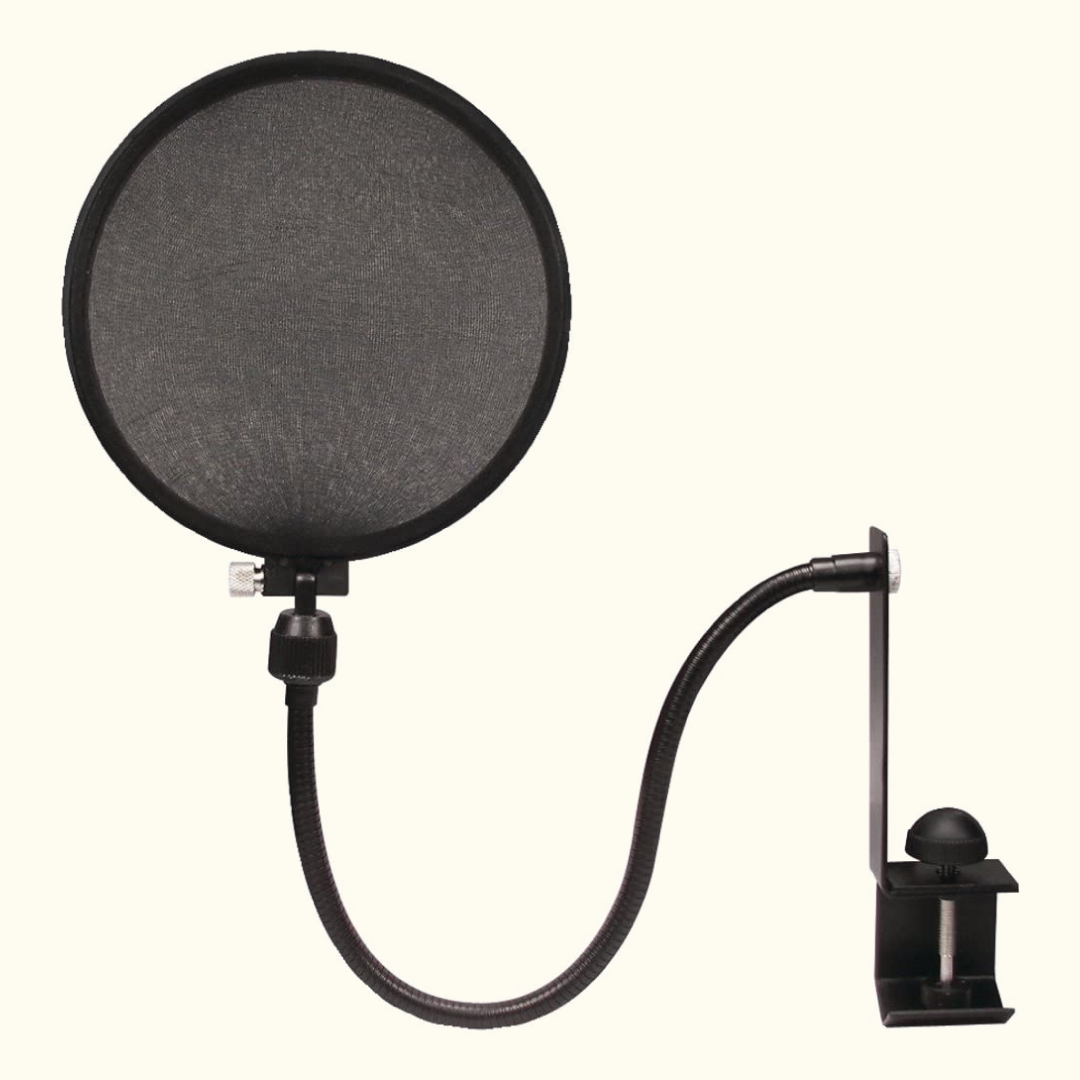 The Nady MPF-6 is a reliable pop filter admired by recording professionals for its quality, despite being inexpensive. You'll appreciate the sturdy gooseneck, a quality clamp, and a large filter.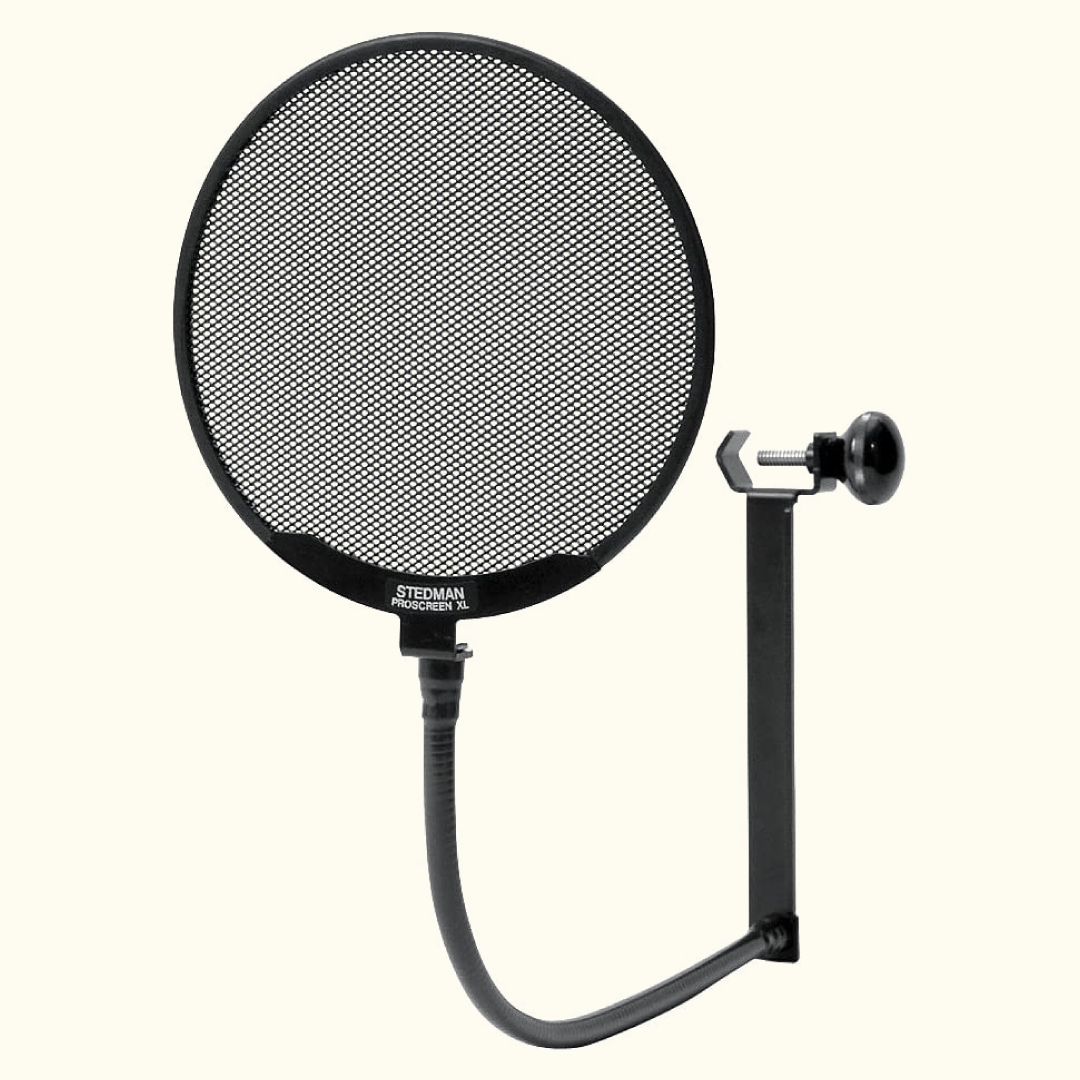 If you want the best pop filter money can buy, there are few options better than the Stedman Proscreen XL. It offers among the highest quality results thanks to its patented material and design that effectively eliminates pops better than other filters in the market.
Shock Mount
Microphones are good at picking up sound, including your voice or surface vibrations. 
Movements such as taps on your desk, typing on your keyboard, or handling your mic stand may be heard in your recording as short, abrupt noises. A shock mount helps absorb these vibrations, preventing them from bleeding into your mic.
Here are some decent shock mounts that are compatible with most podcasting mics: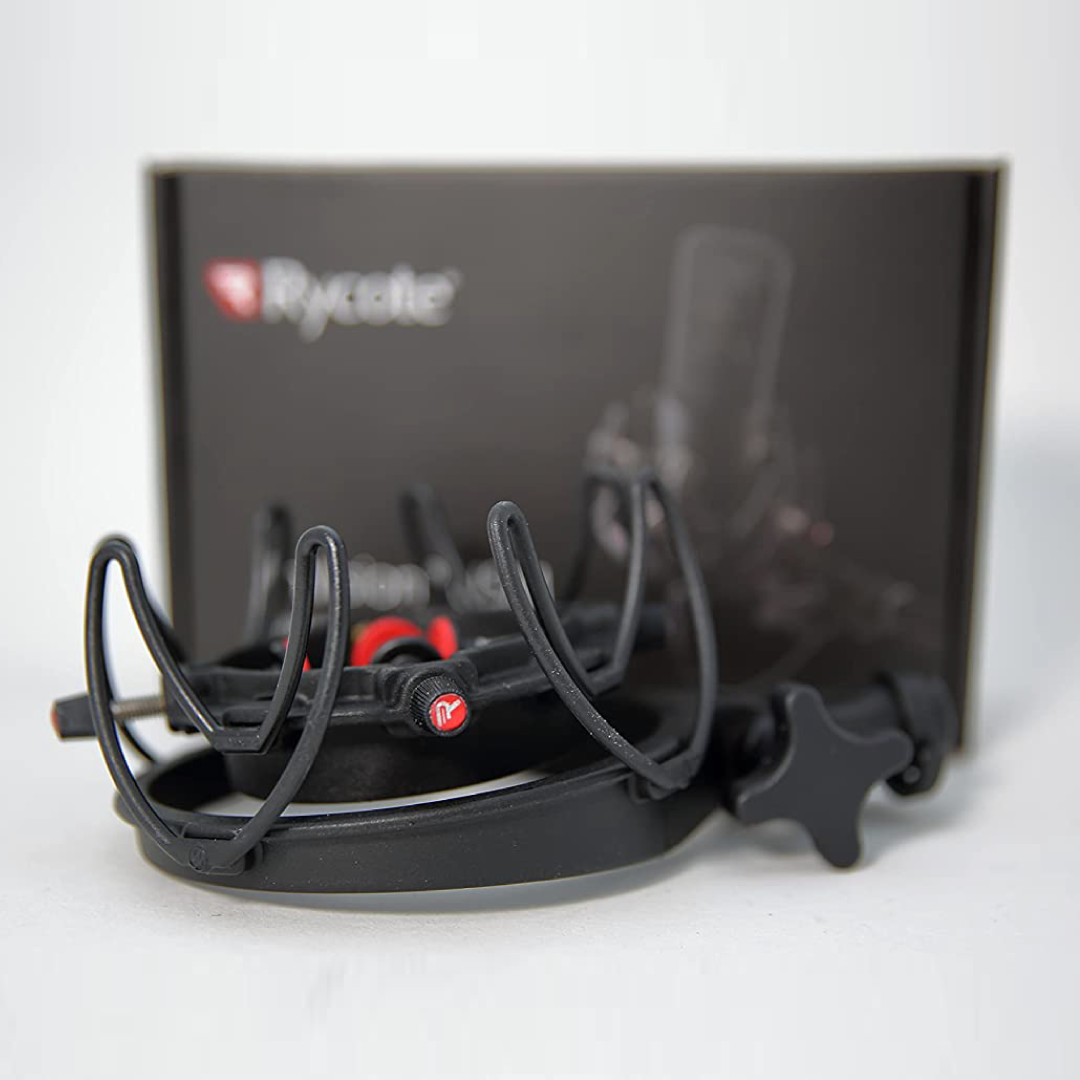 If your podcasting microphone is anywhere between 18mm and 55mm, the Rycote Invision is one of the best shock mounts you can buy. It has a universal fit and a durable build. This means you can use it for the long term, even when you choose to upgrade your podcast mic in the future.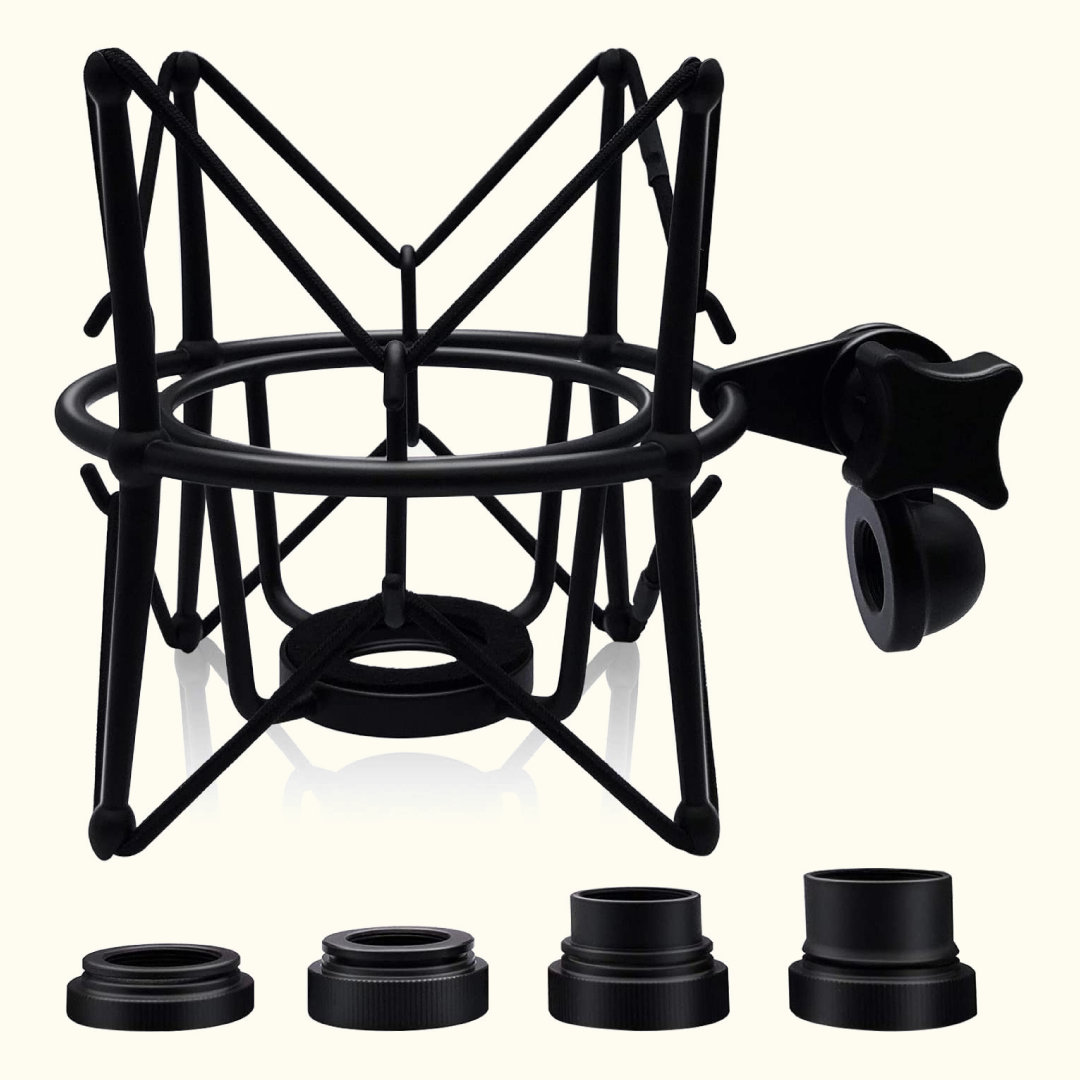 Like the Rycote Invision, the Boseen shock mount is compatible with multiple microphone designs. This includes some of the best podcast mics, such as the Rode Podcaster and Blue Yeti. 
The heavy-duty solid metal build is the other noticeable feature you might like about the Boseen podcast mic shock mount.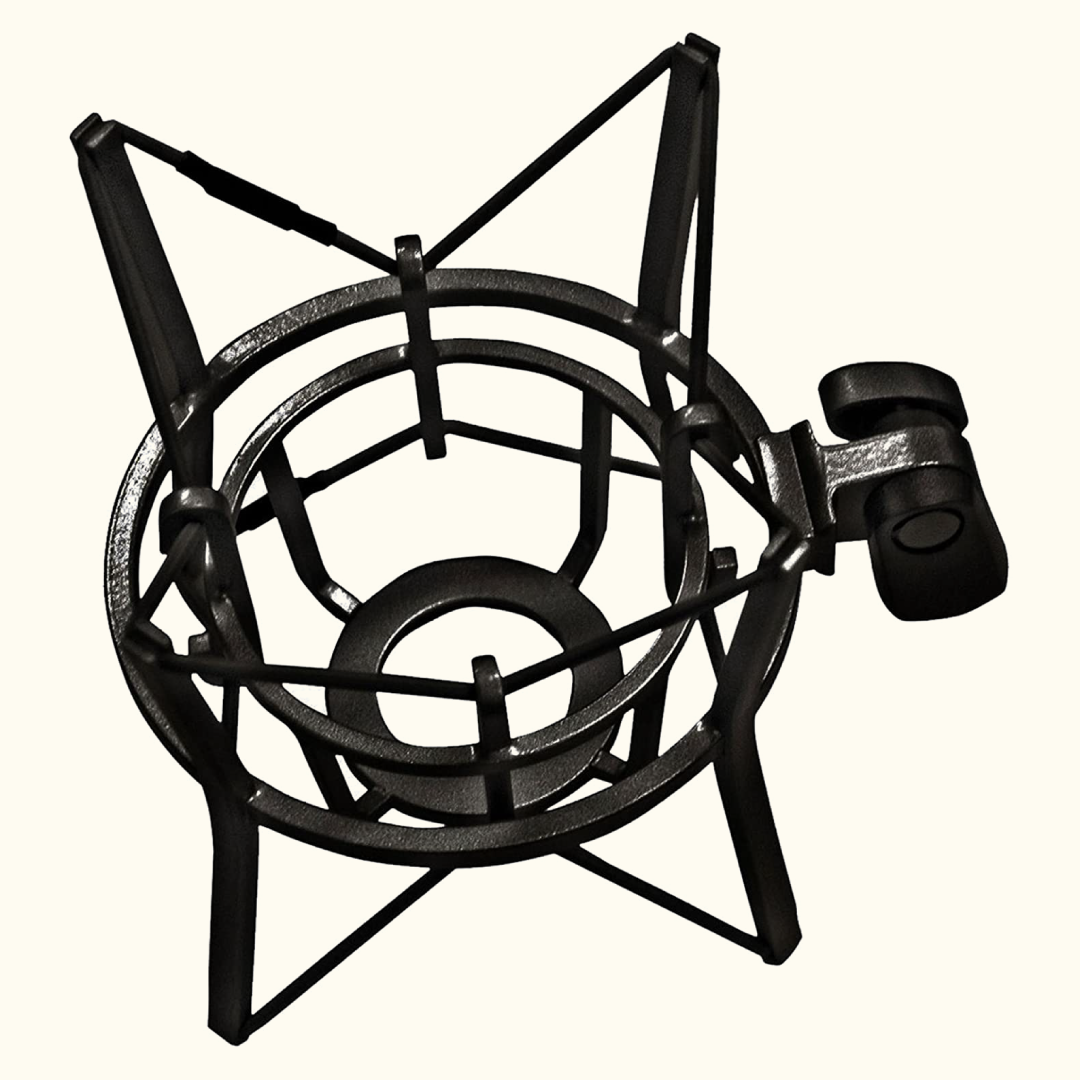 Quality meets affordability with the Rode PSM1. Although it's designed for use with a Rode microphone, users report that it works fine with podcast mics from other brands. 
Double-check the dimension or do a quick check on user comments to see if someone has tested the Rode PSM1 with your specific mic model.
NOTE: Always verify the compatibility of a shock mount with your microphone before making a purchase.
4. Podcast Headphones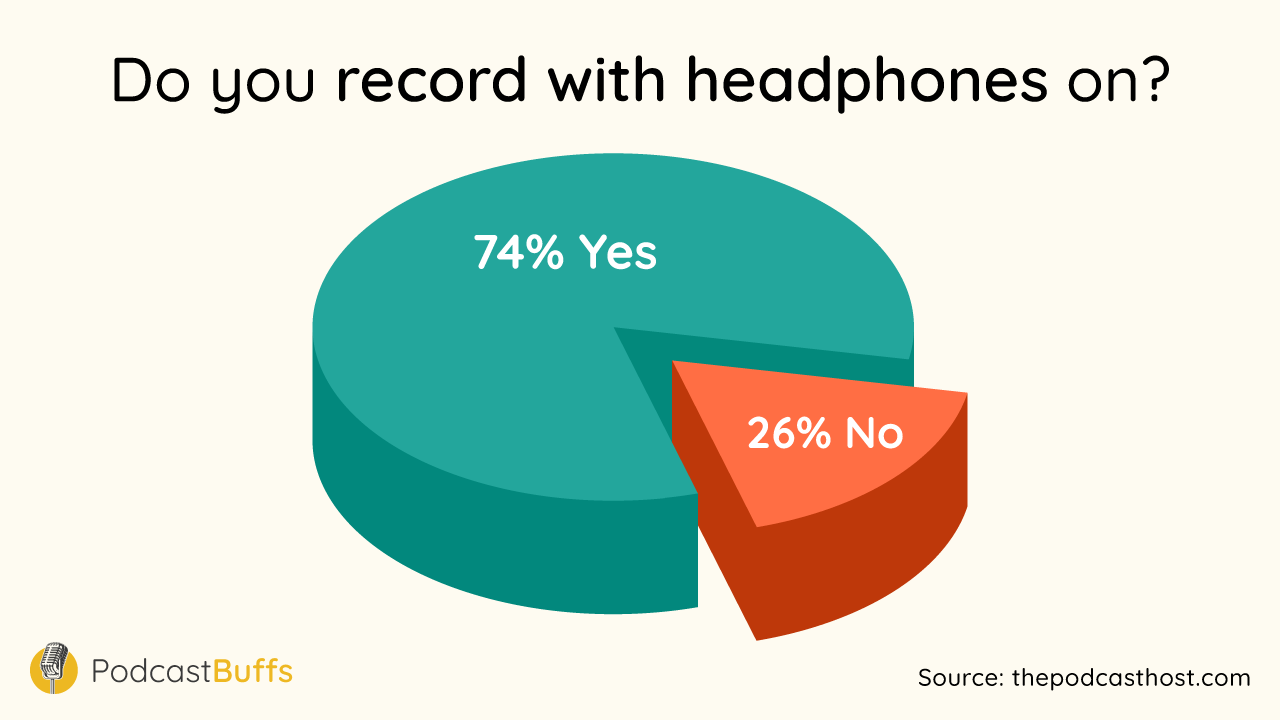 Podcast headphones allow you to monitor your live recording to help prevent mic bleeding, popping, feedback, and fluctuations. They also come in handy during post-production when editing the recording.
We know you might be thinking, "Wait, I have a decent pair of headphones that I use to listen to music. Why shouldn't I just use those?" 
Your everyday headphone might sound great, but they can't capture the finer details of the audio you're recording for your podcast. The regular headphones are designed to remove any echos, distortions and audio issues by default. 
Using them while you record a podcast episode might make you unaware of these issues, making the audio quality, well, less.
We recommend recording headphones specially designed to capture the finer details of audio recordings while preventing sound from spilling out into the podcast mic.
Your personal preferences matter, but ideally, you want a pair of podcast headphones that is:
Comfortable enough for you to wear for a lengthy period
Wired headphones reduce latency (time sound takes to reach your ear after hitting play). You also don't have to worry about the battery dying during a podcast recording.
Closed-back headphones that are completely sealed to prevent sound from leaking to your mic. This improves sound isolation and leads to better sound quality.
Over-ear/circumaural for better comfort and superb audio quality.
Here are some fabulous podcast headphones that we believe are worth your investment: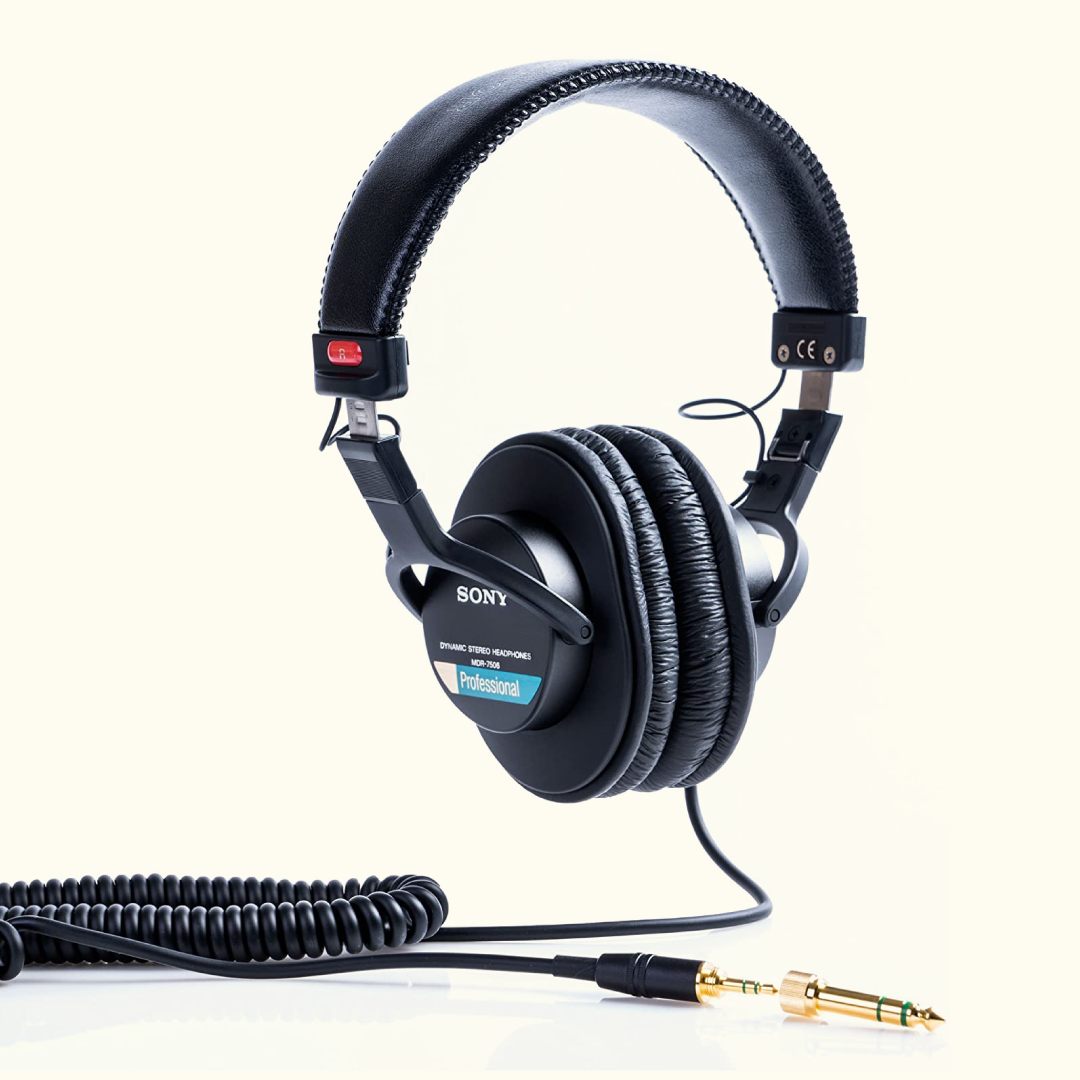 The Sony MDR-7506 is an easy pick for the best podcast headphones. Their appeal is mainly due to their near-perfect mix of excellent performance, durability, and affordable price. This winning formula has stood the test of time since the headphone was originally launched in the early 1990s.
Despite its simple but attractive look, the Sony MDR-7506 has excellent sound reproduction and isolation. Their output is crisper and cleaner than other headphones within the same price range. And this is what you need for B2B podcasting.
The closed-back and circumaural podcast headphones are also lightweight with a generous 3m coiled cable and replaceable cups. If you value timeless reliability, these are the podcast headphones for you.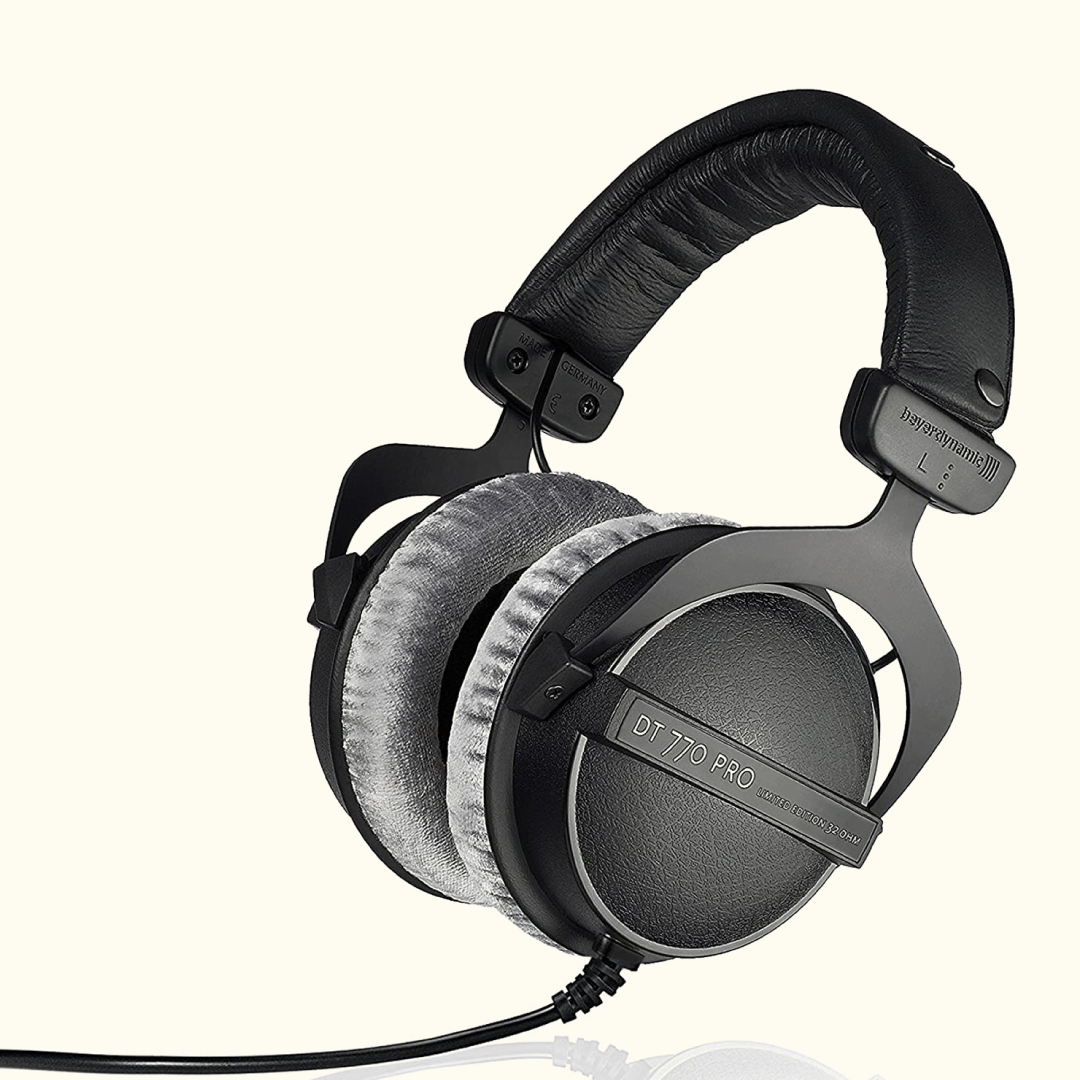 The main thing that stands out with the Beyerdynamic DT 770 Pro closed-back headphones is their comfort. They feature plush, velveteen cushioning that feels and looks great on your ears. But it's not just about their fantastic design.
Beyerdynamic has a track record for top-quality audio equipment, and the DT 770 Pro headphones are not an exception. The company claims that the DT 770 Pro headphones are "perfect for studio and stage recordings," making them an excellent pick for podcast headphones.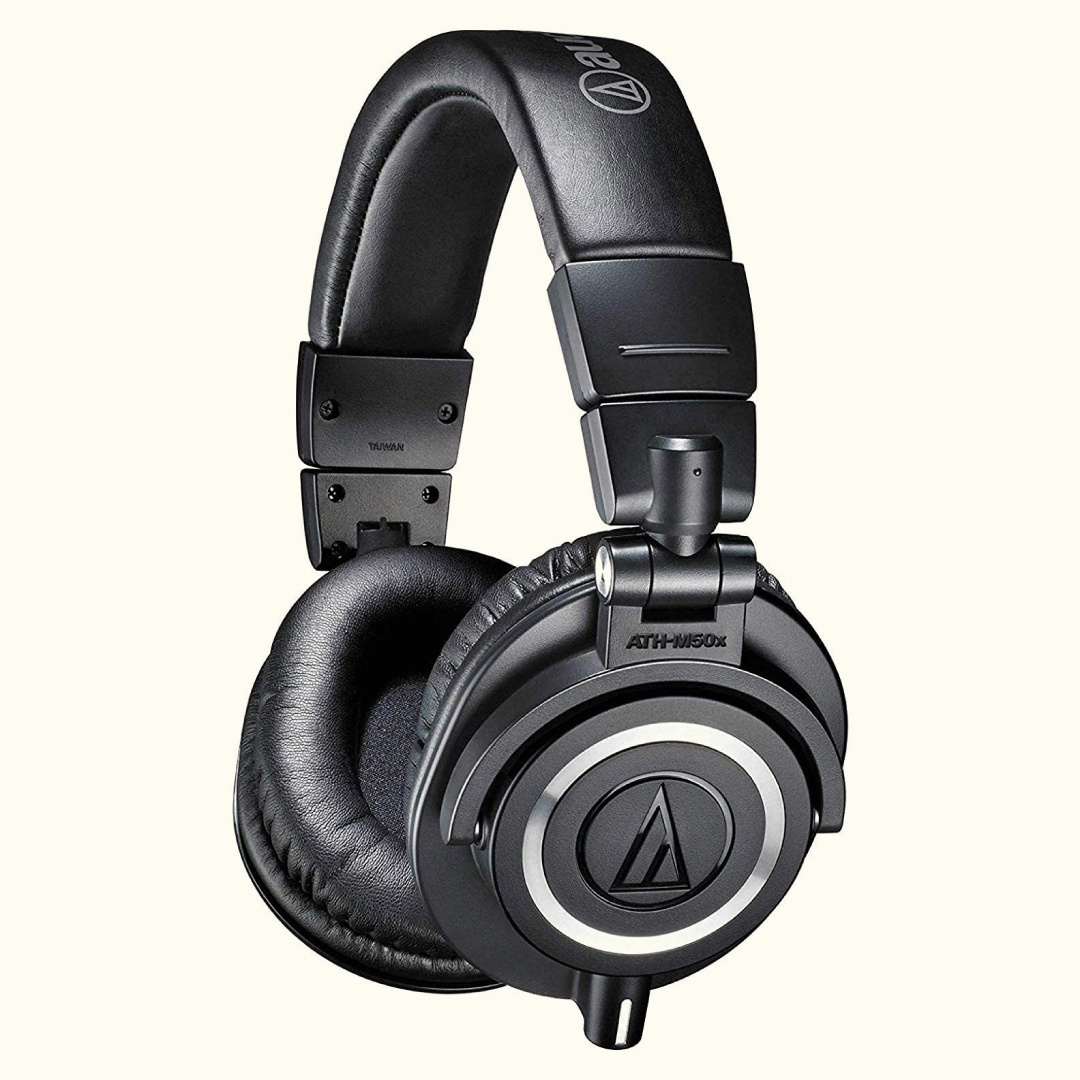 Another impressively comfortable podcast headphone is the ATH-M50x. Online reviews are filled with people praising the headphones for their comfort level even after prolonged use.
Their blend of comfort and quality makes the ATH-M50x headphones highly popular, with over 25,000 Amazon user reviews. 
Like other headphones we've mentioned in our list of the best equipment for podcasting, the ATH-M50x is closed-back and circumaural. You have an option to choose between wireless and wired options.
5. Mixer and Audio Interface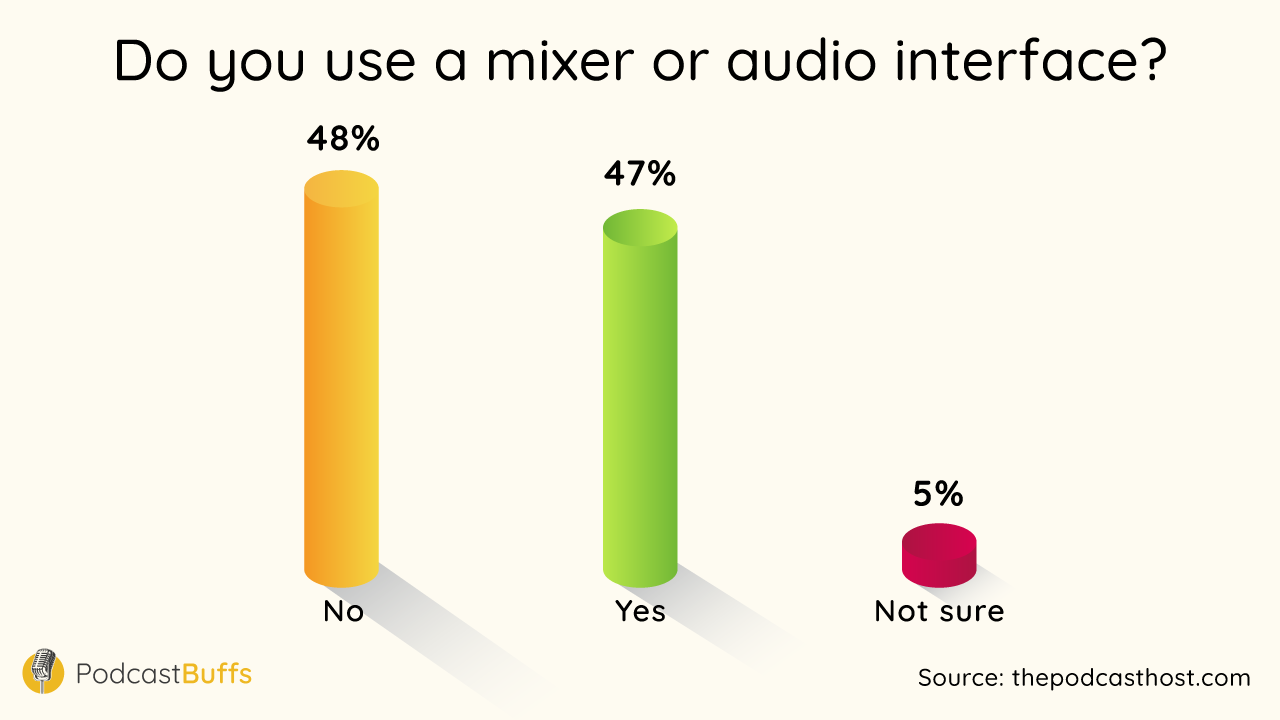 Next up on our list of essential equipment for podcasting we have a mixer and audio interface. They are useful if you want to add a professional polish to your show, but they are not essential.
And as the survey by The Podcast Host suggests, nearly 50% of podcasters do not use an audio interface or mixer. This means you can get away with just using some of the best laptops for podcasting connected to your microphone.
A mixer or audio interface comes in handy by helping you stand out with better sound quality. Read on as we explain how you can use these equipment for podcasting plus some of the best options in the market.
Best Podcasting Audio Interface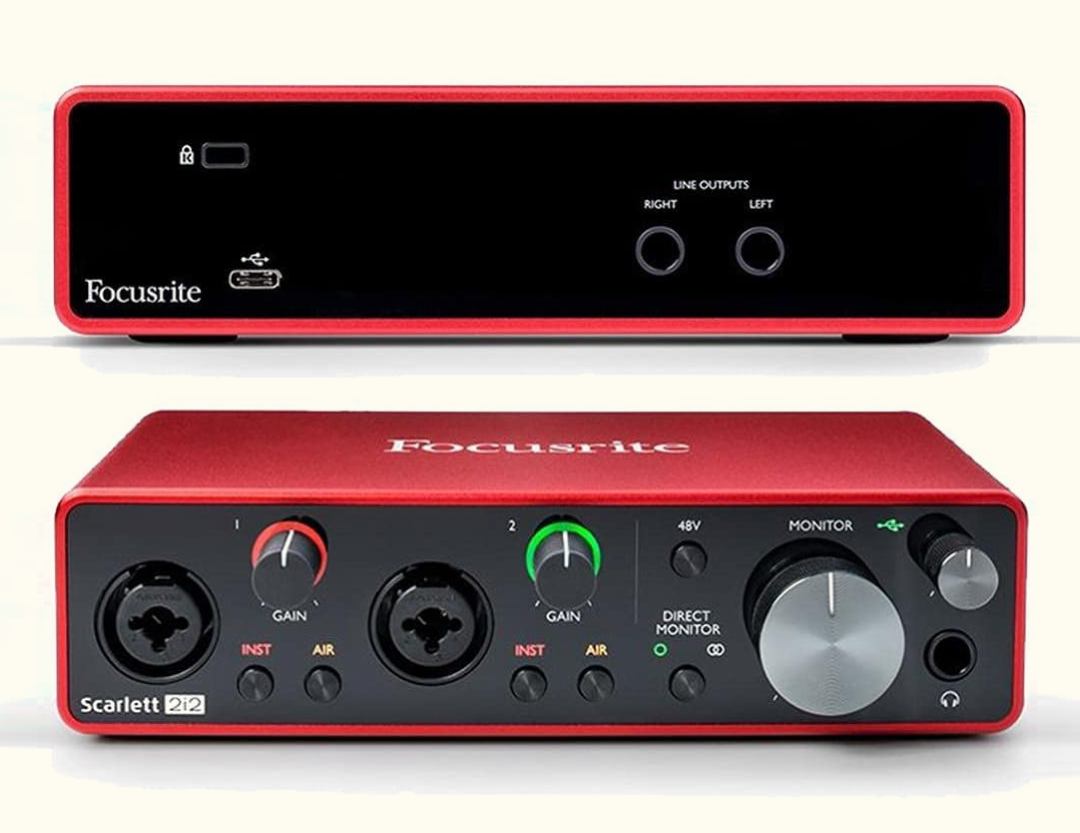 So what is an audio interface? It is basically a device that acts as the "middle person" between your computer and microphone(s). It records, processes, converts audio to digital format, and sends high-quality sound to your computer. It is basically an external sound card.
The beauty of an audio interface is that you can attach several podcast mics to the interface. And unlike the ports in your computer, it preserves audio quality for far more professional output.
Here are some of the best audio interfaces for business podcasting:
Best Podcasting Mixer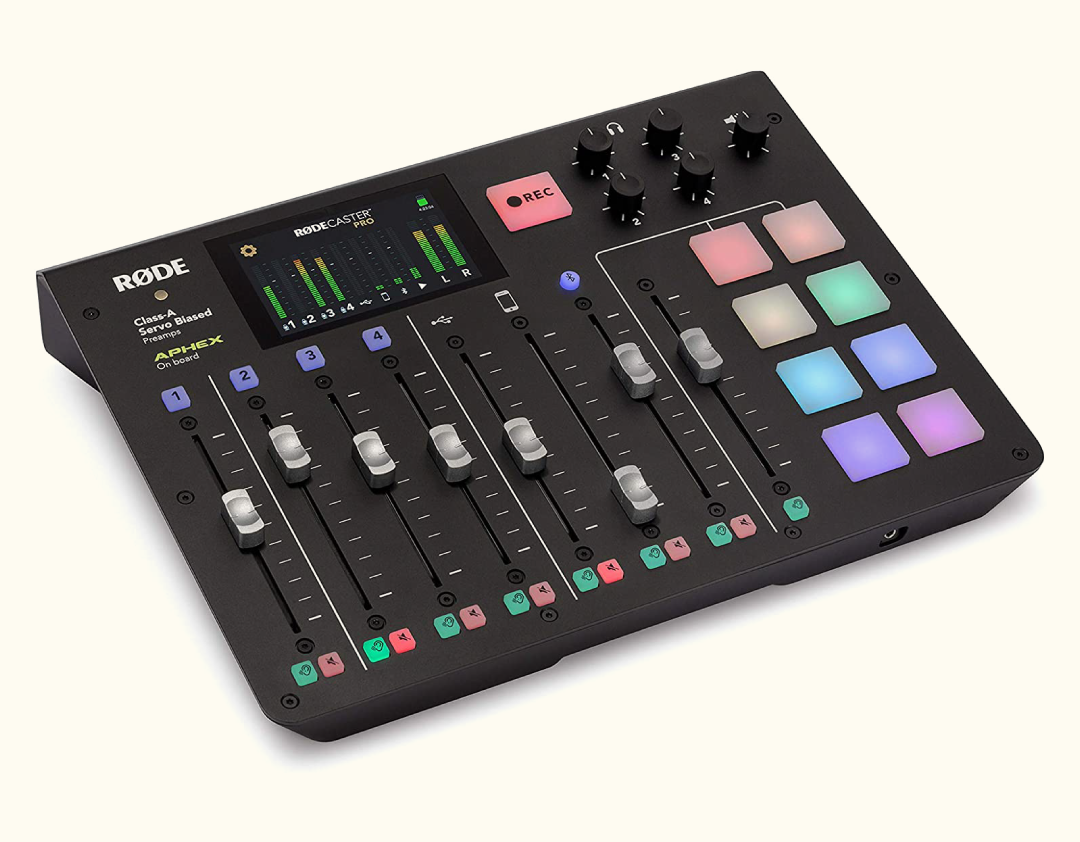 A mixer also acts as a "middle person" between your computer and microphone(s), but it's more complex. It is built with a set of sliders and knobs that serve as equalizers, volume faders, reverb, etc. This means that you may need to have some understanding of how to record for a podcast using the device.
Why should you invest in a mixer for business podcasting? Well, it gives you the ability to adjust the sound levels of each podcast mic in real-time. This gives you more flexibility and control over the output sent to your computer.
If you are skilled enough with a mixer, you can save a lot of time and work in post-production. It's an excellent option for business podcasts that feature several speakers engaged in real-time discussion.
Here are some of the best mixers for B2B podcasting:
6. Acoustic Treatments
Reverb is one of the most annoying "noises" that can reduce the sound quality of your recording. Reverberation is the reflection of sound off surfaces. These reflected sound waves can be picked up by your podcast mic repeatedly, making your business podcast sound amateurish or even incomprehensible.
Here's an example to elaborate on the impact of reverb and how you can solve the issue:
When you pronounce a word, your voice is picked up by your podcast mic. But your voice also travels to other surfaces in the room (wall, ceiling, etc.), reflects off them, and is again picked up by the microphone.
Reverbs in a recording show up simultaneously with your voice, making them a challenge to edit out during post-production. The solution?
First, know the reflection points. One way to do this is by using the Room Layout eXpress application by Auralex. It maps your podcast recording space and recommends optimal acoustic treatment points. 
Another strategy to identify the best locations for acoustic treatment is the "mirror test." Sit at your usual recording spot and ask a friend to slide a mirror along the walls. Mark the spots where they can see your reflection in the mirror and install acoustic treatment there.
Acoustic treatments eliminate reverb through absorption, diffusion, or soundproofing. Here are some acoustic treatment ideas you can use to reduce reverb and improve the quality of your audio:
Fill the recording space with soft stuff. The absorptive or diffusive properties of furniture and other house items can significantly reduce sound reflection.
Lay out heavy blankets over reflection points such as the wall, wooden/metallic chairs, floor, desk, etc.
Use a reflection shield. The absorption device surrounds your podcast mic on three sides to stop reverberation. It is also known as a "gobo," meaning "go between."
Record in a closet filled with clothes. But consider hanging a heavy blanket on the inside of the door or any exposed hard surface.
Install acoustic paneling in the path of sound (e.g., walls and ceiling). The thicker the material, the better. Auralex is a popular manufacturer of acoustic treatments. They offer a wide variety of inexpensive options.
Next Up, Recording…
There you go. By now you should have a good idea of exactly what equipment is needed to make a podcast. Go through the different categories, write down the equipment that meet your needs, and start planning to set up your podcasting studio.
If this is your first time launching and running a business podcast, you're almost there. Setting up your podcasting studio means that you are one step away from having an episode recorded for your audience. And we're sure you're excited to put all you've learned to work.
If you already have a business podcast, we hope this lengthy piece gave you some great ideas to upgrade your setup.
The next lesson will introduce you to the best software for audio recording. This includes podcasting software for Mac and podcasting software for Windows. Stay tuned.
Don't know where to begin? Get started with our free B2B Podcasting course.
FREE EMAIL COURSE
B2B Podcasting Mastered
Learn how to launch a revenue generating podcast for your business in just 10 minutes a day, for 2 weeks.