Watch the Video Version
https://www.youtube.com/watch?v=o1Rkc1UESiE
Podcasts are a huge deal for both individuals and businesses/brands. It's a medium on an upward, sky-bound trajectory. According to research by Statista, 78% of the adult U.S. population is aware of podcasting as of 2021. This figure stood at a measly 22% back in 2006.
It appears that people are increasingly turning to podcasts for entertainment or information consumption. As such, it's understandable if you're itching to get in on the action with a B2B podcast of your own—and you should.
Looking to tap into this lucrative industry? We've covered "what is a podcast and how does it work," how to start a podcast free, and listed some undeniable benefits of podcasting, to give you a head start. But after familiarizing yourself with the podcasting for business industry, you're faced with an important decision:
What type of podcast should I start?
Finding the best format and genre for your show is one of the first critical steps when planning the structure of your business podcast. 
Here's why:
It helps guide the direction of your podcast's identity — including the cover artwork, title, and description. This creates the groundwork for a solid differentiation strategy, which is necessary to stand out in the increasingly popular podcasting for business space.
Finding the right podcast format and genre for your show allows you to create an achievable roadmap for your long-term goals from the get-go. For example, if you choose an interview format, you can schedule guests well in advance of the publishing date.
A consistent podcast format goes a long way in improving the word-of-mouth discoverability of your show. It makes it easier for listeners to promote your podcast. E.g., they'll be able to tell their friends, "It's a show that interviews thought leaders in the innovation industry."
Sticking to a good format creates consistency, which helps keep the audience's attention. They know what to expect with each new episode.
Wondering where to start or what podcast format to pick? Read on for a break- down of everything you need to know about understanding and finding the right podcast format for your show.
This post is the 3rd in a series of "Podcasting Mastered" chapters designed to help you launch and grow an enterprise lead-generating podcast.

There has never been a better time to make your voice heard – and we're here to help master the art of podcasting with step-by-step guides.
Get the new chapters sent directly to your inbox, as soon as they release.
We follow strict no-spam policy. Your information will not be sold.
6 of the Most Popular Types of Podcast Formats.
So, what is a podcast format?
Podcast Format refers to the way information is presented and organized. It's the delivery method that gives your B2B podcast a structure. It impacts your workload as the podcast host and how your audience interacts with the episodes/content you create.
Here are the most popular types of podcast formats to consider for your show:
1. Interview Podcast Format.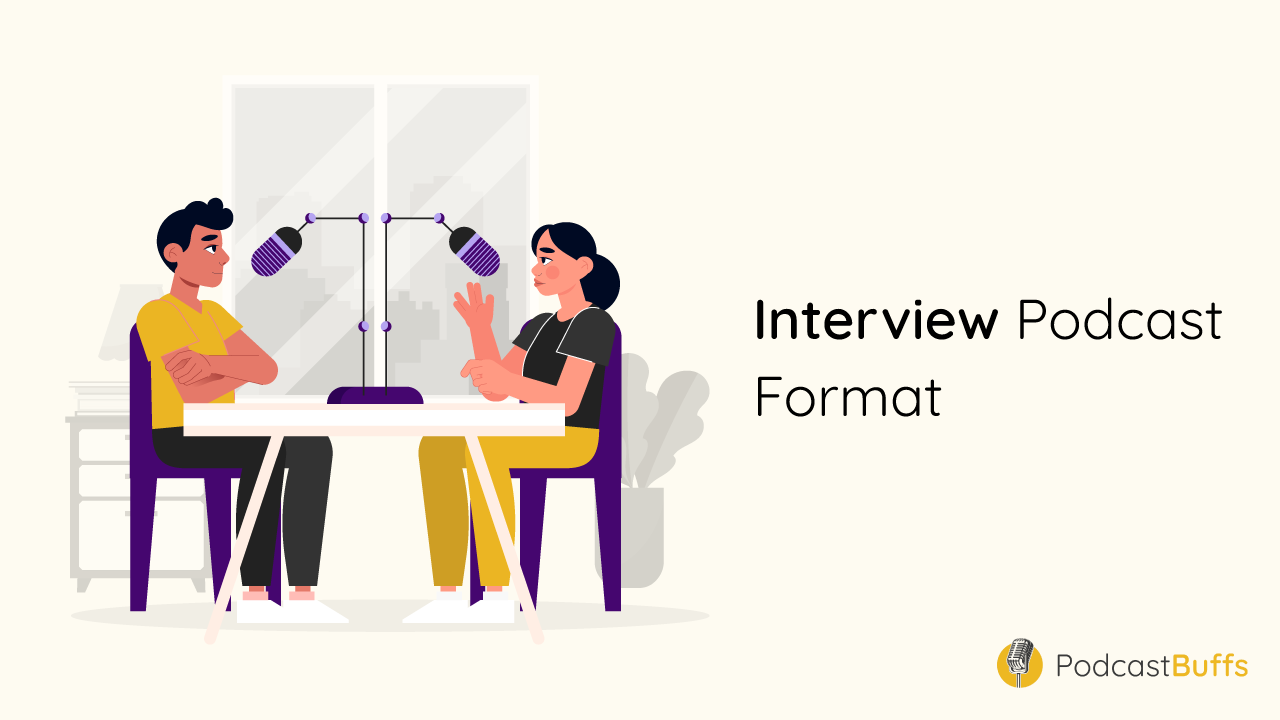 As you can guess, an interview format features a host (or two) who welcomes and quizzes different guests in each episode. The idea is to leverage the expertise and informed opinions of the guests to drive a legitimate conversation that provides value for your audience.
As the host, your main task is to ask relevant questions to unpack the wealth of information the guests have to offer—while keeping to a general theme.
PROS
The pedigree of your guests is a huge competitive advantage. It can instantly grab and keep the attention of your audience.
The guest basically does the heavy lifting. While you may have to weigh in with your opinions, your main task is to steer the conversation.
You're unlikely to run out of content. Each guest comes on with a different viewpoint, which adds value to the listener.
The interview format tends to grow faster than other types of podcasts, thanks to "audience sharing." Both parties increase their reach and exposure by tapping into each other's fan/customer base.
Interviews usually come off as honest and intimate conversations. This 'humanization' is especially important for business podcasts as a way to drive audience engagement.
CONS
You need interpersonal skills to run an interview.
Booking guests consistently can be a challenge without the right strategies.
Interview podcasts are quite popular. You must find a good niche, deliver valuable content, and ensure each episode is well-edited if you want to stand out.
Best Practices: Work on honing your interviewing chops; it's a skill you can learn. Also, contact and schedule your guests well in advance of the publishing date. This ensures consistency while giving you ample time to promote the episodes.
2. Co-Hosted/Conversational Podcast Format.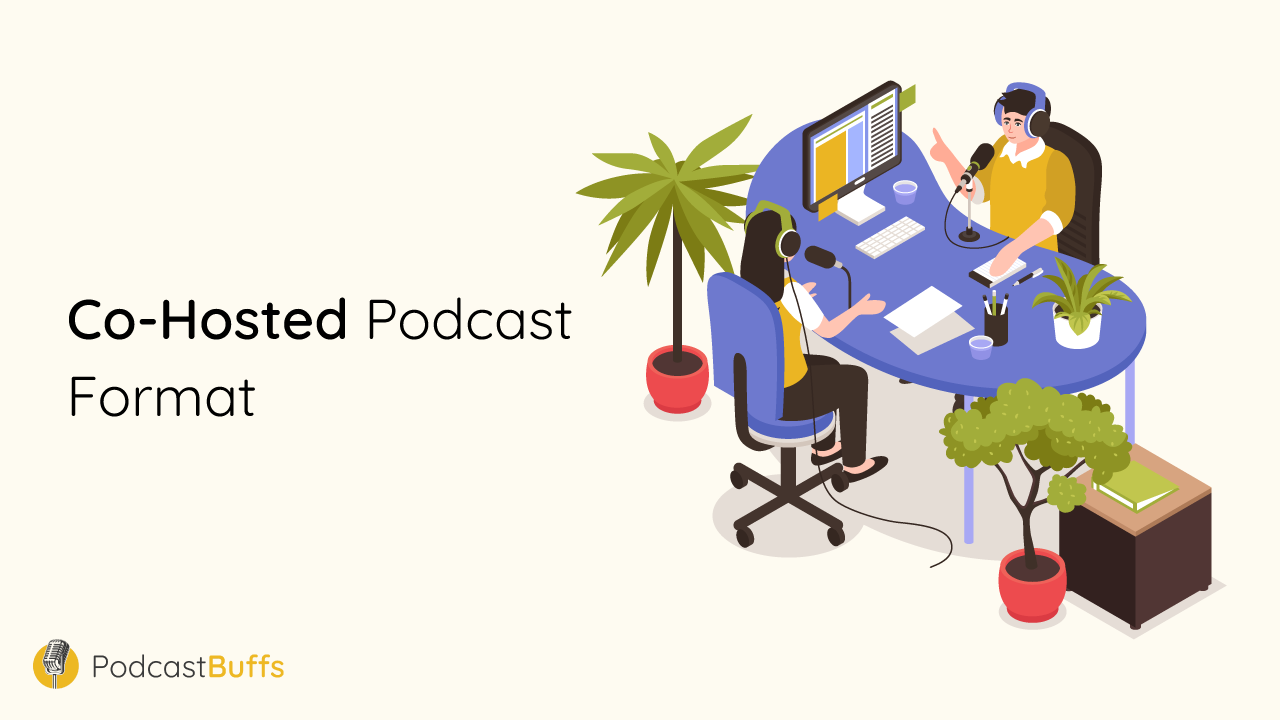 In this B2B podcast format, a couple of hosts spend time having a candid, straightforward conversation on an on-brand topic. The conversation is primarily casual—i.e., two friends or colleagues pouring their thoughts and opinions on air.
PROS
Half the load is lifted off your shoulders—making life easier. You can split up the podcast's hosting, producing, and promotion workload.
The relaxed approach of co-hosted podcasts helps facilitate a personal connection with the audience. Listeners tend to prefer organic conversations.
Co-hosted podcast episodes are well-rounded—with each host bringing their own unique perspective and insights to the conversation.
You spend less time planning.
CONS
Hosts need to have great chemistry.
There's a possibility of conflict when opinions differ or when one host feels the other is undermining them.
You have to be creative to keep listeners engaged and coming back for more. You must find a good niche, deliver valuable content, and ensure each episode is well-edited if you want to stand out.
Best Practices: It's essential to strike a balance on all fronts. A successful conversational podcast hinges on the collaboration of the hosts. The interaction and sharing of responsibility must be fair. One way to achieve this is to hold each other accountable throughout.
3. Solo Podcast Format.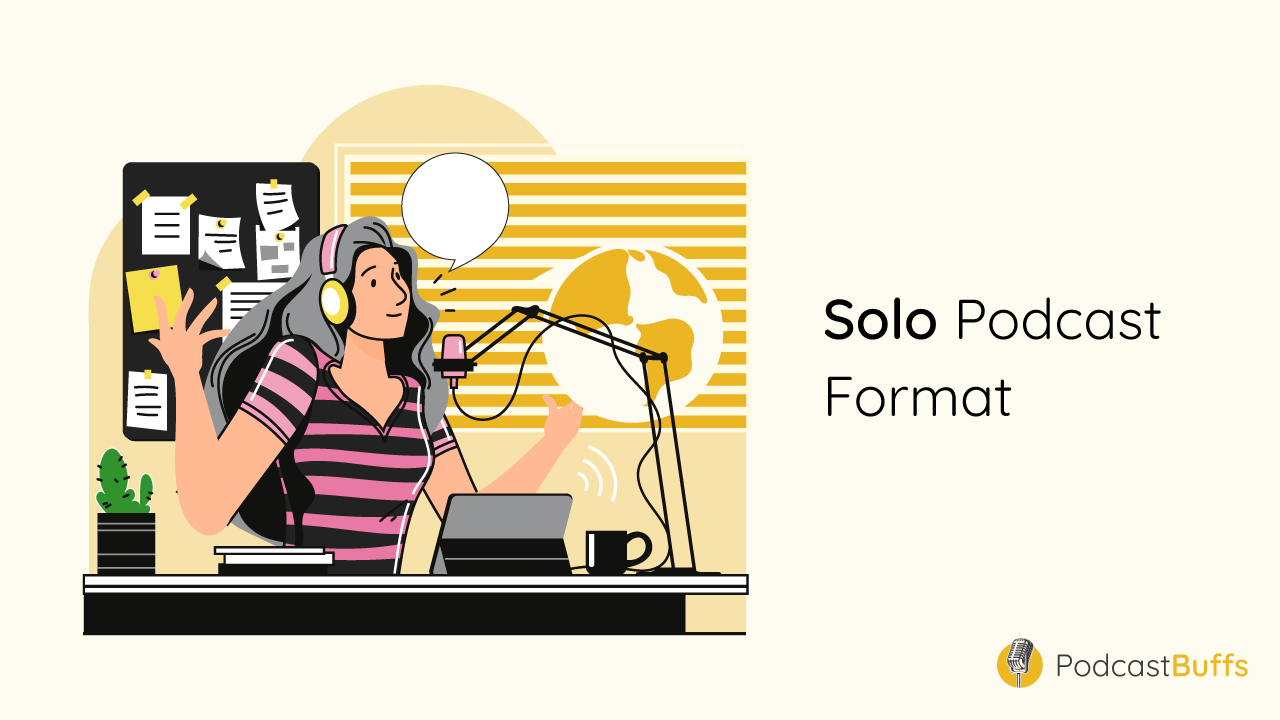 A solo podcast format features a single host engaged in a monologue-style commentary on a specific theme or topic from one episode to the next.
No co-hosts? No guest? No problem; lone wolves can run successful business podcasts too. This type of podcast is ideal for solopreneurs who are authorities in their industry. It's an opportunity to share your unique thoughts, perspectives, and opinions on a subject matter.
PROS
You get to do everything at your own pace and schedule.
Solo podcasters tend to build a solid and intimate relationship with the audience, which is great for brand building – i.e., "Intimacy that scales."
Editing your own voice is much easier than dealing with multiple tracks.
You don't have to worry about poor internet connections.
CONS
Carrying the entire conversation is tiring.
The lack of varied viewpoints may impact the credibility of the show.
The audience may lose interest in listening to a single voice repeatedly.
Best Practices: As the star of the show, consider preparing for each episode like you would a big presentation. Have an outline and a well-thought-out script. You can also spice things up with music breaks between segments.
4. Panel Podcast Format.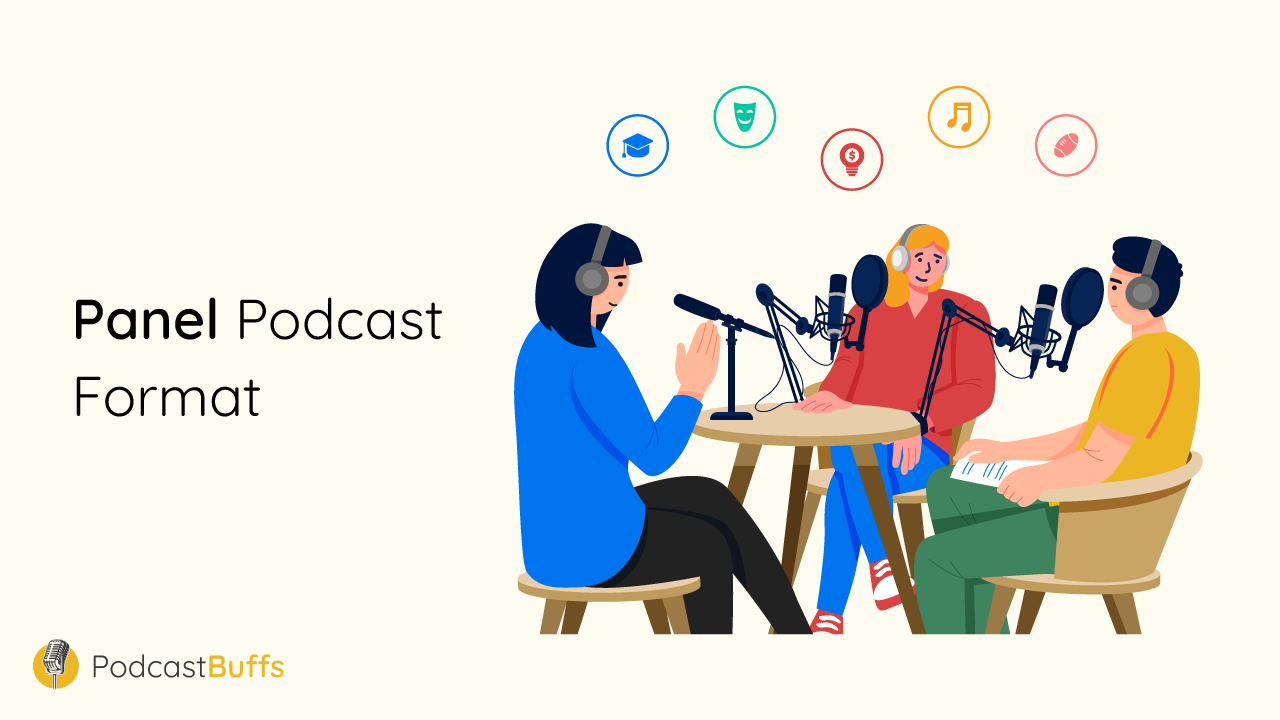 This type of podcast is similar to an interview podcast format—but with more participants. The host welcomes multiple guests to engage in an organic conversation around a specific theme or topic.
PROS
Multiple thought leaders = multiple insights = tons of value for the audience.
It's easy to grab the attention of listeners.
A panel B2B podcast format is great for promotion and discoverability, similar to the interview format.
The host is relieved of the pressure of carrying the show. The panel of guests does most of the talking.
CONS
Scheduling multiple guests can be a considerable challenge.
You need good moderation skills to keep the show on track. You need to prevent long monologues, domination of the discussion, and digressions from the topic. It's about steering people back on track by balancing assertiveness with respect.
Having multiple tracks comes with a higher risk of technical challenges.
Best Practices: The secret to a successful panel podcast format lies in honing nuanced moderation skills. Start by creating a topic list with specific time allocations. Also, give each guest ample time to share their points and learn how to seamlessly cut them off when necessary.
5. Non-Fictional Storytelling Podcast Format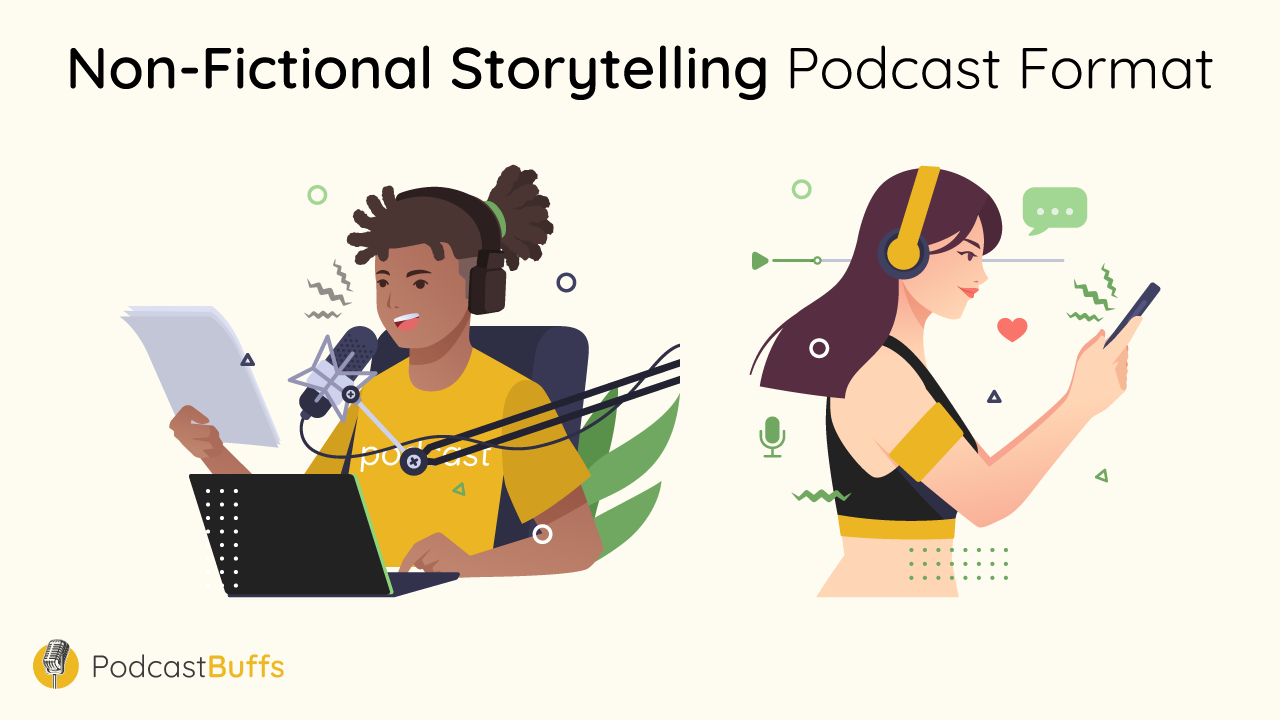 Why struggle with coming up with an interesting topic every week when you can borrow from the already fascinating world we live in? Non-fictional storytelling podcasts follow real-life events in a niche. You could either recreate historical events or simply report emerging news.
When podcasting for business, this type of podcast is great for highlighting a case study or informing listeners of developments in your industry.
PROS
It's easy to hook listeners with this type of podcast. People interested in the topic will likely be curious to learn more.
Creating content for a non-fiction storytelling podcast is easy. You're basically borrowing from something that has already happened or is happening.
You have unlimited stories to report to your audience.
CONS
You can't afford to make mistakes. Listeners of non-fictional podcasts demand accuracy of events.
Researching facts and narrowing down the best content can be laborious and time-intensive.
High production value is non-negotiable.
Best Practices: Running a great non-fictional storytelling podcast boils down to your planning and research. Have a well-designed schedule to ensure you have in-depth content for episodes well in advance of the publishing date.
6. Podcast Theatre/Fictional Storytelling Podcast Format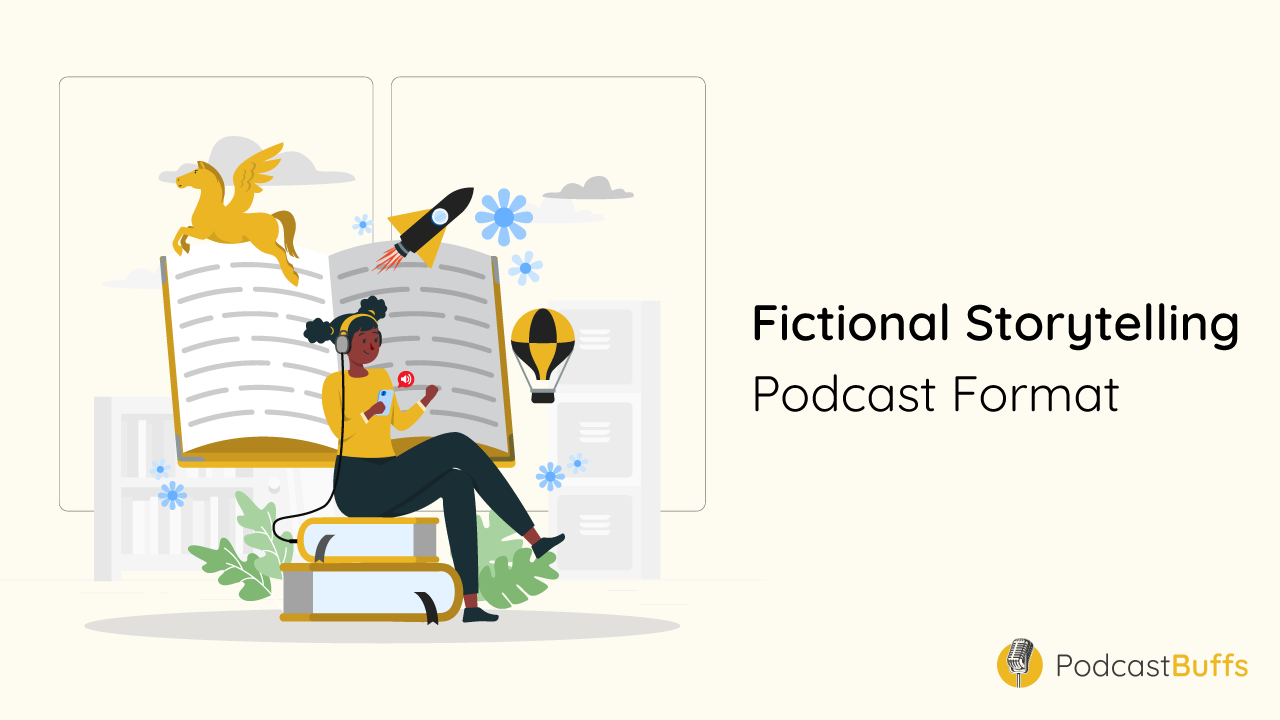 Think of your favorite TV show or novel. Now consider having it narrated to your ear on the go. This is what a podcast theatre podcast format is all about.
It involves fictional stories told across multiple episodes—complete with sound effects, cliffhangers, and climaxes. Business podcasts can leverage this type of podcast to create hypothetical scenarios highlighting the customer's journey, pain points, and possible solutions.
PROS
The market for this type of podcast is less saturated, which gives you better odds of success.
The narratives can be addictive, especially when the episodes are seamlessly weaved together.
You don't have to worry about accuracy. It's all made up, after all.
CONS
Building an audience with this type of B2B podcast usually takes time.
You may have to plan an entire podcast season upfront to hit the right plot points in each episode.
Takeaway: What Podcast Format is Best for a B2B Podcast?
While you don't have to be like everyone else when choosing a format for your business podcast, it helps to grasp what other successful podcasters are doing and where you have the best odds of generating qualified leads.
B2B Podcasting is about balancing what the audience wants and what you want as a business.
All types of podcast formats have their pros and cons — but some leave you better positioned for success than others. 
For example, while it's important to lean on formats that build on your personal strengths, most people and businesses tend to find the most success with the interview podcast format. There are reasons audiences and hosts keep coming back to this popular podcast format.
We hope the information covered in this article on what to podcast about brings you a step closer to learning how to start a podcast free and realizing your dreams of running a successful B2B podcast.
Tune in to the next installment of our Podcasting Mastered Series—where we'll break down everything you need to know about identifying the right niche for your B2B podcast.
Don't know where to begin? Well, we advise you to start by understanding the common podcasting myths and pitfalls to ensure you don't fall into the traps that lead to so many unsuccessful podcasts. 

We talk more about this in the next post of our "Podcasting Mastered" series.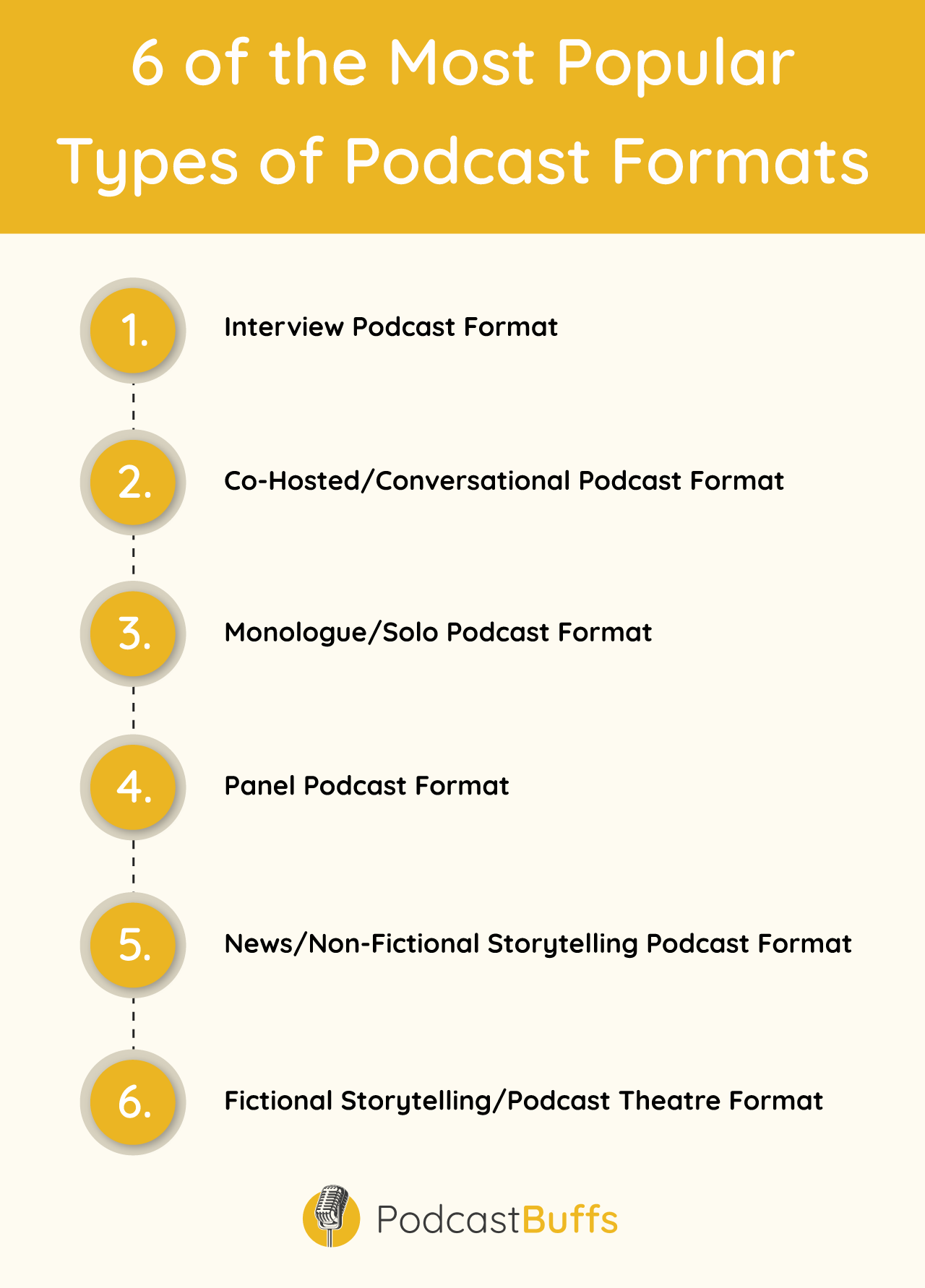 https://www.youtube.com/watch?v=Y3rcFPRTuVw
Embed this Infographic on your website:

				
					
Brought to you by Podcast Buffs