Podcasts are a huge deal for both individuals and businesses/brands. It's a medium on an upward, sky-bound trajectory. According to research by Statista, 78% of the adult U.S. population is aware of podcasting as of 2021. This figure stood at a measly 22% back in 2006.
It appears that people are increasingly turning to podcasts for entertainment or information consumption. As such, it's understandable if you're itching to get in on the action with a B2B podcast of your own—and you should.
Looking to tap into this lucrative industry? We've covered "what is a podcast and how does it work," how to start a podcast free, and listed some undeniable benefits of podcasting, to give you a head start. But after familiarizing yourself with the podcasting for business industry, you're faced with an important decision:
What type of podcast should I start?
Finding the best format and genre for your show is one of the first critical steps when planning the structure of your business podcast. 
Here's why:
It helps guide the direction of your podcast's identity — including the cover artwork, title, and description. This creates the groundwork for a solid differentiation strategy, which is necessary to stand out in the increasingly popular podcasting for business space.
Finding the right podcast format and genre for your show allows you to create an achievable roadmap for your long-term goals from the get-go. For example, if you choose an interview format, you can schedule guests well in advance of the publishing date.
A consistent podcast format goes a long way in improving the word-of-mouth discoverability of your show. It makes it easier for listeners to promote your podcast. E.g., they'll be able to tell their friends, "It's a show that interviews thought leaders in the innovation industry."
Sticking to a good format creates consistency, which helps keep the audience's attention. They know what to expect with each new episode.
Wondering where to start or what podcast format to pick? Read on for a break- down of everything you need to know about understanding and finding the right podcast format for your show.
Get the new chapters sent directly to your inbox, as soon as they release.
We follow strict no-spam policy. Your information will not be sold.
6 of the Most Popular Types of Podcast Formats.
So, what is a podcast format?
Podcast Format refers to the way information is presented and organized. It's the delivery method that gives your B2B podcast a structure. It impacts your workload as the podcast host and how your audience interacts with the episodes/content you create.
Here are the most popular types of podcast formats to consider for your show:
1. Interview Podcast Format.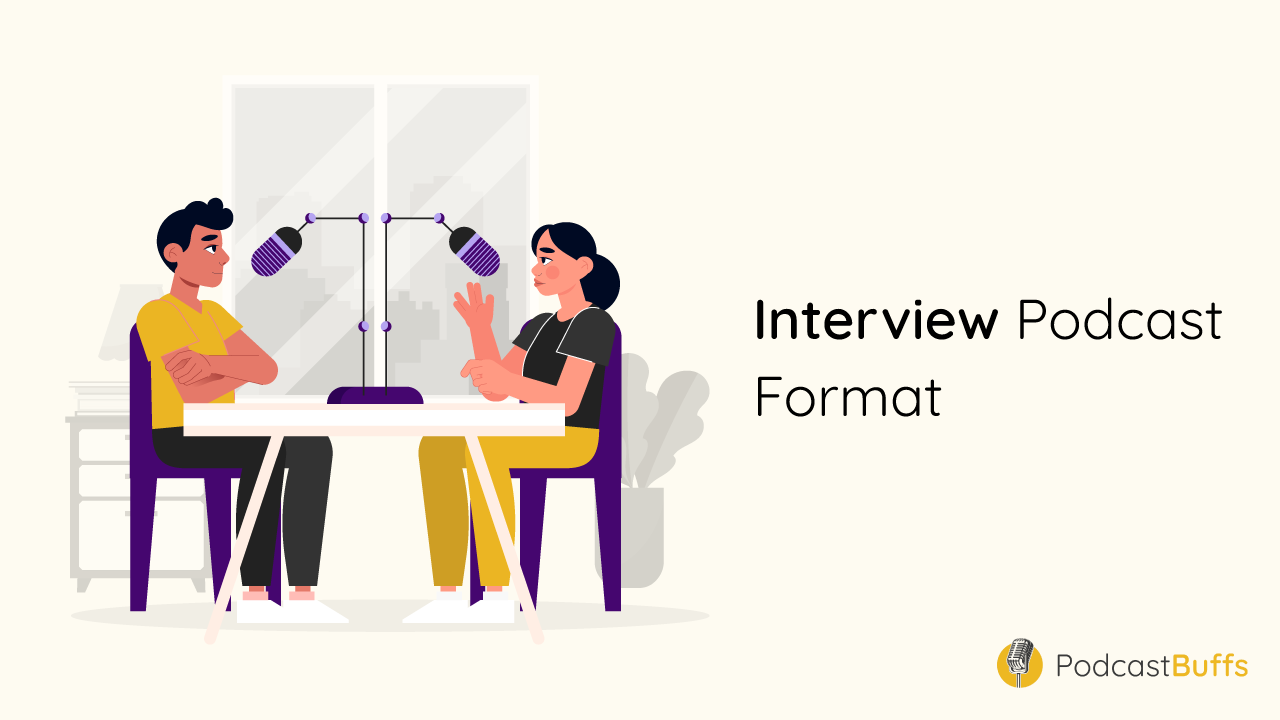 As you can guess, an interview format features a host (or two) who welcomes and quizzes different guests in each episode. The idea is to leverage the expertise and informed opinions of the guests to drive a legitimate conversation that provides value for your audience.
As the host, your main task is to ask relevant questions to unpack the wealth of information the guests have to offer—while keeping to a general theme.
2. Co-Hosted/Conversational Podcast Format.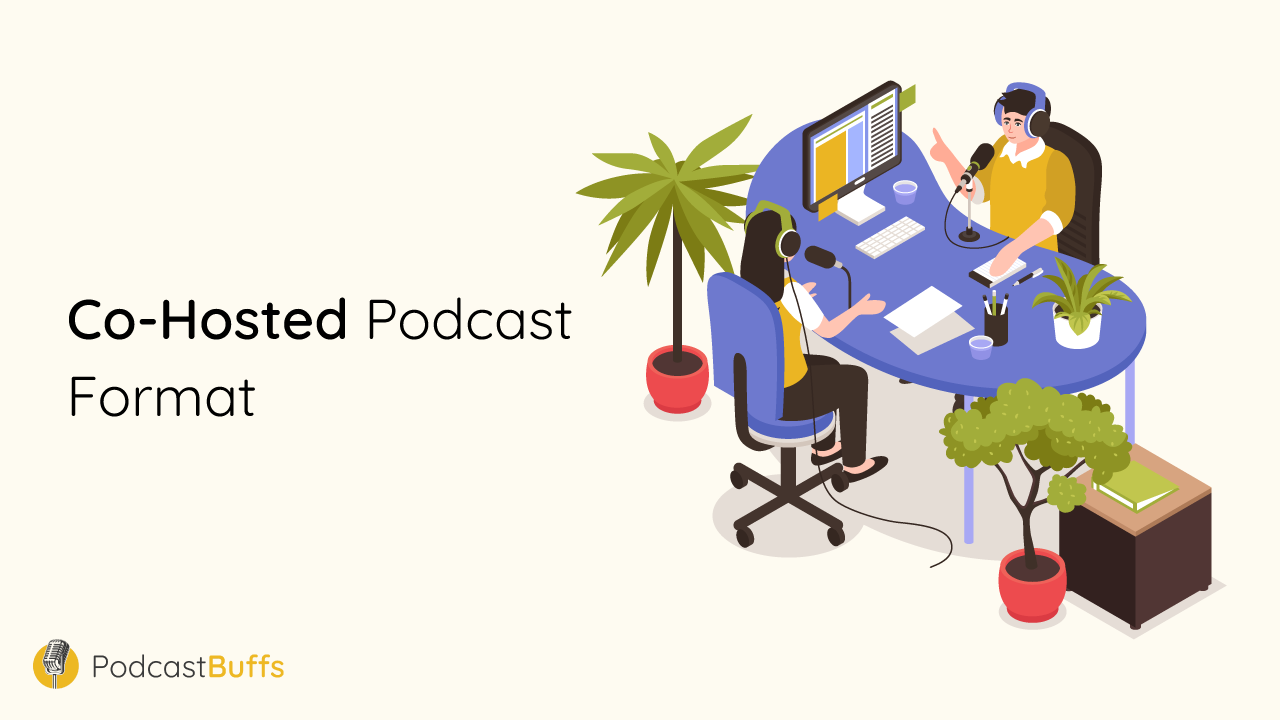 In this B2B podcast format, a couple of hosts spend time having a candid, straightforward conversation on an on-brand topic. The conversation is primarily casual—i.e., two friends or colleagues pouring their thoughts and opinions on air.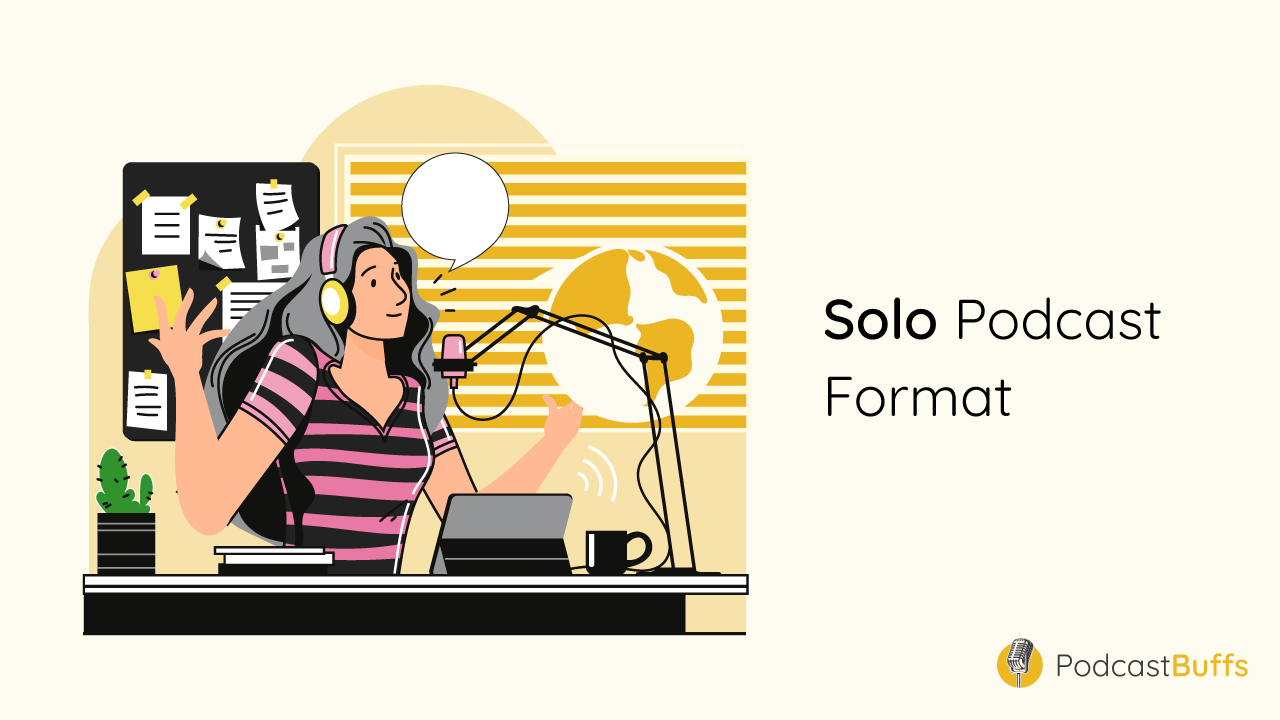 A solo podcast format features a single host engaged in a monologue-style commentary on a specific theme or topic from one episode to the next.
No co-hosts? No guest? No problem; lone wolves can run successful business podcasts too. This type of podcast is ideal for solopreneurs who are authorities in their industry. It's an opportunity to share your unique thoughts, perspectives, and opinions on a subject matter.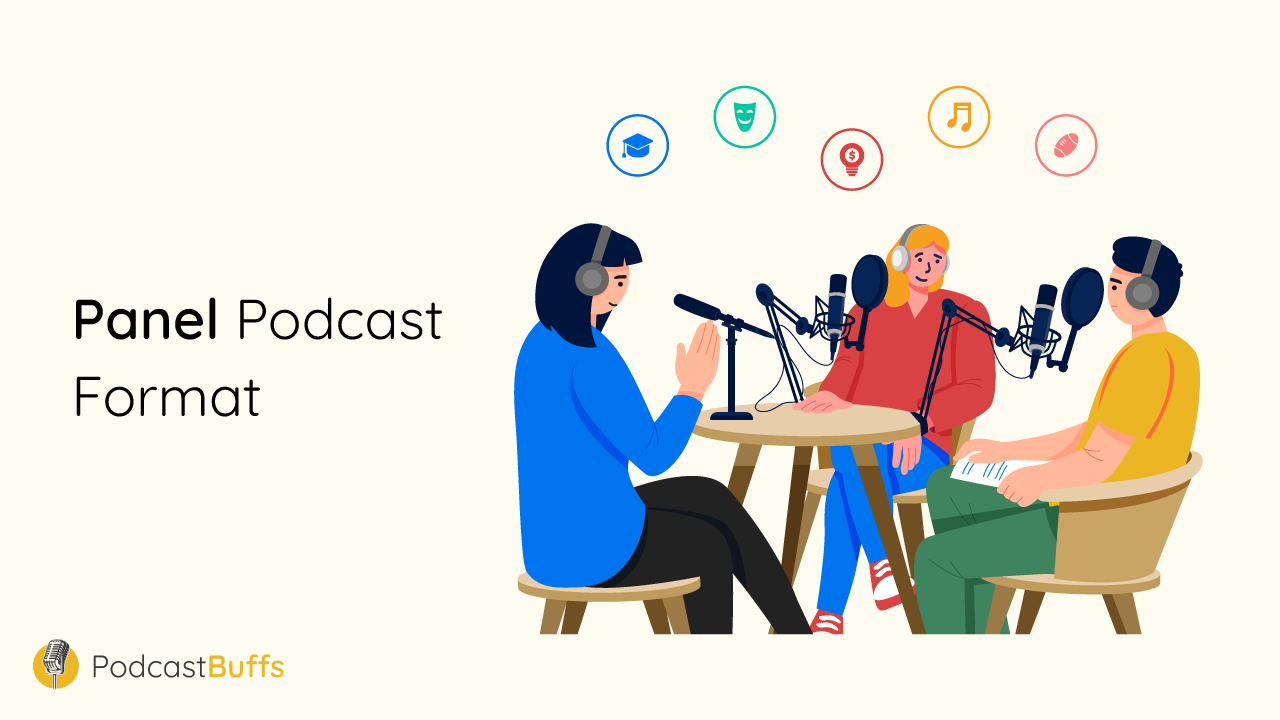 This type of podcast is similar to an interview podcast format—but with more participants. The host welcomes multiple guests to engage in an organic conversation around a specific theme or topic.
5. Non-Fictional Storytelling Podcast Format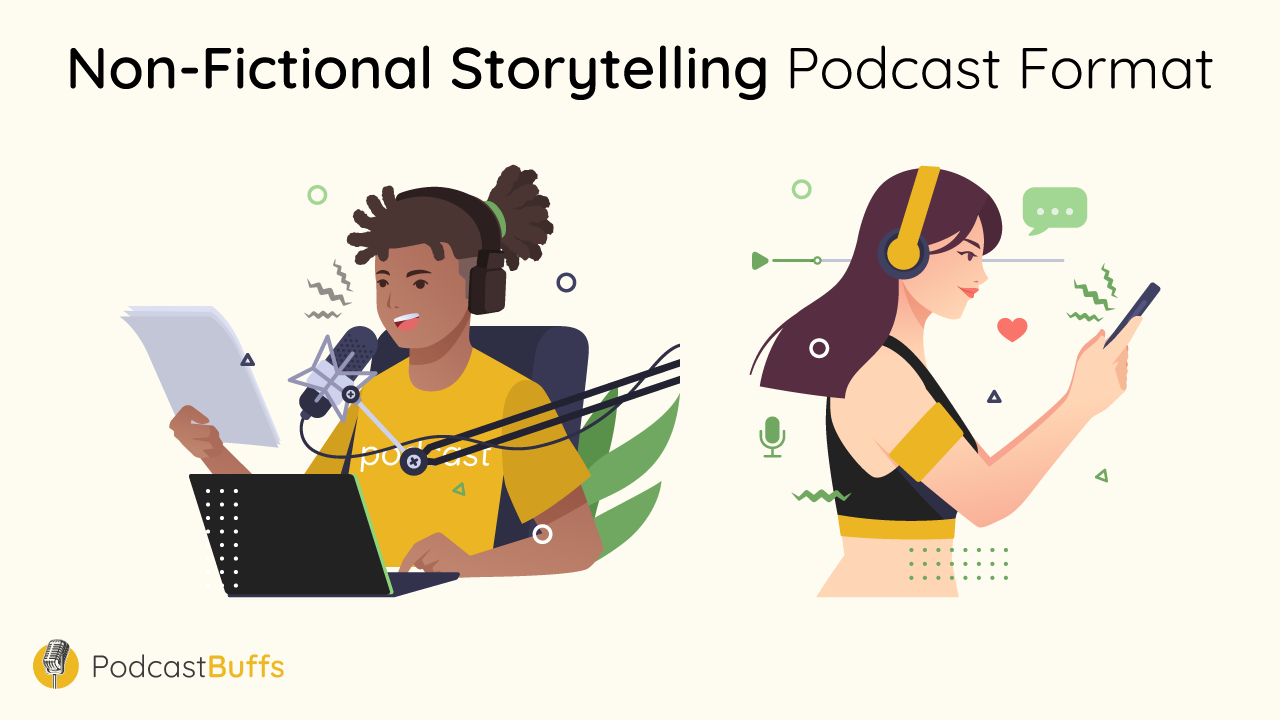 Why struggle with coming up with an interesting topic every week when you can borrow from the already fascinating world we live in? Non-fictional storytelling podcasts follow real-life events in a niche. You could either recreate historical events or simply report emerging news.
When podcasting for business, this type of podcast is great for highlighting a case study or informing listeners of developments in your industry.
6. Podcast Theatre/Fictional Storytelling Podcast Format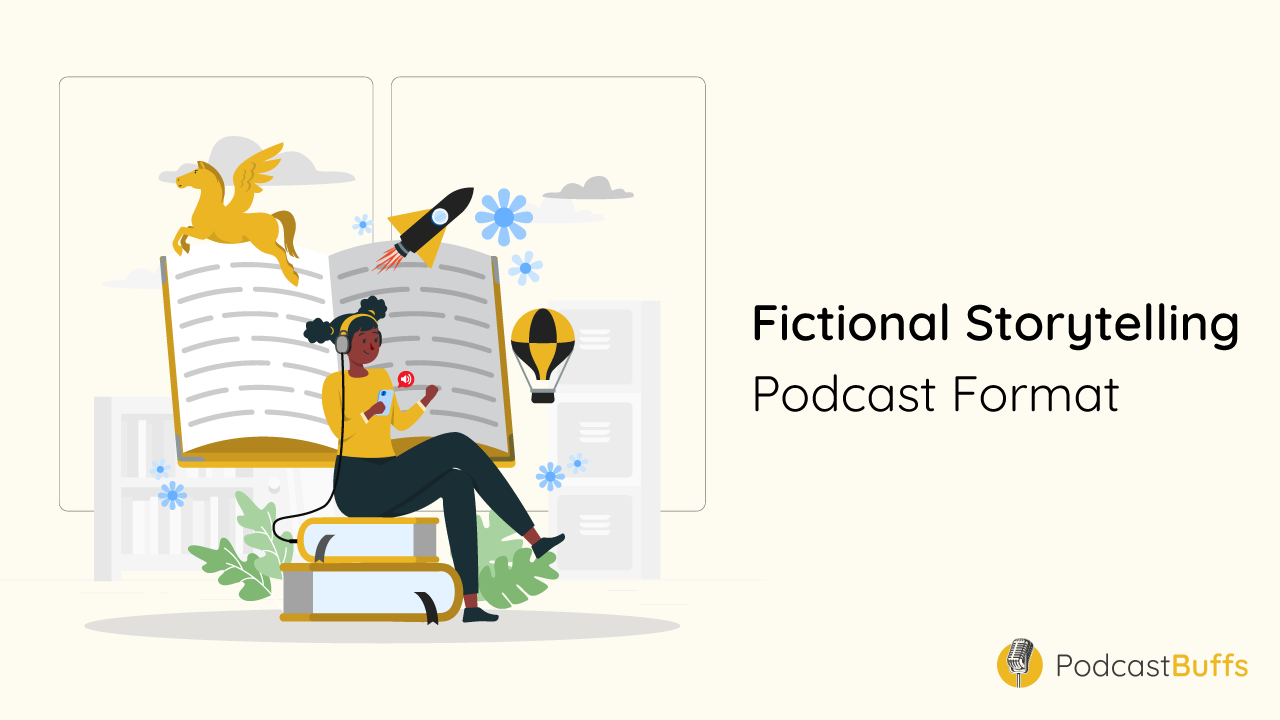 Think of your favorite TV show or novel. Now consider having it narrated to your ear on the go. This is what a podcast theatre podcast format is all about.
It involves fictional stories told across multiple episodes—complete with sound effects, cliffhangers, and climaxes. Business podcasts can leverage this type of podcast to create hypothetical scenarios highlighting the customer's journey, pain points, and possible solutions.
Takeaway: What Podcast Format is Best for a B2B Podcast?
While you don't have to be like everyone else when choosing a format for your business podcast, it helps to grasp what other successful podcasters are doing and where you have the best odds of generating qualified leads.
All types of podcast formats have their pros and cons — but some leave you better positioned for success than others. 
For example, while it's important to lean on formats that build on your personal strengths, most people and businesses tend to find the most success with the interview podcast format. There are reasons audiences and hosts keep coming back to this popular podcast format.
We hope the information covered in this article on what to podcast about brings you a step closer to learning how to start a podcast free and realizing your dreams of running a successful B2B podcast.
Tune in to the next installment of our Podcasting Mastered Series—where we'll break down everything you need to know about identifying the right niche for your B2B podcast.