First things first, if you're new to the whole idea of business podcasting, we covered everything you need to know here. It's an in-depth guide to give you a clear idea of what a podcast is, how it works, and podcasting history. After we define podcasting, the next questions that follow are likely: "How to start a podcast free," "What is the purpose of a podcast?" and "What are the benefits of podcasting?"
Stay tuned as we answer these questions and highlight why you should start a podcast for your business.
Get the new chapters sent directly to your inbox, as soon as they release.
We follow strict no-spam policy. Your information will not be sold.
Why Start a Podcast for Your Business?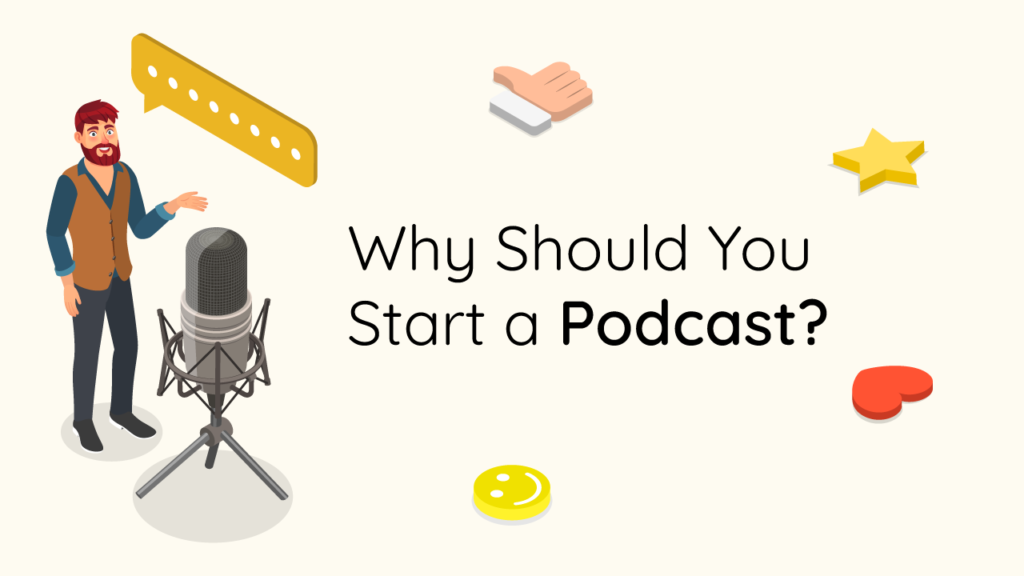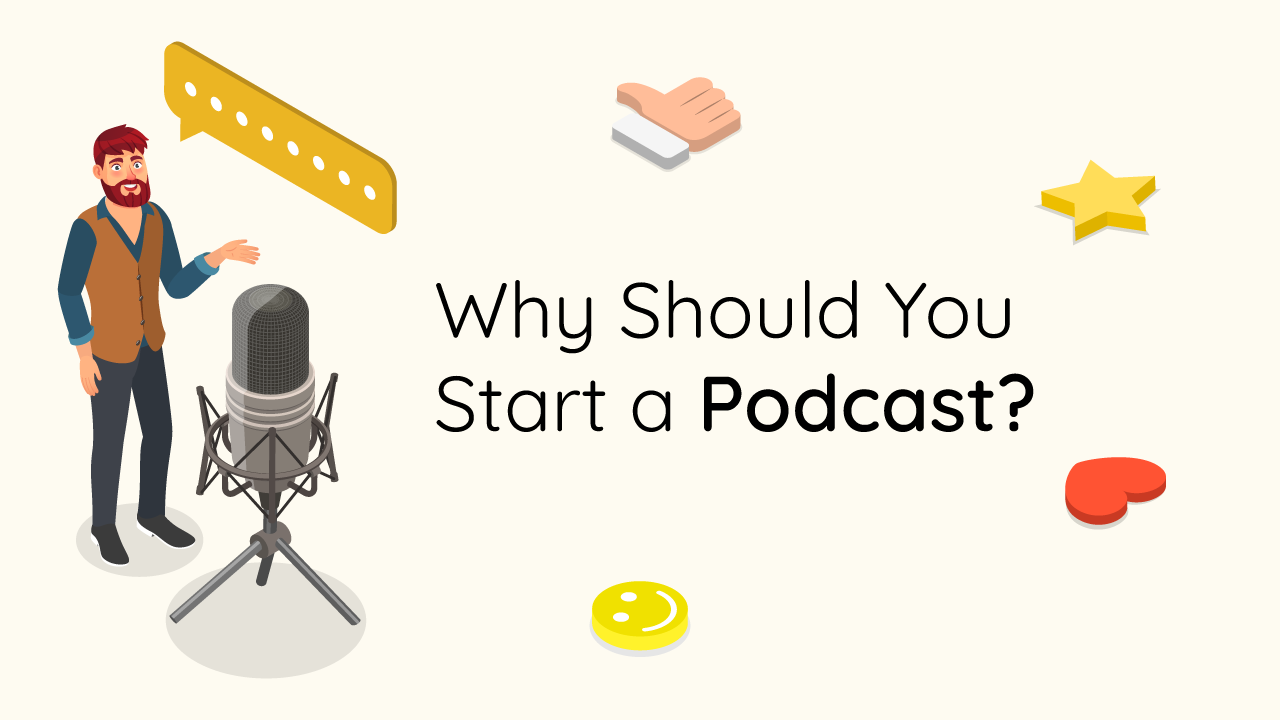 Podcasting is a buzzword that is everywhere you look (or listen)—and if trends and statistics are to be believed, it's not going away anytime soon. 
With the popularity skyrocketing, it is only natural that you might be wondering;
"To podcast or not to podcast?"
Well, the short answer is yes! You should start a podcast. But you're obviously not here for a simple "yes or no" answer. Like any good businessperson, you probably want the hard facts on why podcasting is good for your business or the tangible benefits of podcasting.
For each podcast out there, there's a unique motive that convinced the podcast host to take the plunge and explore the medium. People choose to become podcasters for a number of reasons. Some are after monetary value, brand awareness, and others just want to have fun broadcasting their hearts out.
But the million-dollar question is…why should YOU start a business podcast? What do you want to achieve? What does your idea of a successful podcast look like? 
Most people think of podcasting as just another media platform to connect and share content with an audience, but there's so much more on the table for both individuals and businesses. 
With podcasting, you're setting yourself up to perch on a far more superior vantage point than other content-sharing platforms. Unlike popular social media channels, you're not just sharing visuals and typing short form captions. Instead, you're broadcasting your thought leadership to a highly engaged, loyal, and valuable target audience; in a convenient format for listeners; through a future-proof medium.
Starting a B2B podcast and growing it opens a whole new world of potentially game-changing opportunities. And no, we're not exaggerating this. The benefits of podcasting far outweigh the challenges that you might come across. And we're willing to bet that you'll share our opinion by the end of this post. 
As long as you're passionate about being a thought leader in your industry and you're looking to reach/connect with your audience, starting a business podcast is a great idea. Need more convincing? Read on for more on why podcasts are good for your business.
Podcasting Benefits– Why and How do Organizations Use Podcasts?
Whether you're on the fence about starting a podcast for your brand or you already have one and you're contemplating if it's worth the time/effort, here are some reasons why you should jump on board: 
1. Podcasting for Business is Popular – It's a Growing Media
Noticed the word "podcast" popping up again and again? Even if you're not subscribed to any podcast, there's a pretty decent chance that someone in your social media feed is a podcast host. And even if that's not the case, we're almost sure you've heard of podcasting somewhere. Well, none of this is a coincidence. 
Statistics show that podcasting is steadily growing. It's estimated that the number of podcast listeners in the U.S. will hit a whopping 160 million by 2023. And according to The Infinite Dial 2021 by Edison Research, nearly 8 in every 10 (78%) Americans know about podcasting. To put this into perspective, the podcasting familiarity numbers stood at a measly 22% in 2006.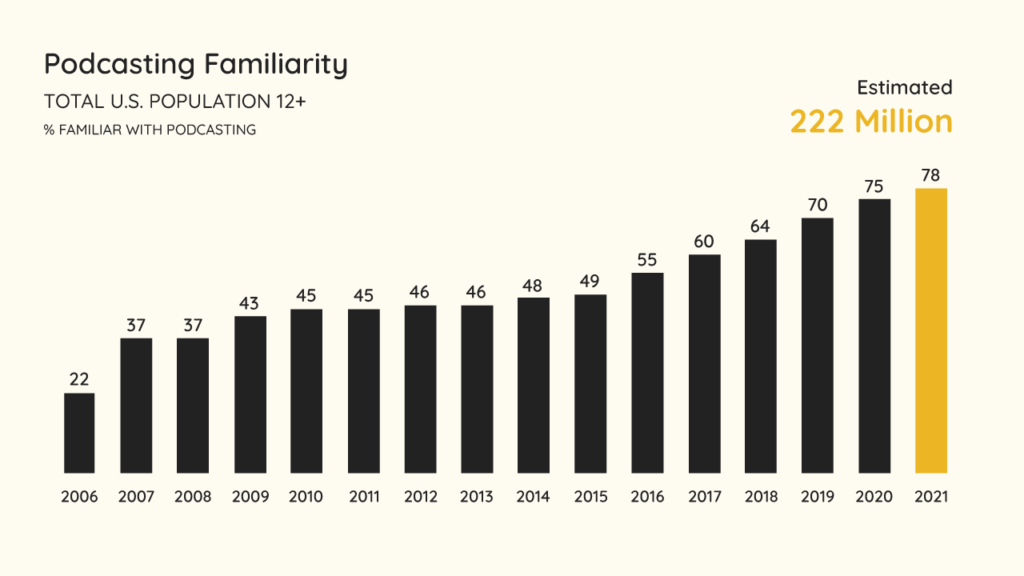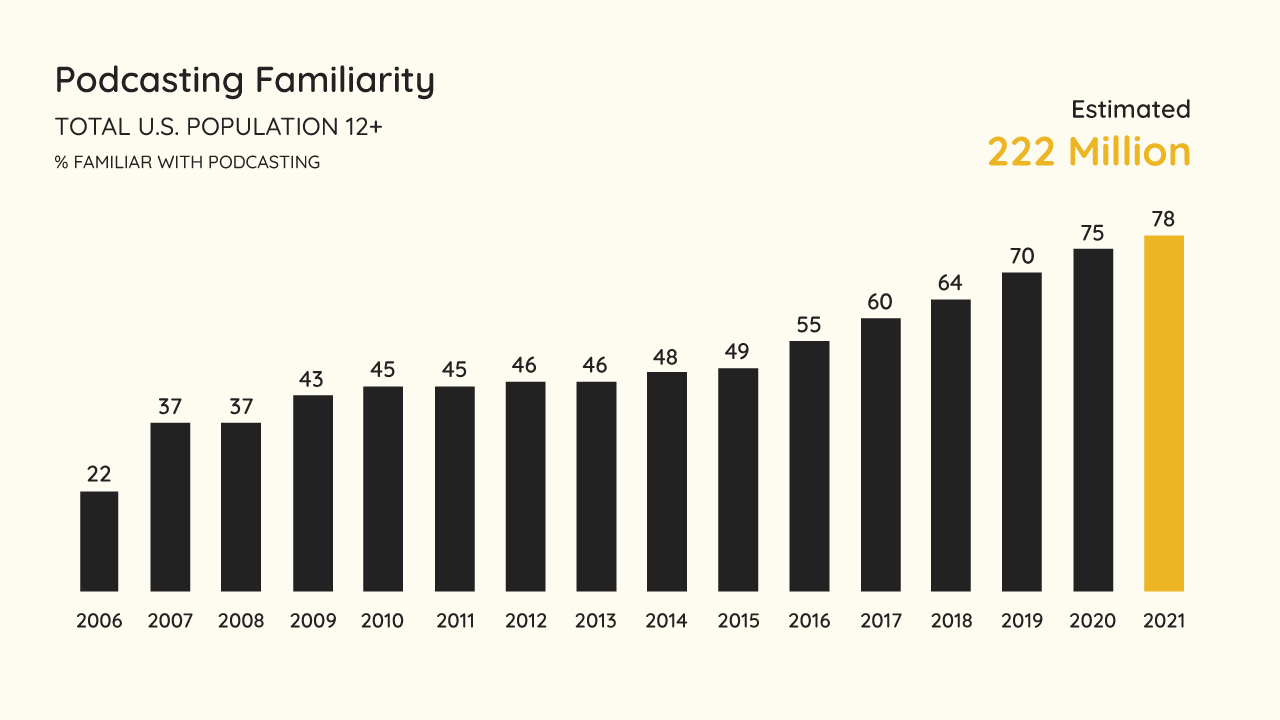 Even more interesting, podcast listeners are a diverse bunch in terms of age, gender, and ethnicity. Below are some findings by Edison Research on the diversity of monthly podcast listeners: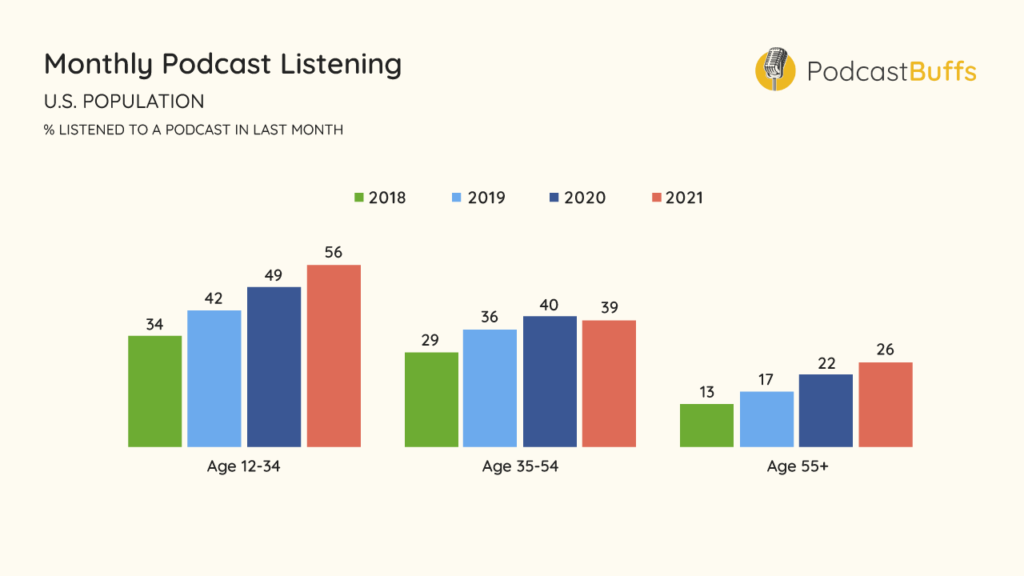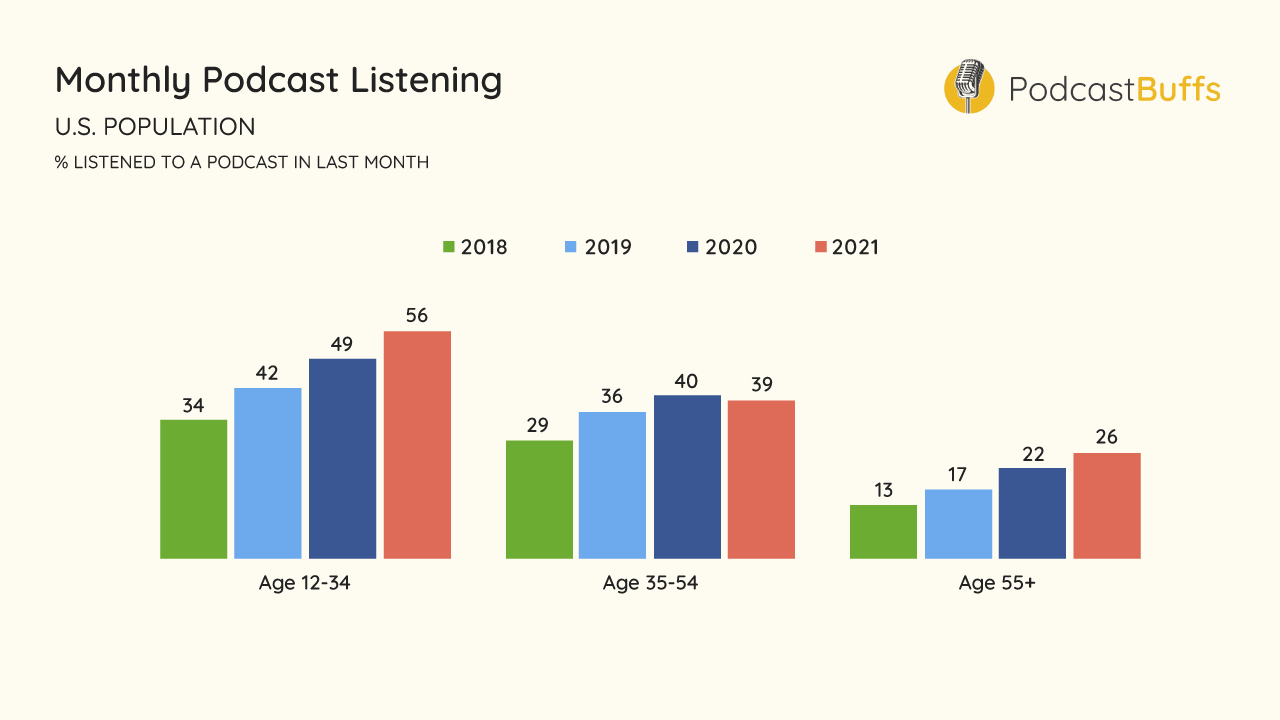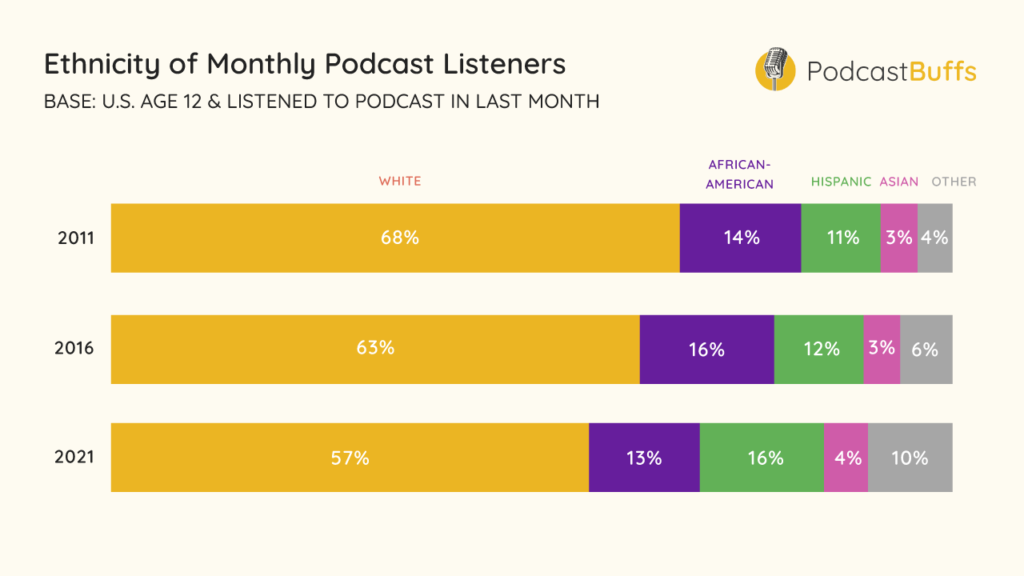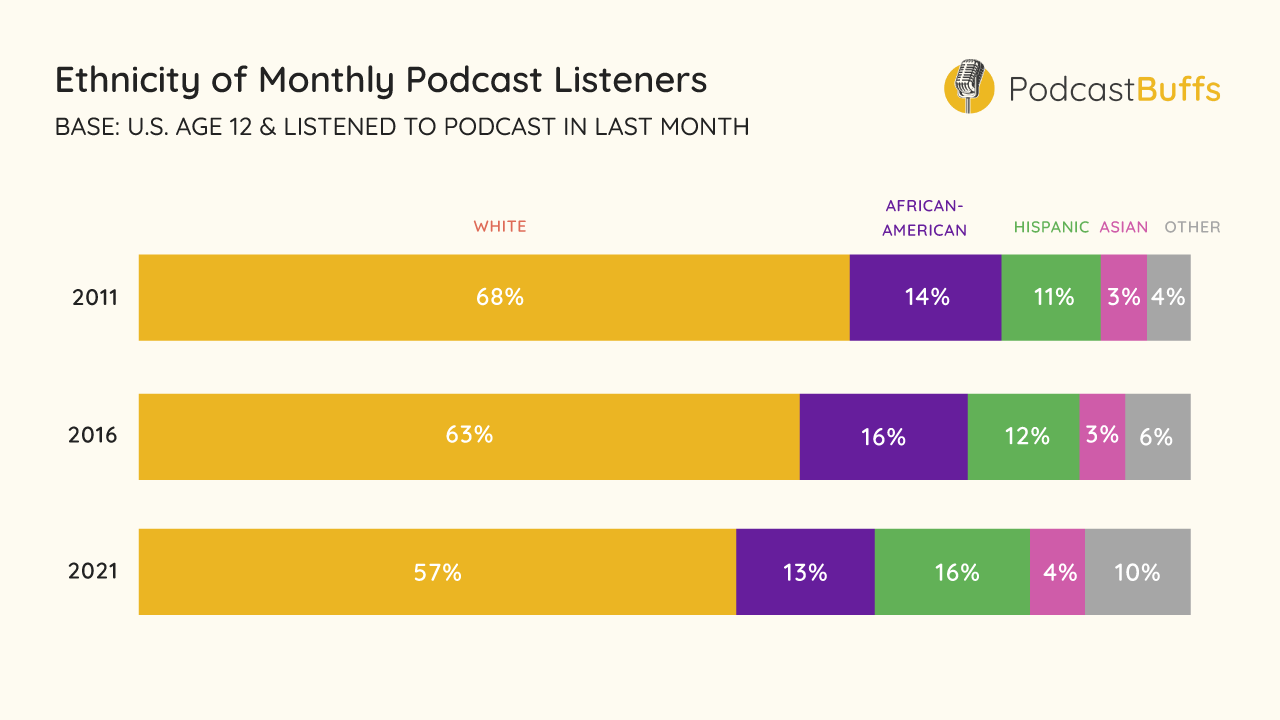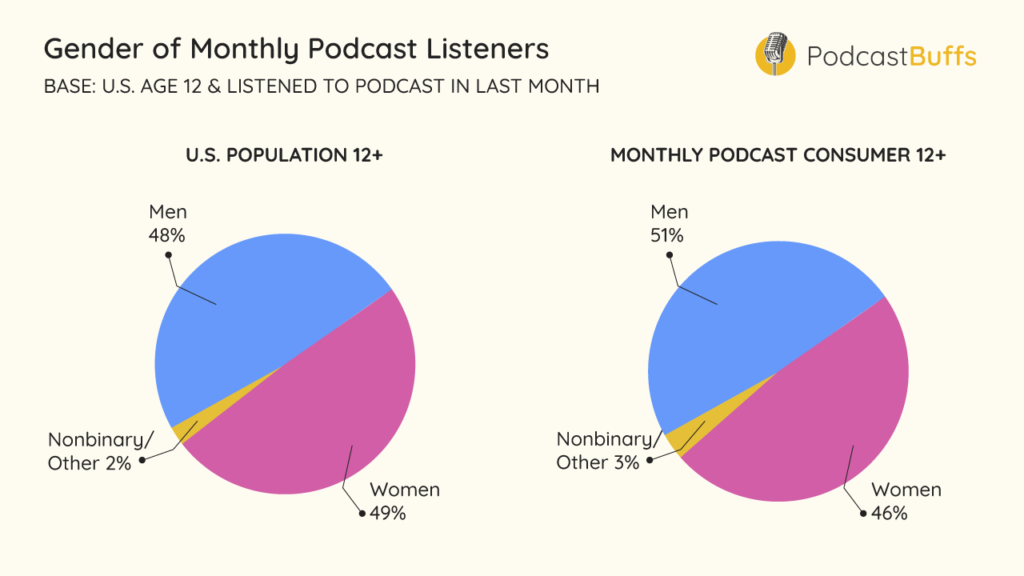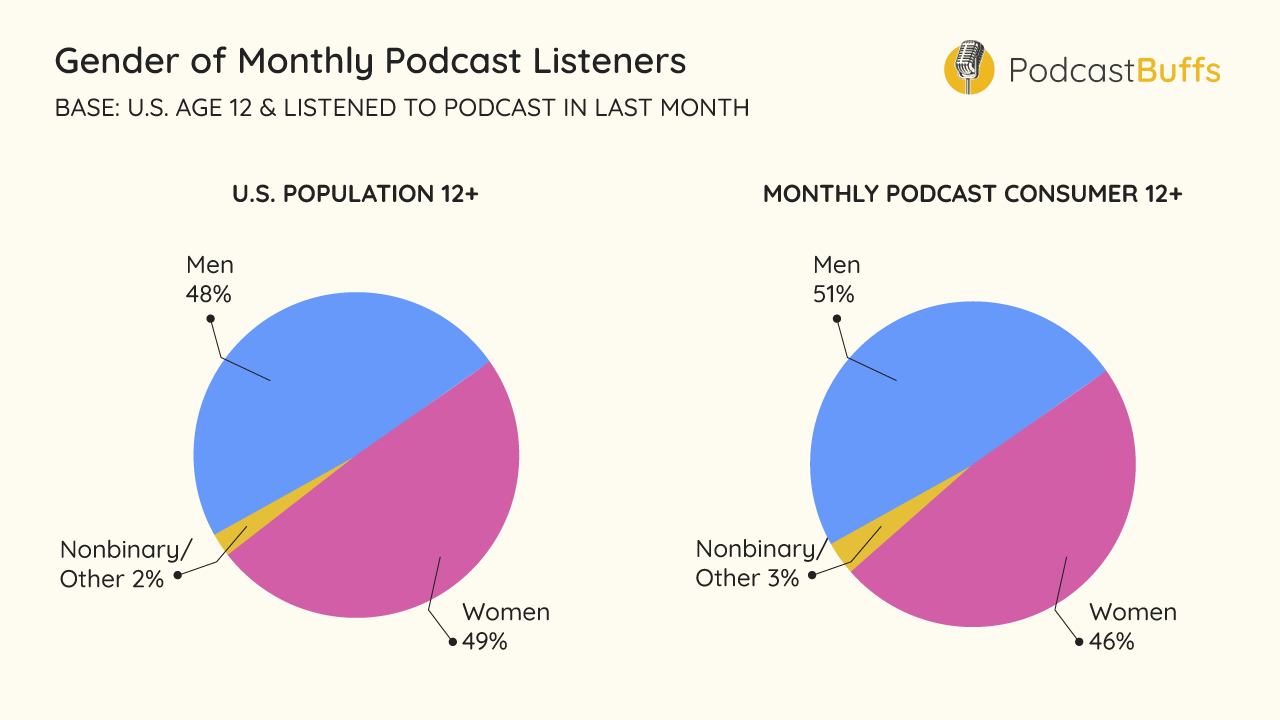 Why are the statistics on the growth and popularity of podcasting important? 
A diverse and growing podcasting audience means that you have a wider range of topics you can cover. Your chances of finding your ideal audience also increase – and the odds are only bound to get better with time.
2. Podcasting is Convenient.
Why are Podcasts so Great?
There are tons of reasons why business podcasts are great. But the trump card has to be the fact that podcasts are available on-demand from basically anywhere; they hardly interfere with the listeners' everyday tasks. They are simply convenient, which is a perk that people are coming to realize is invaluable!
Let's be honest for a second; consumers today want easy-to-digest information that doesn't infringe on their already hectic lives. As schedules get tighter and to-do lists grow longer, few people are willing/able to dedicate more time for media consumption—which is where podcasting coolly slides in.
Listening to a podcast is as easy as hitting the play button while doing chores, exercising, working, or commuting. Podcasting is something that listeners enjoy in the background – i.e., passive listening.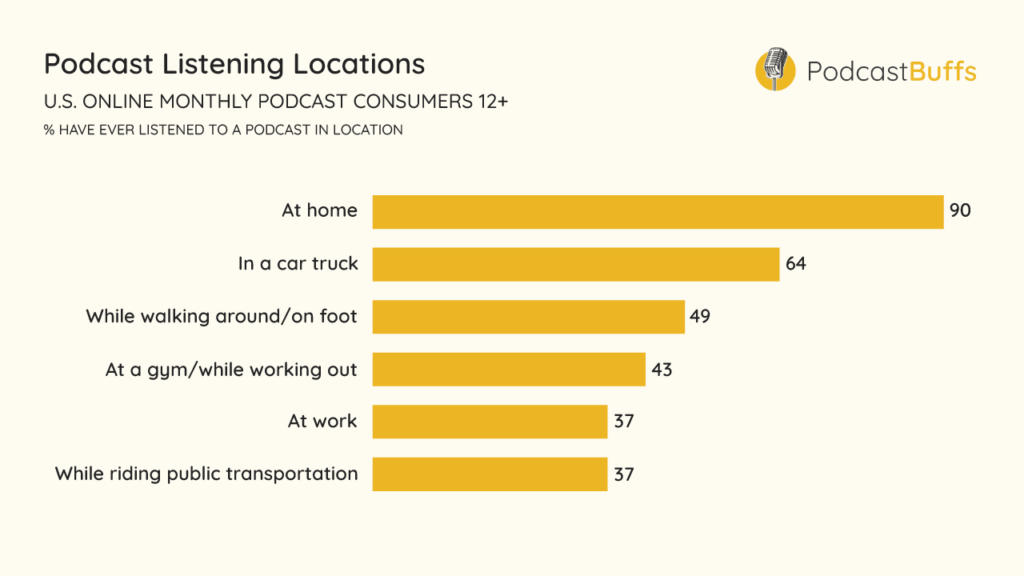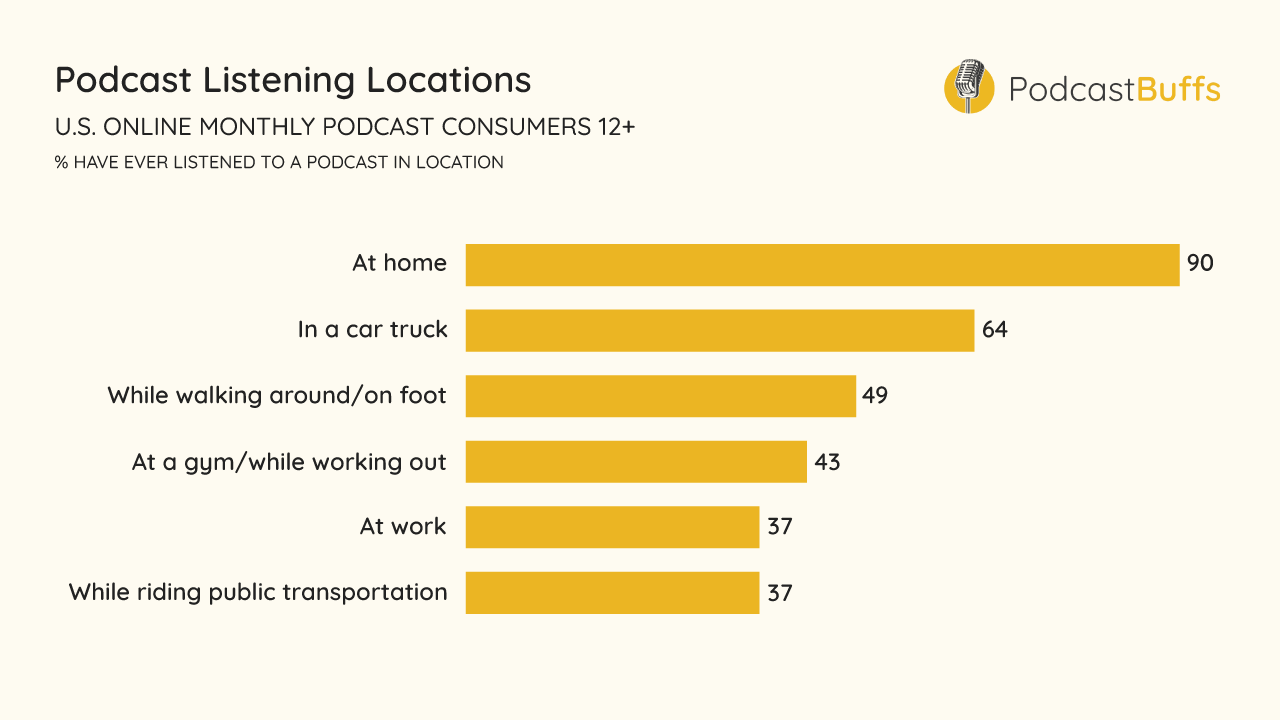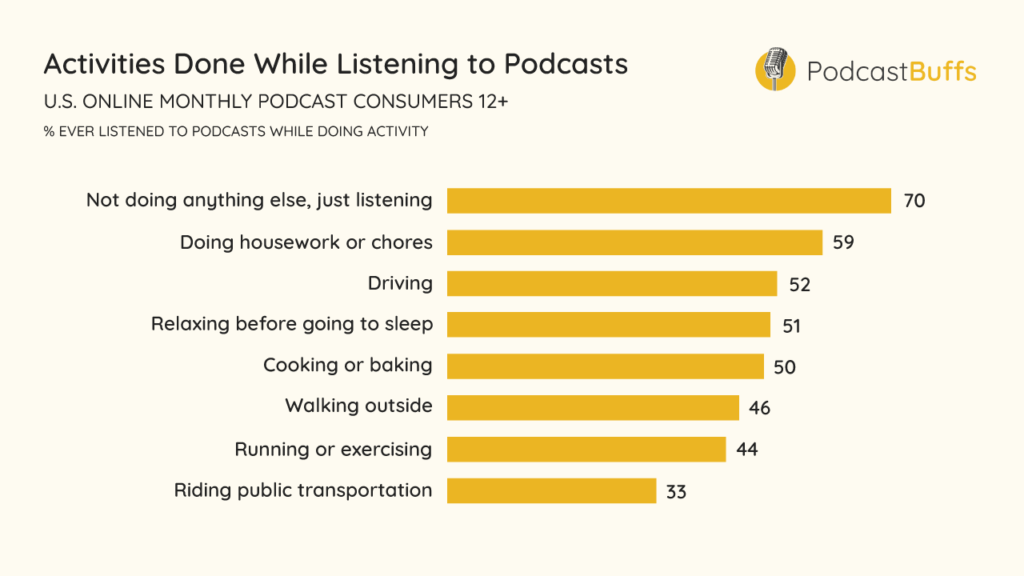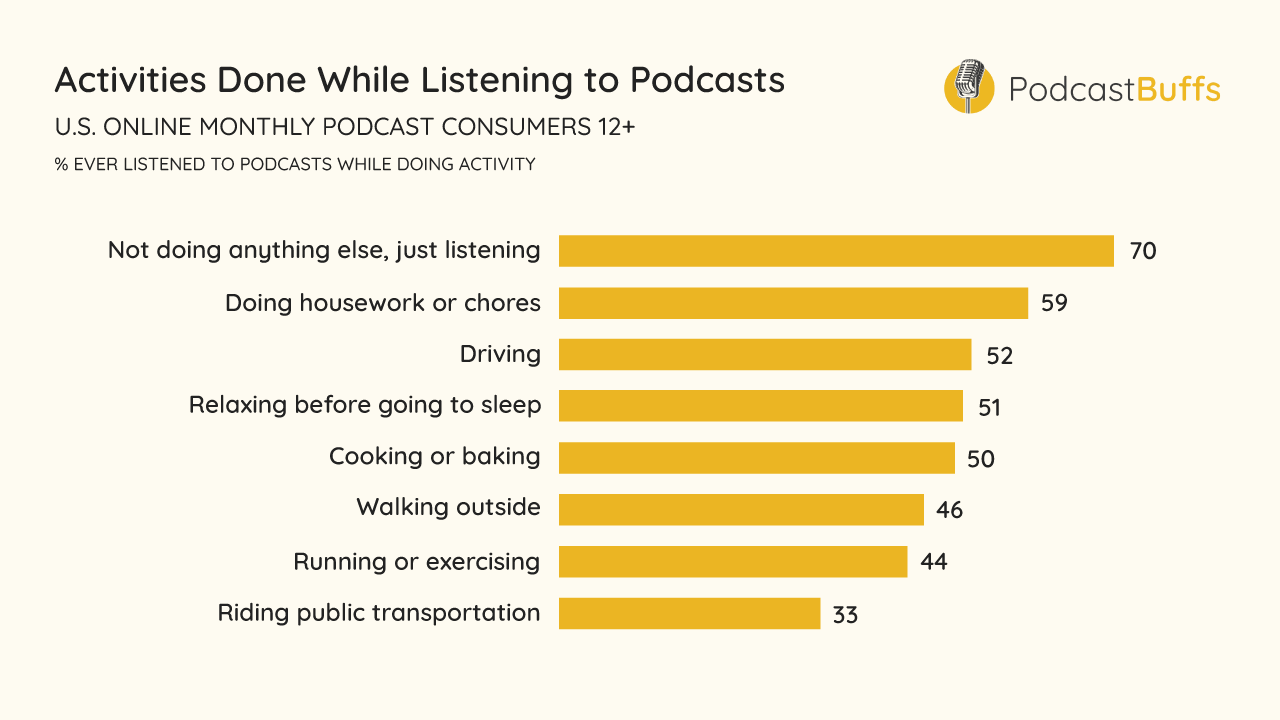 Why is this podcasting benefit important for someone looking to start a podcast?
People don't have to sacrifice their attention or valuable time, which gives them an incentive to listen to more of your content.
3. Starting a Podcast Enables Access to Valuable Audiences.
Why are Podcasts Good in Business?
Having an audience is one thing; having a targeted and high-quality audience is a whole 'nother ball game. 
Research shows that most people who download podcasts episodes or tune in to stream the content often have a stable income and are well-educated. This is one of the main benefits of podcasting for businesses (i.e., having access to a highly valuable market). 
Think about it – starting a B2B podcast gives you the golden opportunity to be right in the ears of prospects who are likely to turn into valuable, loyal clients if you play your cards right.
4. Podcasting is the New Networking.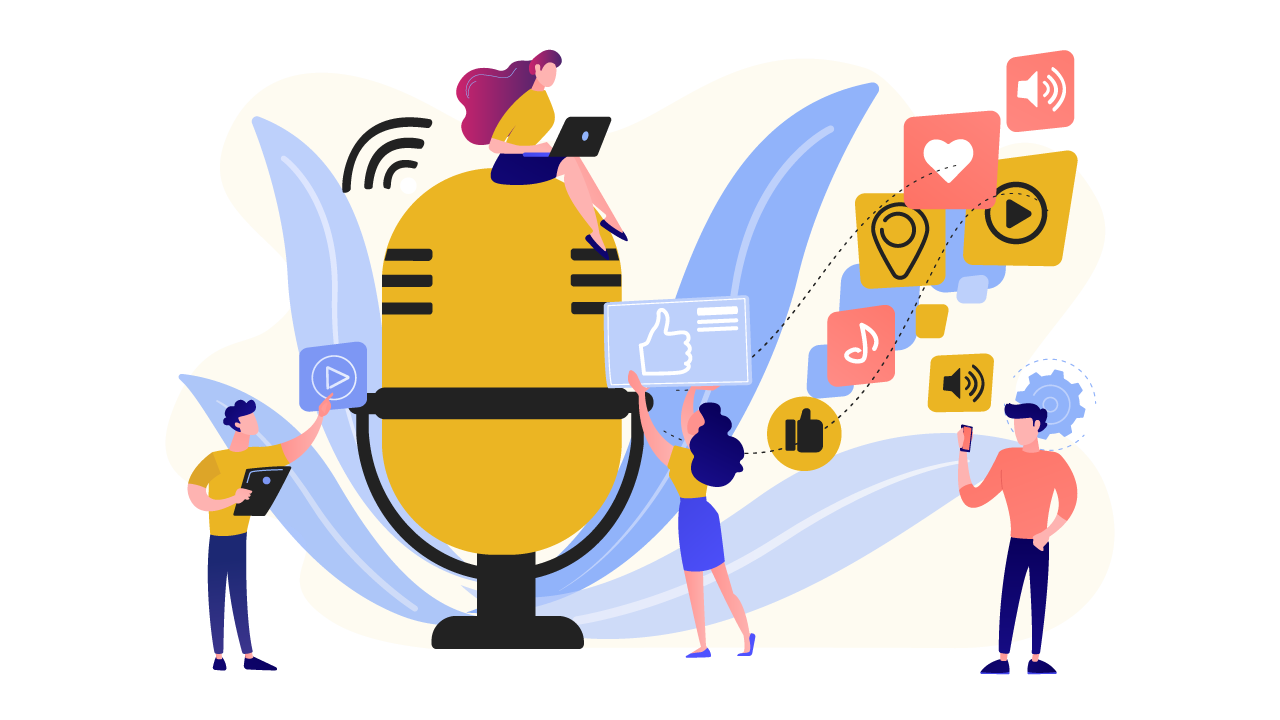 A benefit of podcasting that you'll quickly come to appreciate is relationship building. Here's why:
Interviews are arguably the most common podcasting format. This involves bringing on a guest to your podcast and asking them relevant questions that add value to the audience. The primary goal is to tap into the guest's expertise and expand the information you're providing to your listeners. But there's another; networking.
Creating a podcast opens virtual doors and allows you to connect and nurture relationships with other thought leaders, authors, influencers, and experts in your industry. These are people who would have otherwise seemed out of reach. 
When you invite guests to your podcast, you're giving them access to your audience. And when they promote the episode to their listeners, you also grow your reach. If you want to take networking a step further, you can join a Podcast Network.
By definition, a Podcast Network is a "collection of podcasts that are produced, distributed or made available to advertisers through an umbrella company or network." This offers benefits such as increased listenership, help with production, more Ad revenue, increased exposure, credibility by association, and help finding sponsors.
5. Podcasting is Great for Business SEO.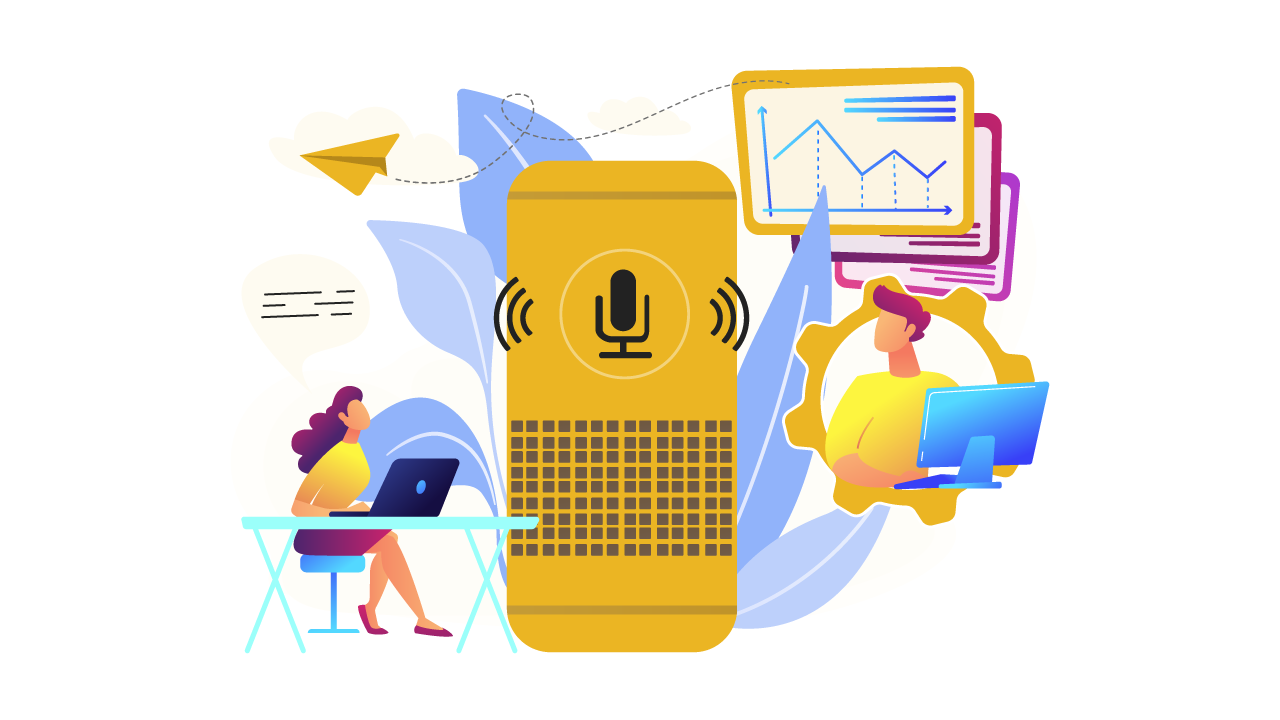 SEO (Search Engine Optimization) is another reason podcasts are good for businesses. 
Google started indexing podcasts in 2019—allowing episodes on specific topics to surface in search results. This means that users can access playable podcast episodes right from the search results page alongside images, web pages, and videos.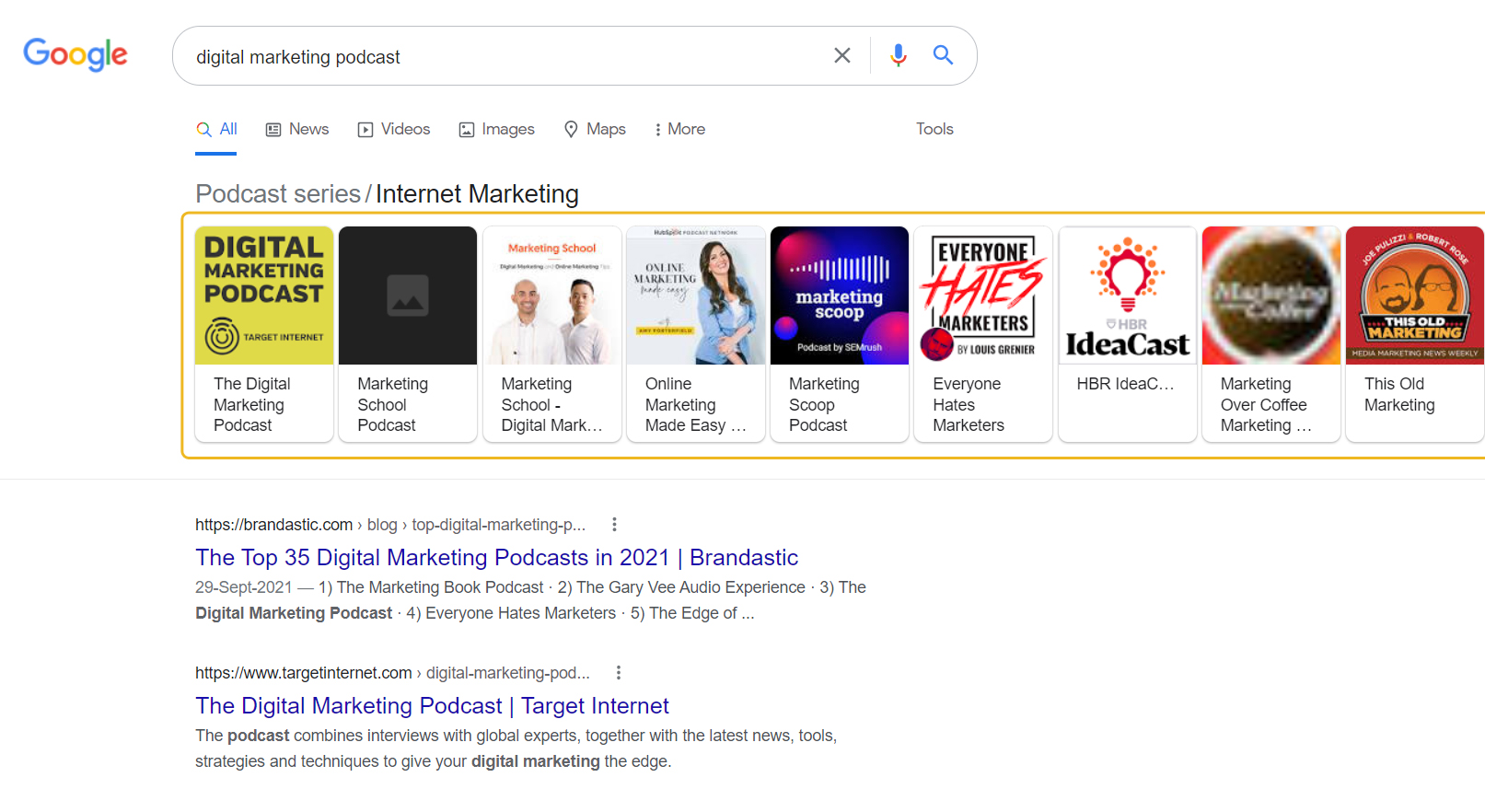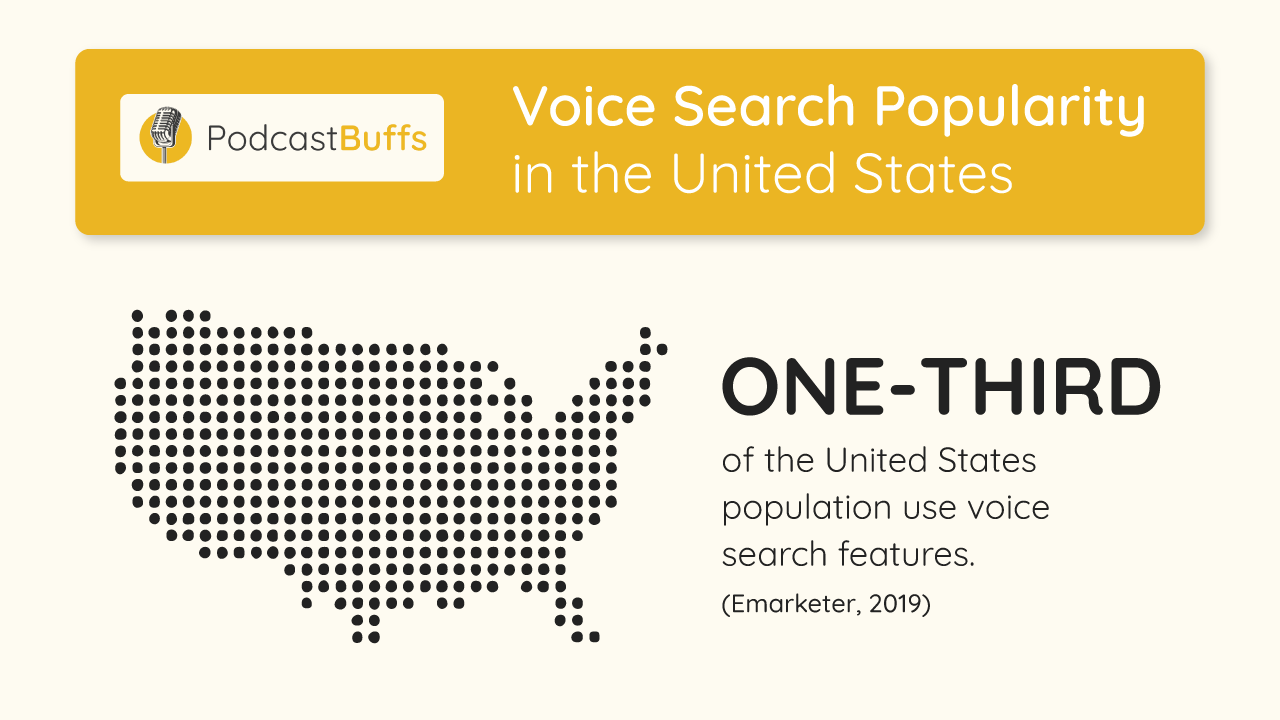 Why is this important?
Having a high-quality podcast tied to your business name acts as an authority signal for Google's algorithm. By giving you a better probability of ranking higher in search results, you get to attract more traffic and clients. This podcasting benefit alone makes a strong case for launching a business podcast.
6. B2B Podcasting as a Source of Revenue.
If you're looking for a monetary incentive to spur you to create your own podcast show, this is it. Statistics show that podcast Ad revenue is projected to reach a mammoth $2.74 billion in 2025. This is a significant increase from $169 million in 2006.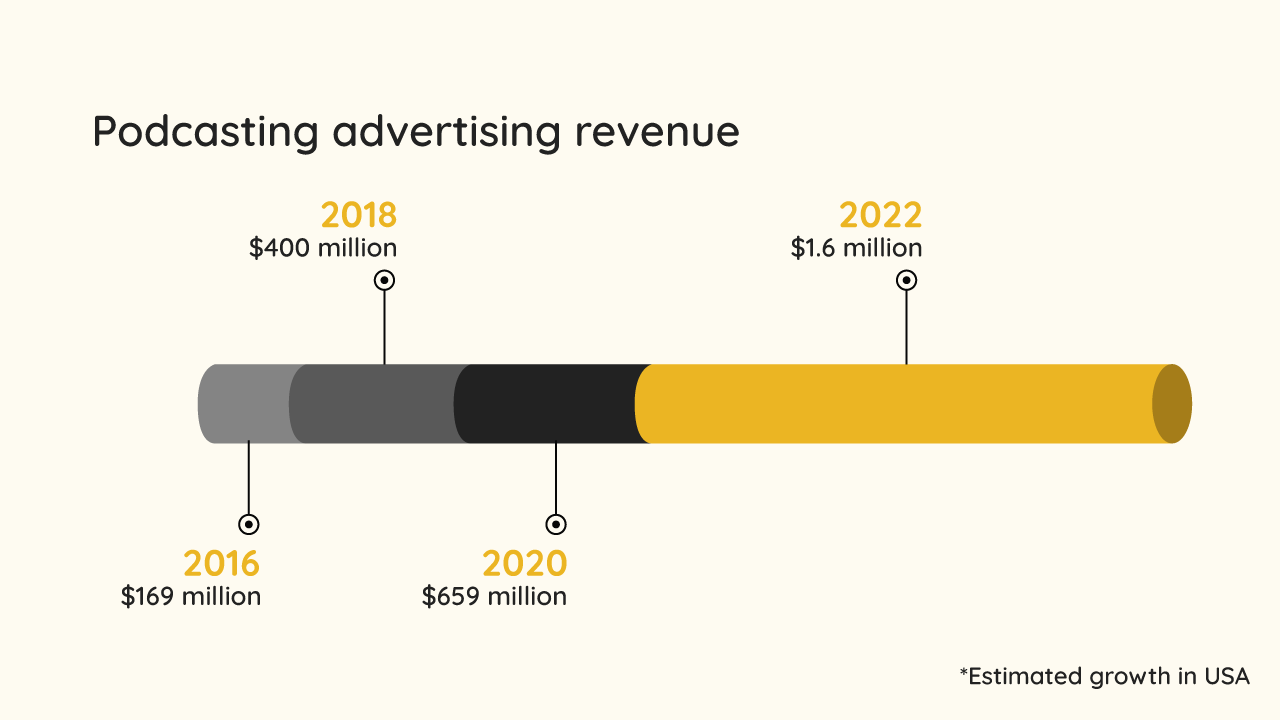 But perhaps, the main perk of podcasting as a source of revenue is its effectiveness in engaging ad avoiders. 
Here's the thing; online users are bombarded with ads on nearly every web page they visit. Understandably, people are turning to ad blockers to silence the noise. Well, podcasts are one of the few avenues of digital marketing that are still able to engage this hard-to-reach audience.
According to findings from a study by BBC Global News, podcast brand mentions beat TV brand mentions by 22% in terms of memory encoding, emotional intensity, and engagement.
7. Podcast Listeners are Loyal – Greater Engagement.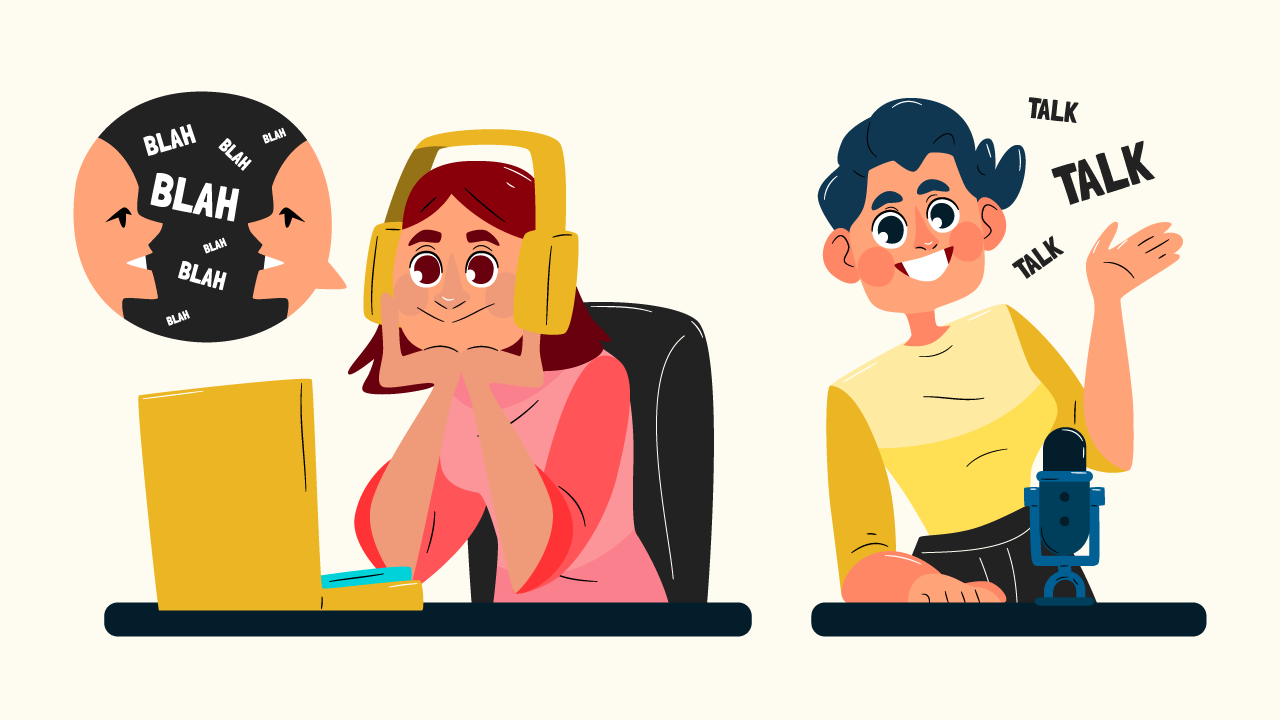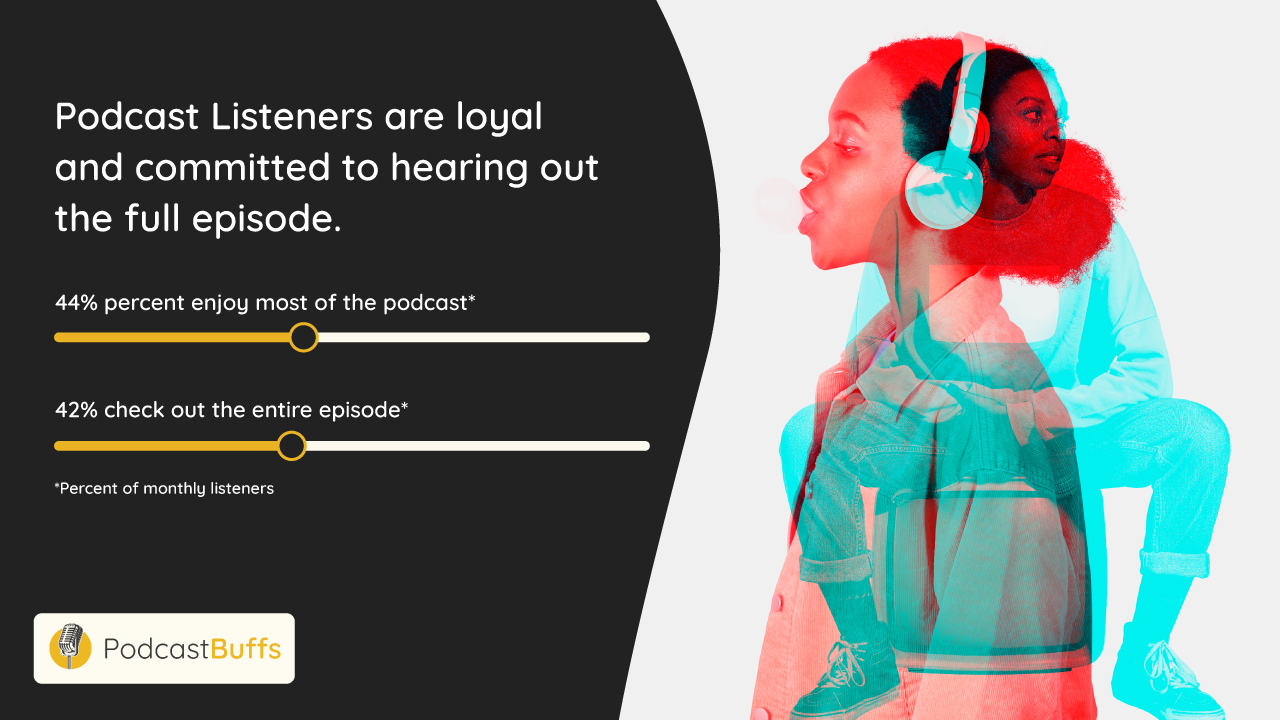 In short, starting a podcast for business gives you access to an engaged and loyal audience – words every marketer wants to hear.
8. Business Podcasting Positions You as an Authority in Your Industry.
Creating and sharing valuable content with a target audience helps position you as an expert or authority in that niche/industry. As long as you meet the needs of your listeners, you gain credibility. 
Building a rosy reputation in your industry means that people will come to you or your business for advice and inspiration. In addition to expanding your reach, creating a name for yourself also opens doors to more opportunities. Think along the lines of coaching, consulting services, or invitations to speak at events in your industry.
9. Ease of Use and Accessibility.
Is Starting a Podcast difficult
?
In all honesty, podcasting sounds geeky and complicated at first, but unraveling it reveals the opposite. Starting a podcast is quite easy as long as you spare enough time for due diligence. The same goes for maintaining and scaling the podcast to new heights.
All the resources you need are relatively at your disposal. And best of all, hosting a podcast is fun! The idea of engaging in a candid conversation with like-minded people is always a joy.
So, Is Creating a Business Podcast Worth It?
If you have a brand or you run a business, it's important that you look at all the different platforms, outlets, and avenues of communicating with your audience. podcasting is a technology that allows you to reach out to prospects/customers and grab their attention in an undeniably effective manner.
Podcasting benefits are clear as day. Starting and running a podcast opens up a world of opportunity for your business or brand. It's cost-effective, it allows you to connect with your audience at a deeper level, and all signs show that it's the future. Podcasting for business is an opportunity you don't want to ignore. It's a no-brainer!