Anyone (including you) can learn how to start a podcast free. With a strategy, a well-defined target audience, and polished content, you can get your message out there without ludicrous initial capital, experience in radio, or the other hurdles of the publishing industry.
But there's a difference between just starting a B2B podcast and starting a 'good' podcast poised for success. While creating a podcast is relatively easy, not every show succeeds. This comes down to effort, passion, and an understanding of industry secrets (i.e., what to do and what not to do in a business podcast).
Like in any venture, podcasters don't always get it right the first time. Mistakes will happen before you get a foothold in the industry. The question is: Do you have the grit and determination to get back up and give it another shot?
As much as experience is the best teacher, it doesn't hurt to circumnavigate all life lessons by learning from the mistakes of other podcasters. Ask questions such as: Why do most podcasts fail? What makes a bad podcast? And what makes a podcast successful?
Take stock of common mistakes in podcast production and steer clear of them. Learn the things that make a successful podcaster and do them better. Think of this as a cheat code to setting yourself up for success.
Why Do Most B2B Podcasts Fail? – Common Mistakes in Podcast Production.
There are so many excellent business podcasts out there — and your show can be one of them. To get you started, we've dug into some of the common pitfalls and mistakes podcasters make to create a comprehensive "to-not-do" list of things to know before probing deeper into how to start a podcast free.
So, here's what you should not do in a podcast:
Ask any successful podcaster to name the things that make a bad podcast, and "inconsistency" is bound to creep in as one of the top points.
You've got to be consistent throughout your podcasting for business process – starting with your frequency of publishing episodes. You have to earn your listeners' time. They need to know what they're subscribing to and how it fits into their daily schedule. You can't run a weekly podcast and go silent for over a month while expecting to keep your audience engaged.
As of June 2022, Buzzsprout estimates that 40% of podcasters publish episodes every 8-14 days, and 34% every 3-7 days. This suggests that consistency is critical in keeping listeners tuned in and interested in your content.
Aside from podcast frequency, you also need to maintain a level of consistency in your tone, topics discussed, and the length of your episodes (to an extent).
Podcasting Tip:
But with the hustle and bustle of life, staying consistent can be tricky. For this reason, we suggest you come up with a well-thought-out plan for a content schedule to ease the stress. Consider having recordings and rough drafts well in advance of the scheduled posting date.
If the audience notices you're putting out valuable content on a regular schedule, they're more likely to subscribe and keep coming back.
2. Unrealistic Expectations.
Purge the idea that podcasting for business is a get-rich-quick scheme from your mind! You aren't going to be Joe Rogan overnight. But don't get us wrong – you should definitely dream big and lay out your wildest ambitions on the biggest vision board. But you have to understand that it takes dedication, time, and effort to get there.
Podcasting Tip:
You can't wish your dreams into existence; work hard to achieve them. Create a plan, grind to reach each milestone, and keep going. More importantly, you must be passionate about creating your podcasting content and connecting with the audience.
This is a point we covered in the previous post on Podcasting Myths– but we're going to re-emphasize it because it may make or break your podcasting for business journey: Find a niche topic!
Starting a B2B podcast with too broad a topic may seem like you're casting a wider net to reel in more listeners, but history suggests otherwise. This approach is mainly ineffective unless you're already established in the industry, as in the case of news outlets.
You should identify a niche topic and target audience. Think about it this way: If you needed heart surgery, would you rather put your life in the hands of someone with the title "cardiac surgeon" or "general doctor?" Of course, heart surgery is not the same thing as podcasting, but the concept is similar. People are more likely to be loyal listeners if you meet a specific need in their niche.
Podcasting Tip:
Don't try to fit in everywhere. Be you, capitalize on your unique qualities/strengths, and weave your personality and unique business perspective into the content. Podcast listeners are a pretty savvy lot, and they'll sniff out someone who's not genuine.
Defining your unique selling point (USP) allows you to stand out in the increasingly competitive podcasting for business industry—which has grown from 500,000 to 2 million active podcasts between 2018 and 2021.
4. Not Knowing Your Niche and Audience.
Identifying the niche for your business podcast is great – but it doesn't stop there. You need to hone in on that niche. You need to know your target audience like the back of your hand.
The ongoing podcasting boom means that your competitors are increasing by the day. As shown in the infographic below, there are millions of podcasts out there and thousands of episodes being released at this very moment.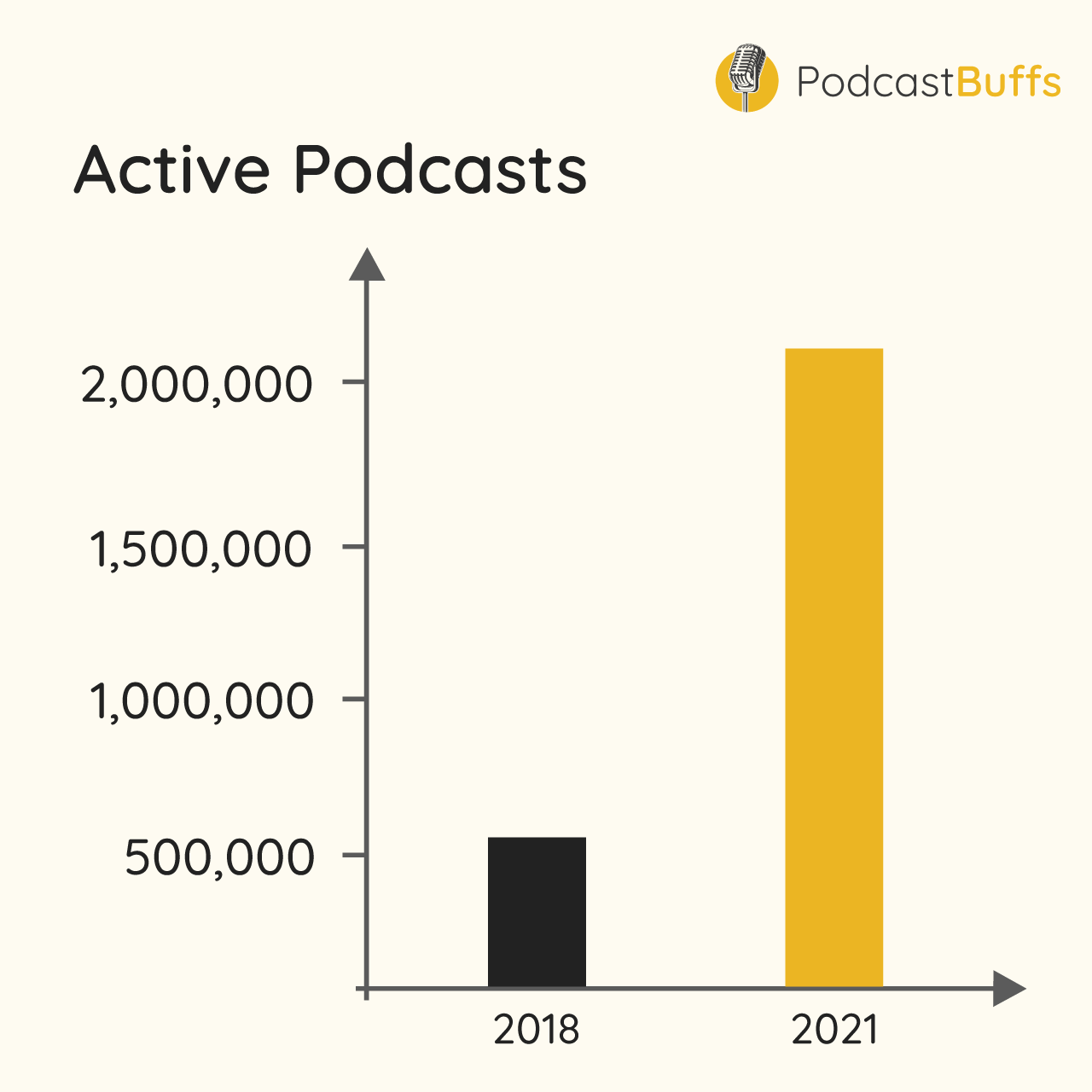 With so many options at their disposal, why should podcast listeners spend valuable time listening to you?
This is not to intimidate you – quite the opposite. It's to rile you up, encourage, and give you a reason to make your B2B podcast stand out from the growing crowd.
Podcasting Tip:
Finding your unique voice and selling point are key to creating a successful podcast. There are two ways to achieve this—and they work in unison:
Master your Niche and Stick to it: Your listeners tune in to your podcast show because they find valuable content on a specific topic that piques their interest. Your responsibility is to learn as much as possible about the particular niche. Don't jump between different topics and tones haphazardly.
Know Who your Listeners are: Narrowing down your niche means knowing the type of listeners you want to appeal to; you have a target audience. Take some time to dig deeper and understand these listeners. Understand what speaks to them, their demographics, and the content they consume.

Having such knowledge allows you to create the best possible content to help, inspire, and connect with your tribe of listeners and potential customers. Answer their questions. Solve their problems. Let your listeners know that you're present and open to conversation.
5. Poor Investment Decisions.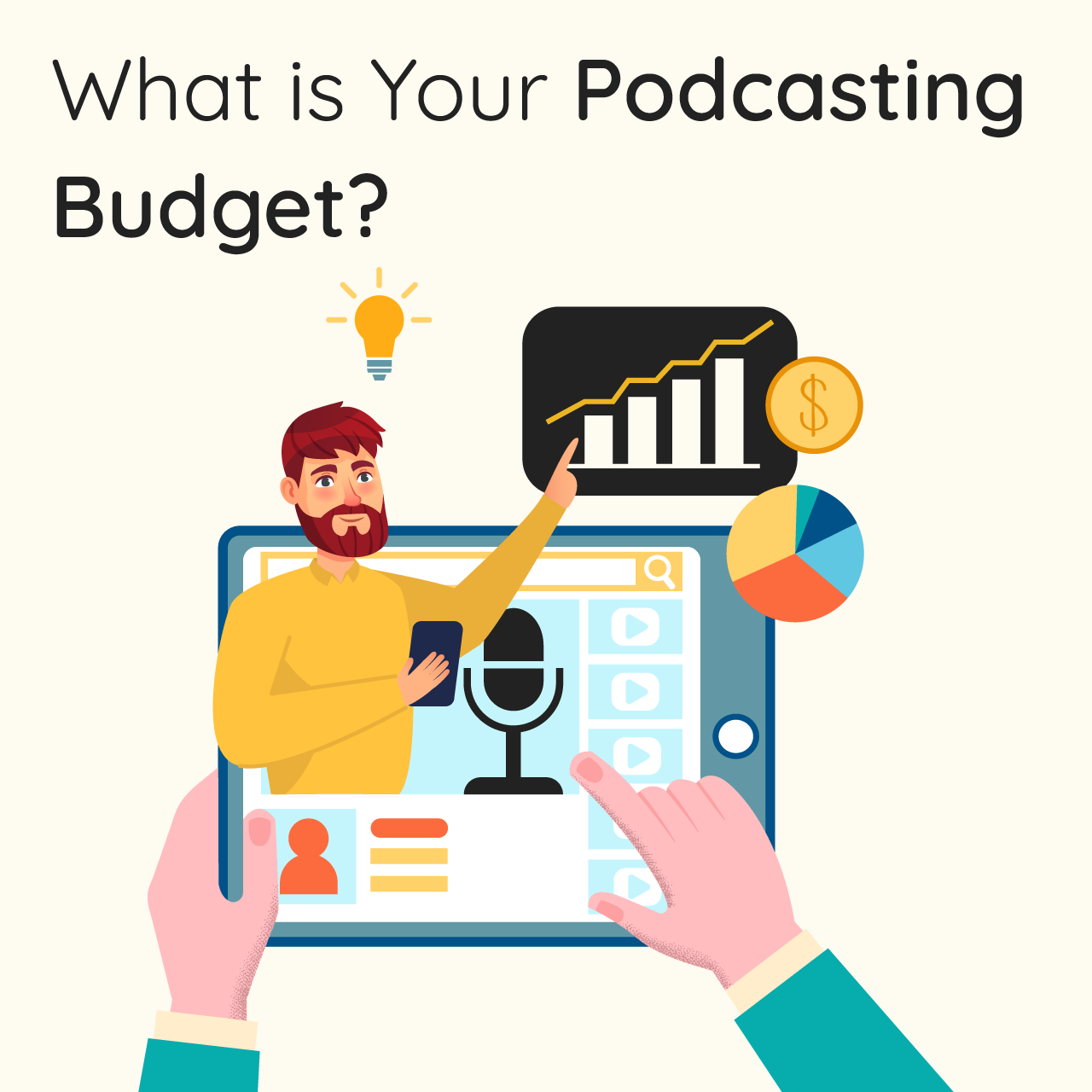 Sure, the main objective of podcasting is sharing your message with an eager audience or generating qualified leads. But whether we want to admit it or not, starting a business podcast and scaling it to new heights is a financial endeavor.
Informed investment is a key part of what makes a podcast successful. You need podcasting equipment to record and produce your content. You have to think about podcast marketing and promotion. All these crucial facets of building a successful podcast demand monetary input. The question is; when, how, and how much should you invest?
The trick lies in finding your budget sweet spot. But this is easier said than done, which explains why making poor investment decisions is a common podcasting mistake.
You don't want to spend too much early on—only to find out that you dumped hundreds of dollars on something that adds little value to your B2B podcast and business. And you also don't want to hinder your business's growth by spending too sparingly.
Podcasting Tip:
Start with small investments and gradually level up your podcast. This gives you a window to learn more about what works for your needs and where the dollars should go to improve the user experience.
6. Overlooking Copyright Laws.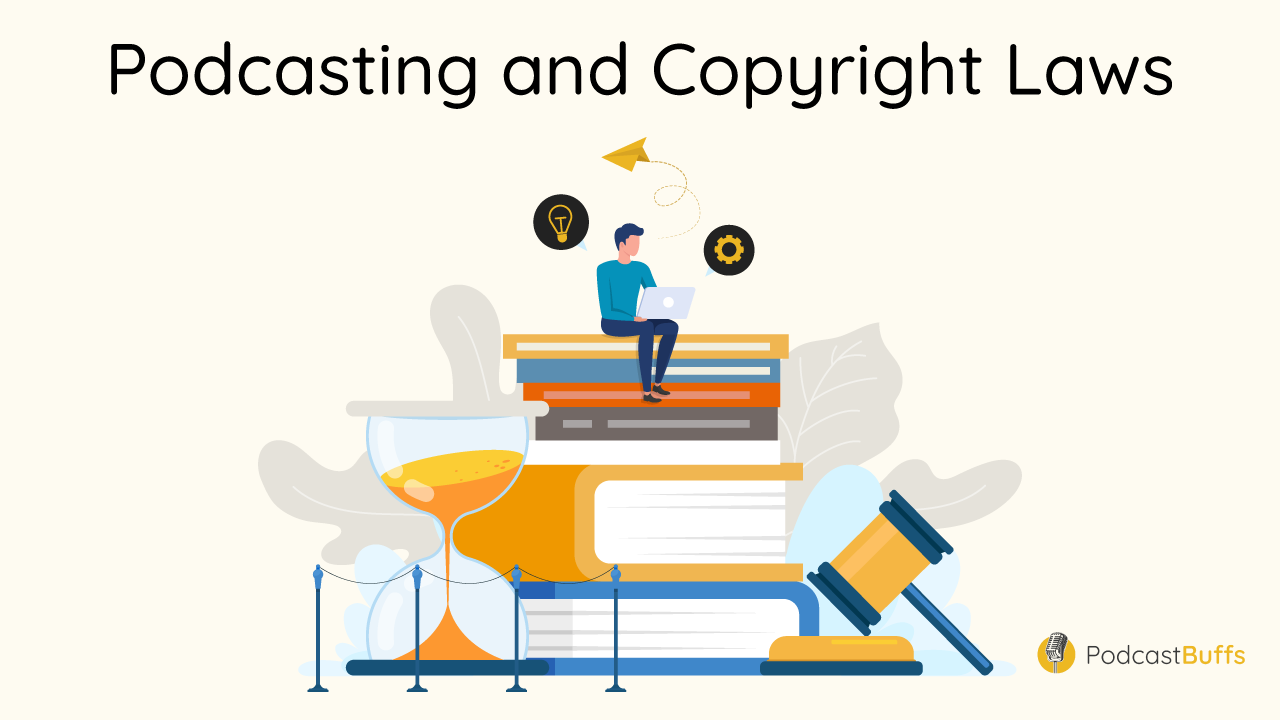 First things first, we're not lawyers, and nothing mentioned in this point should be taken as legal advice. It's simply our opinion from our experience working with several podcasters. 
Copyright laws are a tricky topic to dive into—but one that cannot be ignored. Laws are there for a reason. It's your responsibility as a podcaster to avoid violating copyright laws. 
If you're using protected music from songs or movie clips, you must do so with permission from the copyright holder. You must also ensure that your use of the material falls within the stipulated fair use limits. But again, this is a murky affair, and you can easily find yourself on the wrong side of the law, staring at a lawsuit.
Podcasting Tip:
Unless copyrighted material is integral to your business podcast, we'd advise you to use royalty-free music.
ALWAYS put out the great quality audio! This is the number 1 rule of creating a successful podcast. Publishing compelling and informative content is not enough. You must make sure that your content is pleasant to the ear to attract and keep listeners hooked. Podcasts are an audio experience—and this means that sound quality is a crucial part of what makes a podcast successful. Here are some tips to help you publish high-quality audio every time:
Get a good microphone. You'll be surprised at the dramatic impact of a decent microphone.
Pay attention to distracting background noise such as cough, buzzing phones, sirens, etc.
Prune inappropriate or unnecessary conversation segments, including prolonged periods of silence between thoughts.  
Equalize inconsistent volume levels. Don't be one of those podcasts where the host introduces the episode, and the intro music suddenly blasts your eardrum.
Record host and guest audio on separate tracks. This allows you to quickly snip unwanted noise and easily modify individual audio levels. Squadcast can help you with this.
Podcasting Tip:
Understandably, most aspiring podcasters find audio editing challenging and often time-consuming. In such a case, you can save a ton of time and effort by hiring a podcast editing company. Professional sound engineers guarantee the highest audio quality—affording you the time to focus on creating excellent content for your listeners.
Lack of podcast show notes or transcripts is a surprisingly common mistake podcasters make. While podcasts are designed to be consumed audibly, written content helps tie everything together. Here's why you should never skimp on publishing show notes along with every episode:
Acts as a trailer for your episodes: Show notes give your listeners insight into what to expect from your episode before they decide to invest their time listening to your content. Think of it as the 1-minute trailer to a movie that helps you decide whether you're willing to dedicate 1 and a half hours of your valuable time watching it.
Promote listener engagement: Show notes are a reference point for your audience to follow up on key topics discussed and any links mentioned in the podcast episode. You can also encourage listeners to tune in to new or old episodes. Plus, you can build a strong relationship with your audience by guiding them to your social media handles and interacting with them.
Improve search engine optimization (SEO): Using the right keywords and SEO-optimization practices increases your discoverability. SEO allows you to rank higher for certain keywords on a search engine results page. This means that your ideal listener in your niche can easily find you.
Offering more promotion opportunities: Shareable content and calls to action (CTAs) in your show notes are a great way to nudge prospects and convert them into loyal listeners or even customers.
Bolster your authority: The more legitimate you appear online, the more attractive you are to cyber passers-by and search engines.
Podcasting Tip:
Audio is a powerful tool—and so is the text. Make the most of both, and you significantly bolster your odds of growing into a successful podcast.
But if playing with words is not your forte, some of the best podcast editing service providers can help you craft clear, engaging, and effective show notes to take your show to the next level.
9. Lack of an Accompanying Website.
If you don't have an accompanying website for your business podcast, you're missing out on a treasure trove of opportunities. This includes lead generation opportunities, strengthening your authority, improving your SEO, building a community, increasing your visibility, and making the most of your traffic.
Think of a podcast website as the hub for all your podcast-related content—making it a key ingredient of what makes a podcast successful. It's a place for your audience to listen to your podcast episodes directly and contact you. This includes repurposed content, show notes, and any other podcast information you'd like to share.
Sometimes your website creates the first impression, the first point of contact before a prospective customer listens to your B2B podcast.
But don't settle for any website; ensure it is well-designed and responsive. Statistics show that "38% of people will stop engaging with a website if the content/layout is unattractive." Even more concerning, nearly 9 in every 10 online consumers are unlikely to revisit a website if they had a bad experience the first time around.
Podcasting Tip:
Consider having your podcast episodes in your blog if you cannot have them separately. And regarding the design of your website, here are the website elements you should pay attention to — according to a survey by Top Design Firms: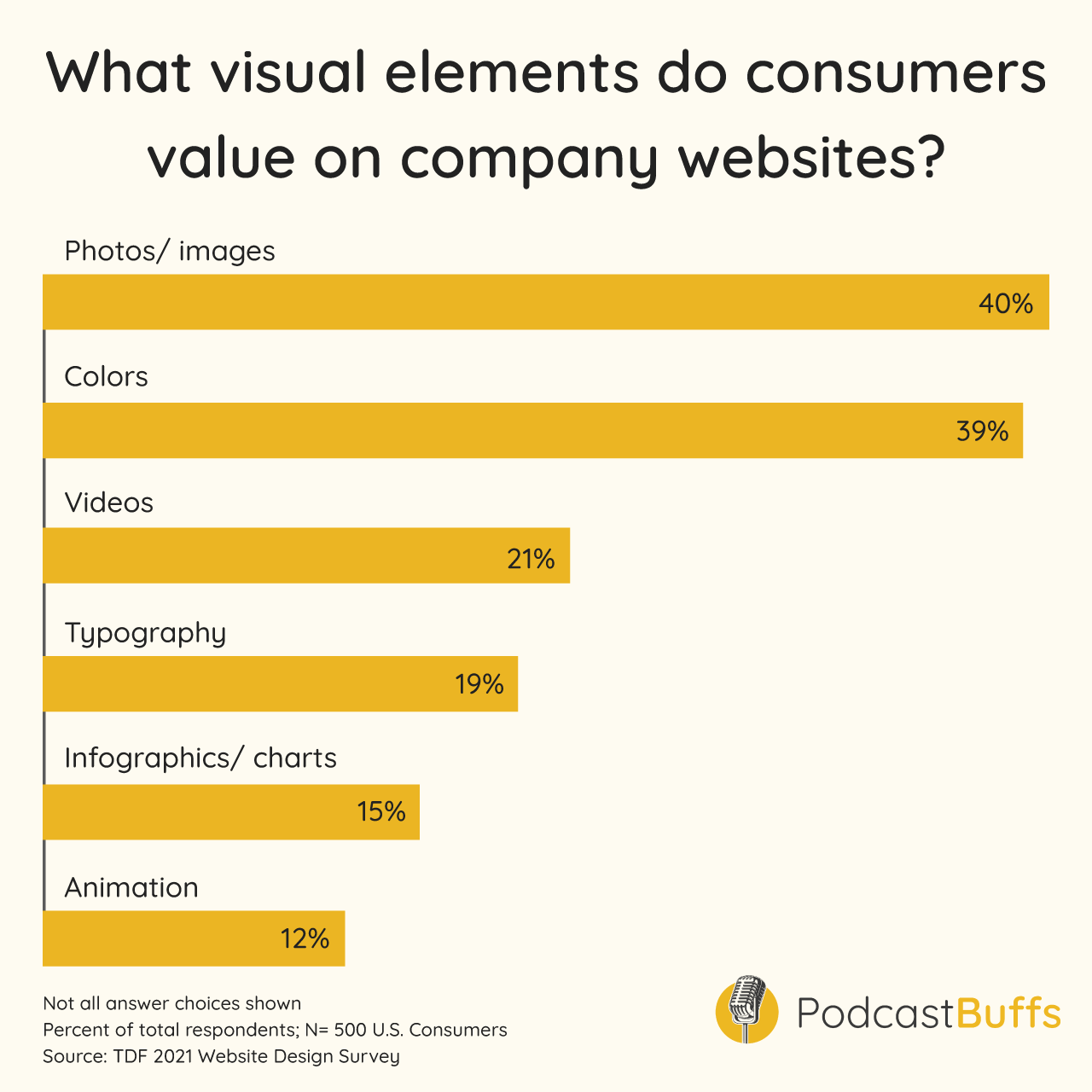 10. Using Amateurish Graphics.
Ever heard the phrase "a picture is worth a thousand words"? Well, the saying holds true when podcasting for business—even with audio being the star attraction. The graphics that represent your B2B podcast profoundly impact how the audience perceives your show and, by extension, your brand. 
Amateurish cover art, episode covers, etc., may either drive away your first-time listeners (and potential clients) or create a negative impression. 
On the other hand, well-designed website/social media/promotion material sets you up on the path to a successful podcast—whether that's in the form of improved audience engagement, increased traffic, or lead generation. The right graphic designs evoke emotion, are memorable, and send a clear message.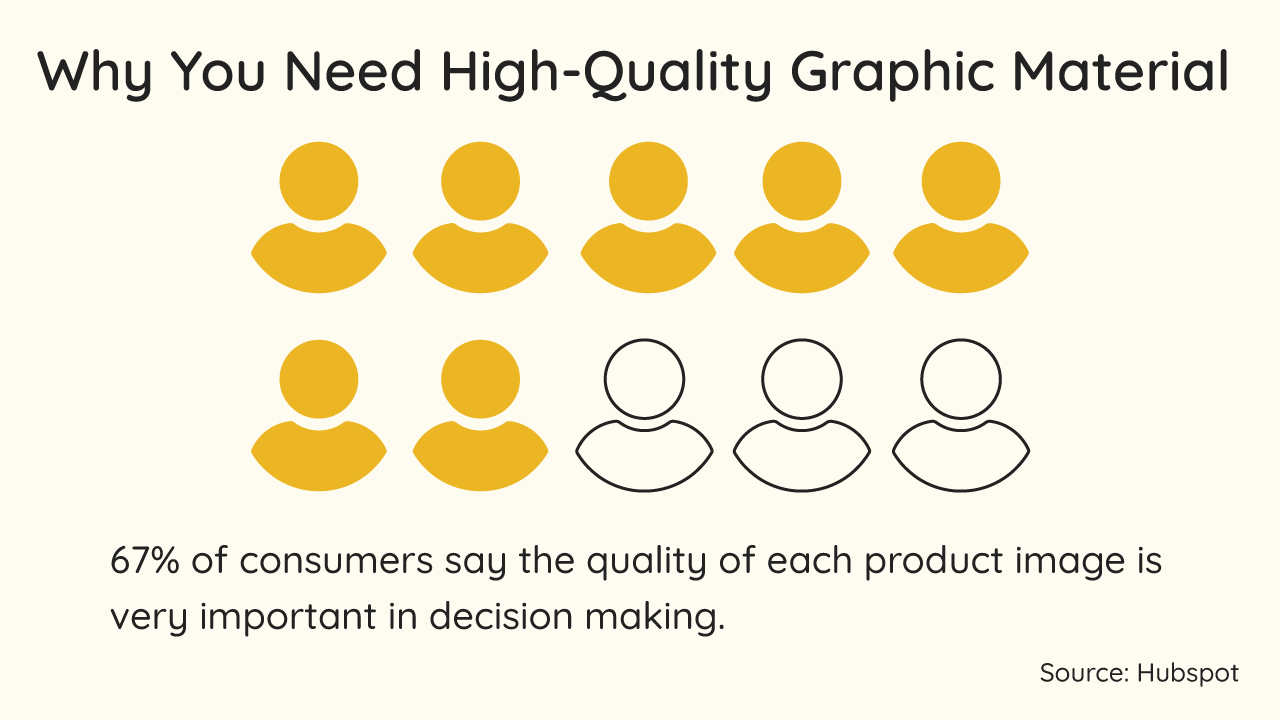 11. Not Collecting Subscriber Emails or Contact Information.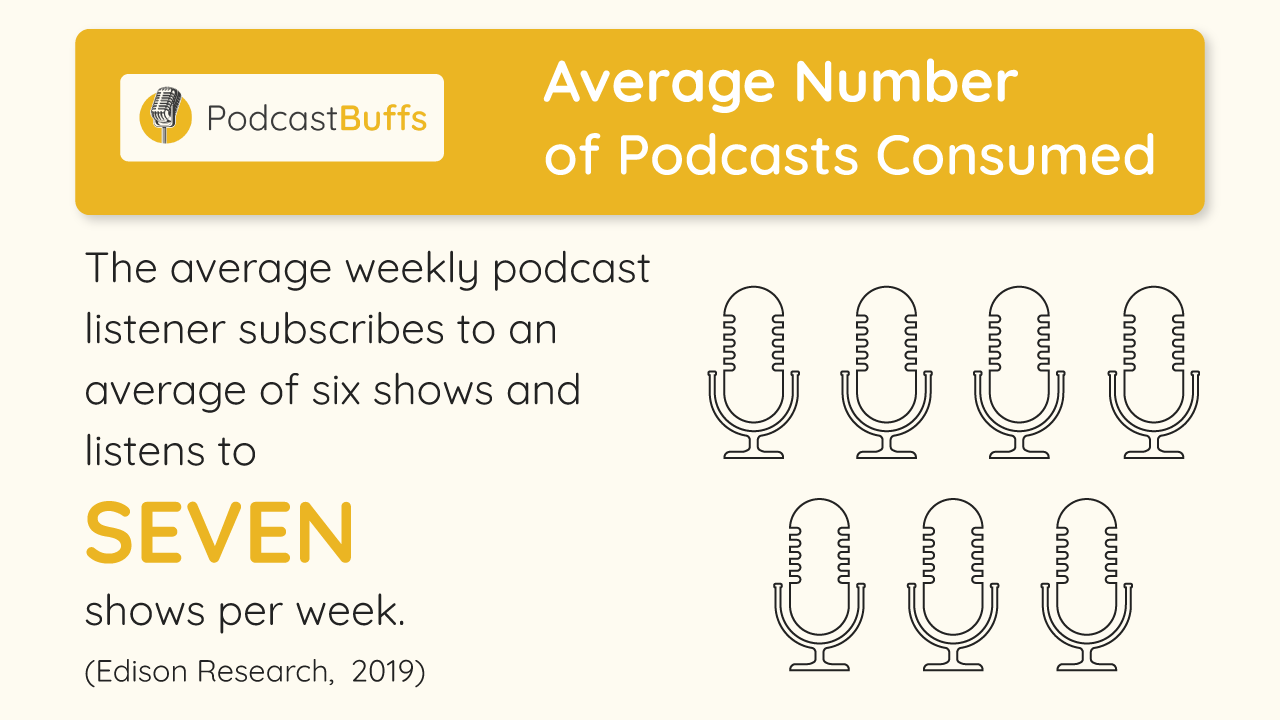 Did you know that the average weekly podcast listener listens to around 7 shows every week and subscribes to 6 shows – with 82.4% spending more than 7 hours in a week tuned in?
When you play your cards right, podcasting for business is a gold mine of opportunities waiting for you to dig them up. You get to connect with like-minded people in your niche and build a community of loyal listeners.
But a common podcasting mistake we often see among beginner and experienced podcaster is the failure to collect subscriber emails or information. If you fall into this cohort of podcast hosts, you are missing out on a huge business and marketing asset.
An email list is an important contact point that allows you to convey updates and get feedback from listeners. It's a way to capitalize on any traffic spikes and capture the momentum. It's part of what makes a podcast successful.
12. Not Having a Marketing and Promotion Plan.
While there's nothing wrong with approaching podcasting with a "build it and they will come" mentality, we must be realistic. Creating compelling and high-quality content is crucial to your success as a podcaster. But just because you know your content is fantastic does not mean that your target audience does.
Don't make the podcasting mistake of dismissing marketing and promotion. You can't expect listeners to suddenly flock to your show without putting in the work to boost your podcast's discoverability.
Podcasting Tip:
Growing your audience is about strategy and effort. You must toot your own horn. Get out there and let the world know about the value you're offering. Feel free to sprinkle CTAs (Calls to Action) throughout your episodes, social media handles, website, and show notes.
Here are a few questions to guide you in crafting a winning marketing plan:
Where does your target audience hang out?
How do people discover new podcasts?
What are the most effective B2B podcast promotion strategies?
What is your business podcast marketing budget?
That said, you may be interested in knowing the different ways people discover new podcasts.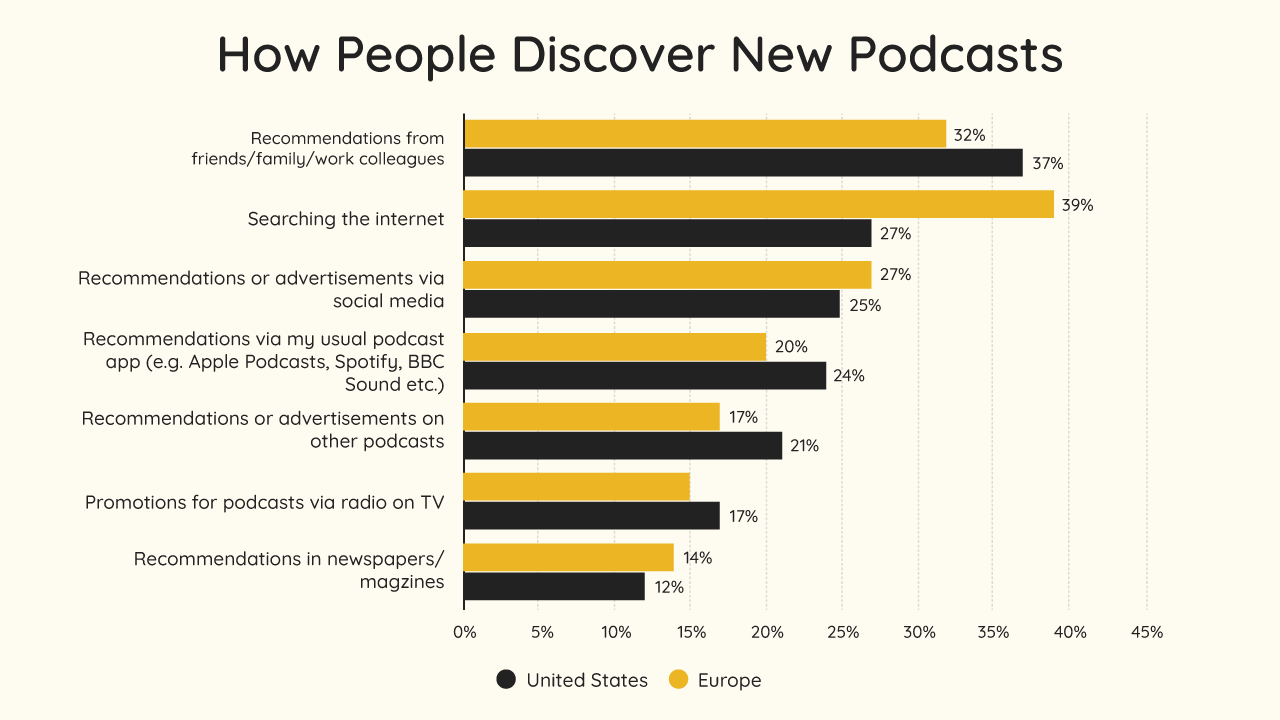 13. Too Much Rambling and Unnecessary Talk.
If you were scheduled to give a talk to a sizeable audience, would you put effort into preparing for it or just 'wing it'?
Unless you're a serious risk-taker, we'd like to believe you'd take the time to prepare some talking notes (or something) for the best impact. With this in mind, it's surprising that most people make the podcasting mistake of hitting the record button with little-to-no preparation.
Failure to prepare often leads to an episode marred by rambling, unnecessary talk, and the lack of a clear direction. The outcome? You end up wasting your listener's time.
Podcasting Tip:
According to figures from
Statista
, 74% of podcast listeners in the United States tune in with the primary goal of learning something new. If you don't offer anything of value, you'll lose podcast listeners pretty fast.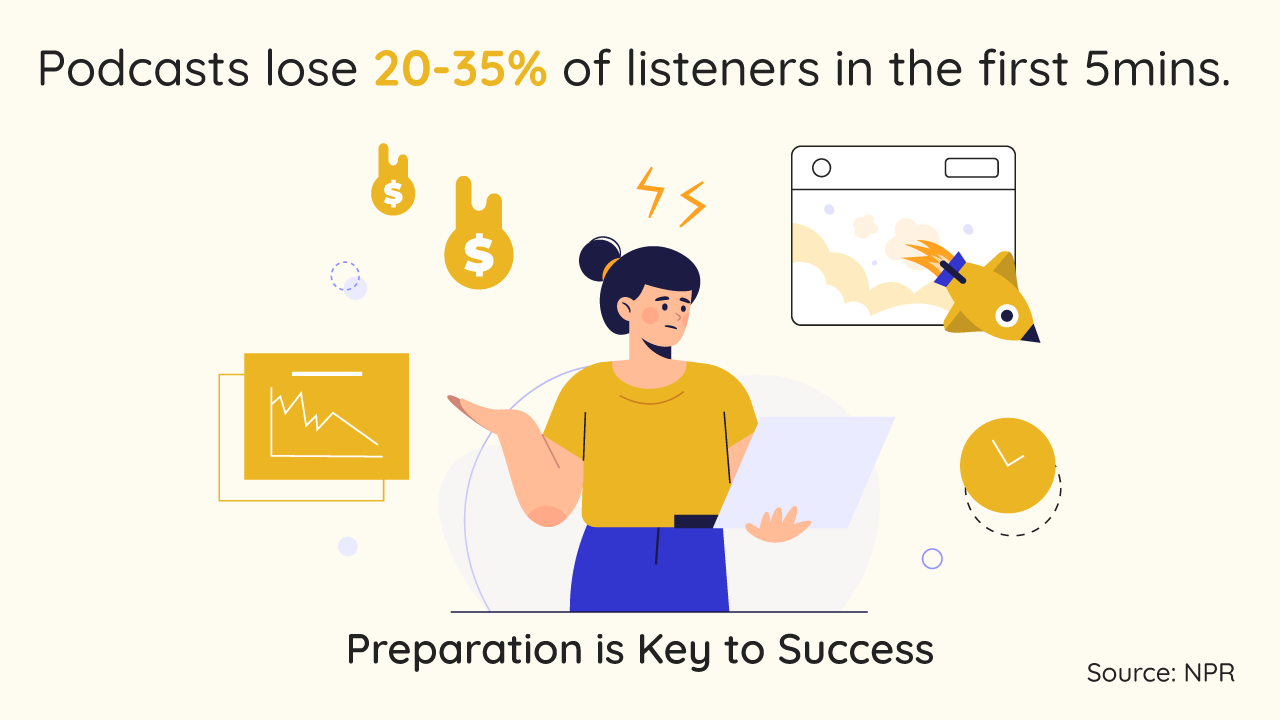 There you have it; a couple of common podcasting mistakes and some valuable podcasting tips to circumnavigate them.
Producing a professional-quality B2B podcast takes time and effort. But if you learn and avoid these common pitfalls, you'll be well on your way to running a show that your audience will love. Think of this as a headstart in your journey to building a successful podcast.